Goodbye 2020! How Our Nonprofit Partners are Finishing the Year
Categorized as: About us, Africa, Asia, Caribbean, Education, Girls & women, Grantee, Job Creation, Latin America, Leadership, Middle East, Our Partners, Pacific Islands, Poverty Alleviation, Stories, Storytelling, U.S., Youth on December 26, 2020. Related Grantees: Agora Partnerships, Anseye Pou Ayiti (Teach for Haiti), Bean Voyage, CREA Nicaragua, Educate Lanka, Education Bridge, Eggpreneur, Idea4Africa, KadAfrica, Tomorrow's Youth Organization, Tujenge Africa Foundation, Women LEAD.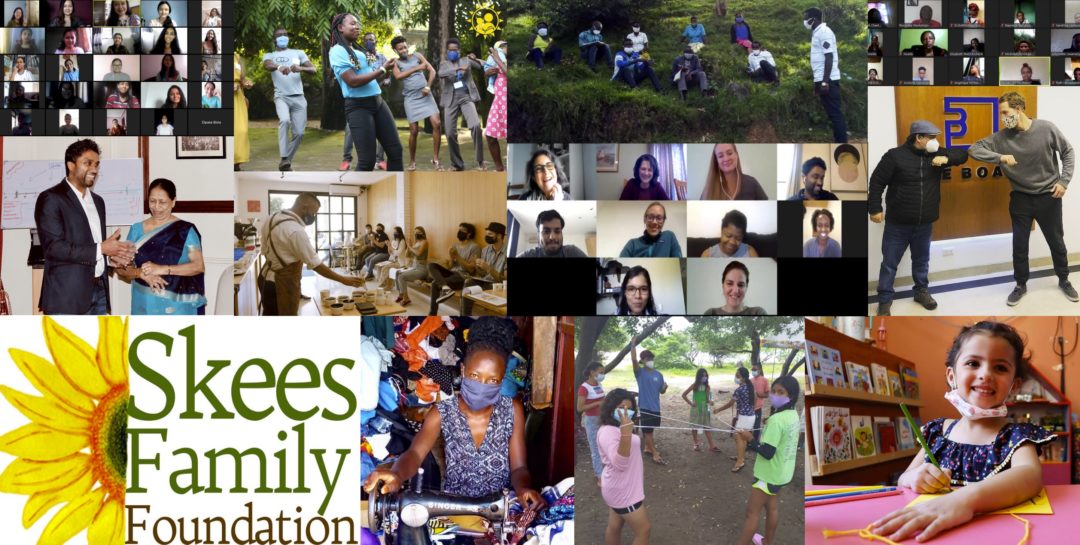 Editor's Note: It goes without saying that 2020 has been a heck of a ride. Luckily, we are nearing the end of this disastrous year, with a light on the horizon. Here is a round-up of how our partners are ending the year and looking on to the next! Happy holidays and see you all in 2021 (hopefully!).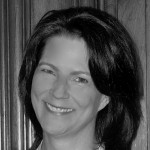 By Sally Skees-Helly, Director and President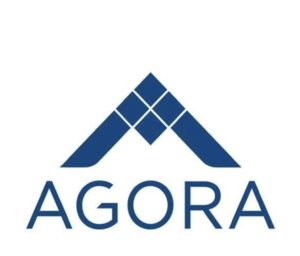 Agora Partnerships (2019-2020 Partner Grant): Latin America and the Caribbean
Agora has been making the most of the pandemic with multiple new projects underway including:
Entrepreneurs Against COVID which offers personalized support through mentoring to solve challenges faced due to the pandemic;
Started a podcast called Impacto Emprendedor, with Latin American entrepreneurs giving advice, talking about their experiences, and offering valuable tips on both business and COVID;
Put out a survey in June and early July diagnosing the effects of the crisis on Latin America. The results of this survey will provide research that will help generate valuable resources for the entrepreneurial ecosystem;
Began Formando Catalysts, a program aimed at entrepreneurship ecosystem professionals, including consultants, mentors, advisors, and business development, from Central America, giving them the opportunity to support entrepreneurship in that region;
Hosted various webinars, such as "Social Investors and Social Purpose Originating in a Time of Crisis'; and
Partnered with Moving Worlds to create S-GRID (Sustainable Growth of Revenues for International Development), a new social impact program to help corporations and social enterprises work together to create a more regenerative global economy (#BuildBackBetter!).
Agora also recently announced that Founder and CEO Ben Powell will be stepping down and Cecilia Foxworthy, the current Chief Programs and Innovation Officer at Agora will be appointed to take his place. Brienne met with Cecilia in Mexico City a few years ago and knows she will be an incredible leader for Agora. The baton will officially be passed on October 16, 2020, the day after their Fifteenth Anniversary celebration. You can read the press release here and Ben's farewell letter here.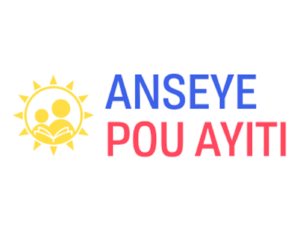 Anseye Pou Ayiti (2019-2020 Partner Grant): Haiti
APA continues to provide lessons via radio to students throughout the country, and continue to post public service announcements via social media about safety measures, stress, and stigma around COVID.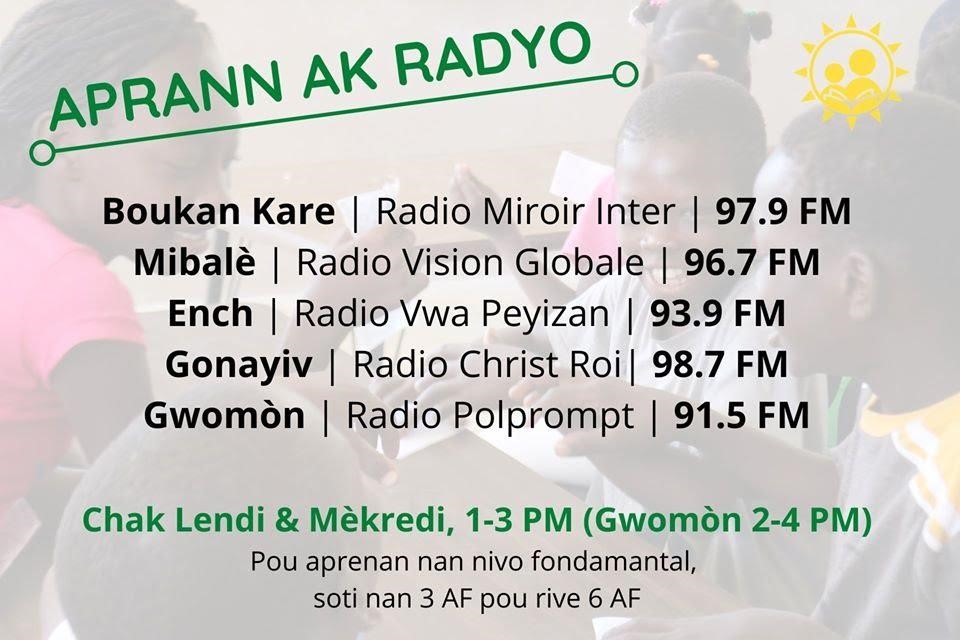 Facebook post showing radio frequency for 3-6 grade lessons Monday & Wednesday.
Nedgine recently published an op-ed article in Medium magazine geared toward education beyond COVID and the schools reopening debate. It is (as always) a good read. Primary school returned to in-person instruction on August 17th in Haiti. APA just wrapped up a matching dollar-for-dollar fundraising campaign on September 30th.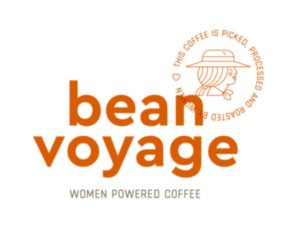 Bean Voyage (2019-2020 Seed Grant): Costa Rica
Their COVIR-20 eight-week pilot training program has completed. This program was highlighted in an article in Barista Magazine Online in late May. Bean Voyage has taken the data they gathered throughout the program and produced a very thorough (but brief) and beautifully produced report on their findings. The plan is to scale the program from the 67 smallholder women coffee producers who participated in the pilot to 700+ in the coming year, and to reach 40,000 smallholder women around the world in the next five years! A truly exceptional outcome and ability to adjust their programs successfully in response to the pandemic. Oh, and beyond that, they managed to build a brand new website!
Sunghee penned a Founder's Note newsletter in early June, expressing her feelings about injustice and speaking up, as well as an update that includes much of the above. In addition, the newsletter includes a lot of great resources on anti-racism (reading, video, podcasts, social media).
Sunghee wrote a pretty personal note in their July Newsletter about the connection between her sense of identity and Bean Voyage's identity as a non-profit. Then, in their August Newsletter they highlighted the results of their application process for Care Facilitators. Out of 175 applicants, they narrowed it down to ten young people from coffee communities in Costa Rica who will receive training and mentorship from Bean Voyage, then will go out to their communities and train 400 producers in production and market access using WhatsApp. You can "meet" the ten Care Facilitators and sense their enthusiasm in this short video.
Lastly, in the midst of COVID, they have raised over $4,000 to provide care packages for 26 women producers and their families for the past three months who have been especially hard hit by the pandemic.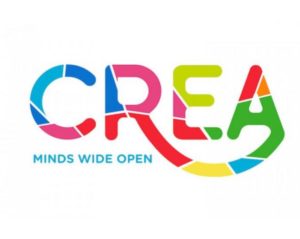 Crea Nicaragua (2019-2020 Seed Grant): Nicaragua
Crea has been able to offer educational opportunities despite the pandemic. They continue to provide packets with learning materials to local schools in multiple communities to distribute to students to keep them academically engaged. Youth Development participants come regularly to CREA to strengthen math and other skills utilizing Khan Academy. Their entire library has gone mobile as they work to ensure that children across communities have access to books while school is not in session.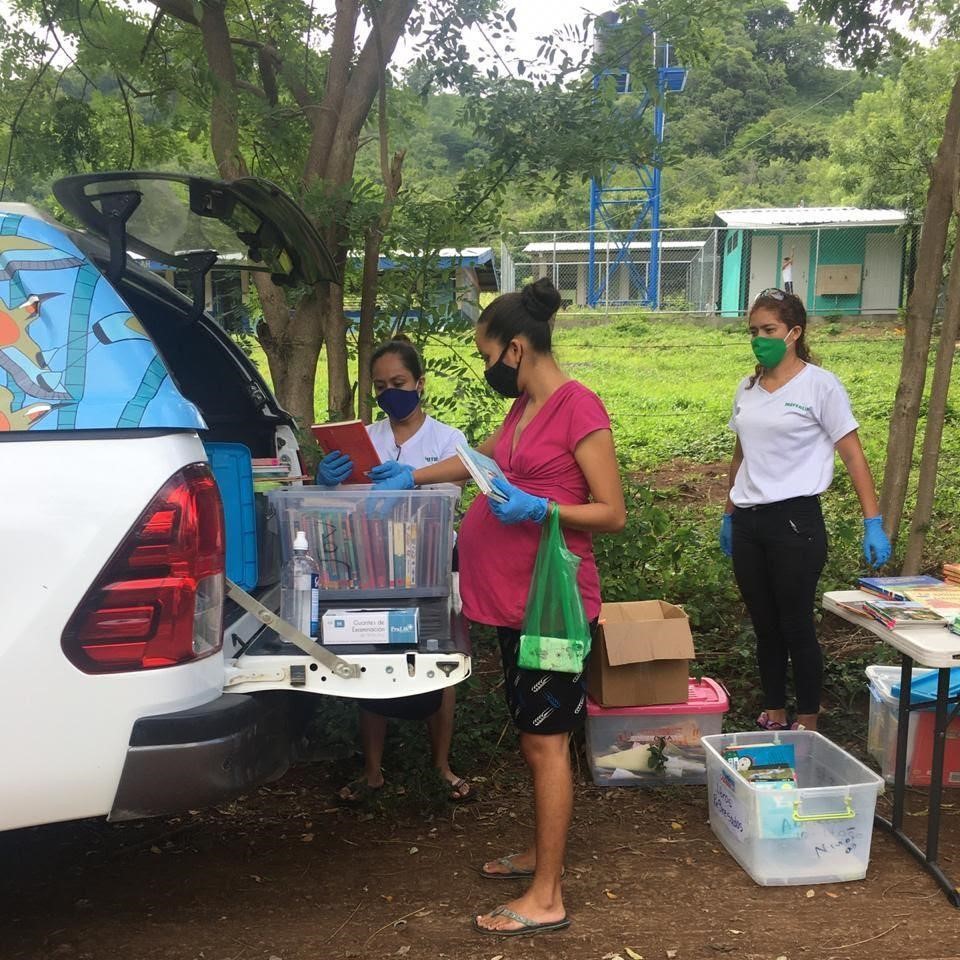 The mobile library creates access for all to books, resources, and support.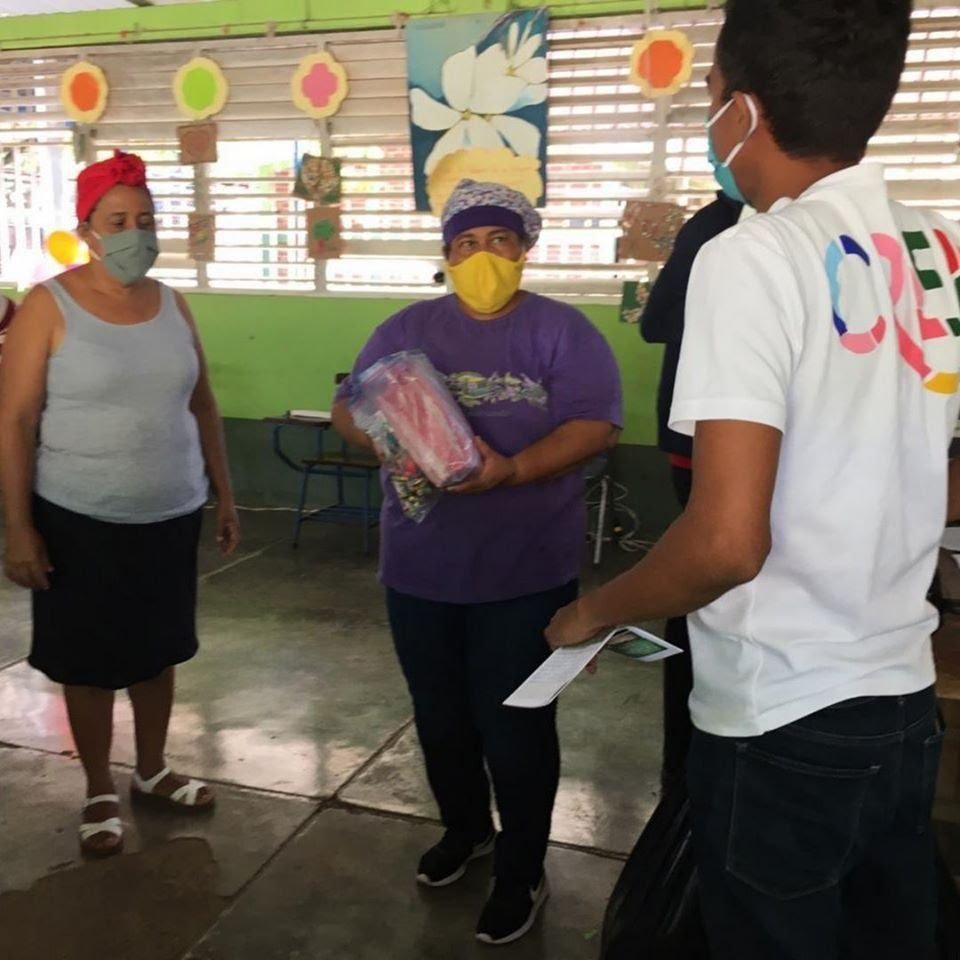 Distributing educational packets to schools.
CREA put out their 2019 Annual Report in May, highlighting their work and numbers for the year. The 2020 report is sure to be much different!
Crea recently completed a fundraising campaign raising over their goal of $20,000, with a matching donation of an additional $20,000. And news from their recent newsletter:
We are incredibly thrilled to be partnering with FunLimon and Waves of Love on a seed project that will benefit 82 families from three communities. The project aims to create a future seed bank, share sustainable agriculture practices, and support producers in the cultivation of beans for personal consumption as well to hopefully sell. Given CREA's education focus, we are working closely with an Agricultural Engineer who is providing support, knowledge, and accompaniment for the families participating. We look forward to sharing more about this new project in the future.
The Academic Success Initiative is providing resources and support for high school seniors who are finalizing their research project. Education guides continue to be distributed for primary school students, and we remain in close communication with local schools about their needs and the challenges they are facing as the school year starts to come to end in the near future.
The Youth Development Initiative has created small support groups for adolescents to access during this time. This is particularly important given the stress adolescents are experiencing. In addition, participants have been able to continue to cultivate the CREA garden, participate in basic English classes, and access academic support.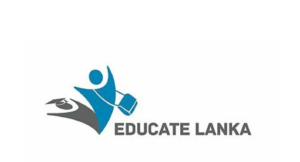 Educate Lanka (2019-2020 Catalyst Grant): Sri Lanka
Educate Lanka welcomes their two Summer 2020 Fellows, who will be working remotely over ten weeks in program analysis and evaluation, research, and policy recommendations. They were chosen based upon their experience in the industry and their level of studies. For more information, check out their white page on the fellowship.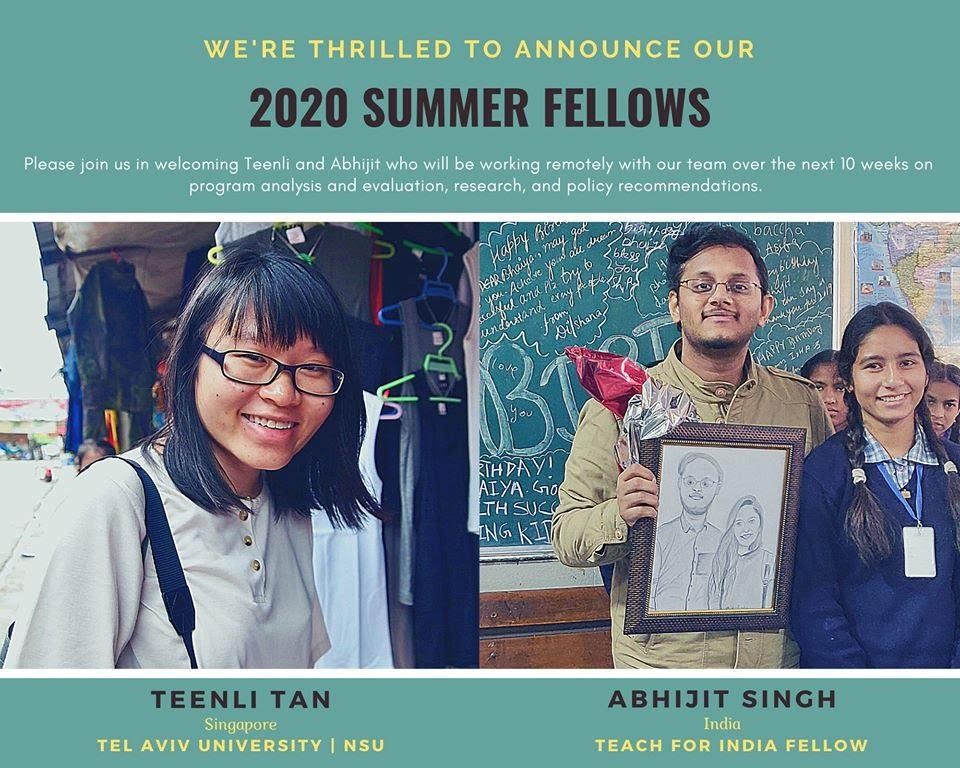 Following his remarks about a re-imagining of our post-pandemic world at our grantee partner meeting in May, Manjula wrote an essay for Medium detailing the specific steps Educate Lanka intends to take in the near and longer term, but also addresses the opportunity to shift mindsets, priorities, values, and social contracts through a re-imagined educational system. It's a fascinating and thought-provoking read from our dear friend and long-time partner.
Educate Lanka's mentorship program and their partnership with Sisco was recently featured in an article in the Daily Mirror. Supun Muthutantrige, mentor of Solomon Jayasena says, "The Educate Lanka mentoring program allowed me to work with some of the brightest minds in university. I strongly believe that Solomon will become a very successful entrepreneur in the future."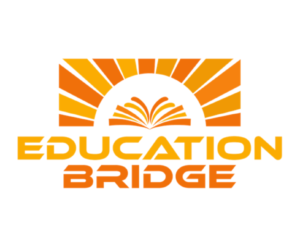 Education Bridge (2019-2020 Generational Grant): South Sudan
If you missed it, Education Bridge was highlighted in our Seeds of Hope blog in September. They are planning on expanding with a boy's dormitory (currently there is only a girl's dormitory) and a library.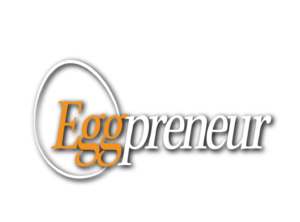 Eggpreneur (2019-2020 Generational Grant): Kenya
In mid-May, we received an email from Matt letting us know they had completed the Borehole Water Project, bringing fresh water to over 300 households in their community, just in time to improve cleanliness and sanitation in the pandemic.
Eggpreneur restarted with protective measures in place and held their first class on July 31st, resuming training of ten young women that was suspended in March. This is a welcome additional source of income and nutrition for families in financially uncertain times.
The local Catholic Sisters of Eldoret approached Eggpreneur about starting an Apprentice Poultry Program for vulnerable women in their community, but they needed to be trained themselves in poultry management and entrepreneurship. Eggpreneur obliged and the sisters began their training in January. The sisters are now recruiting and selecting women in the larger community to train poultry management and entrepreneurship, along with Eggpreneur as a partner. The Sisters Mother Mary of God in Mtwapa, Mombassa, about 400 km away, heard about the success of the Sisters of Eldoret they were inspired to start their own program. Using Zoom, Eggpreneur is now training a class of thirty nuns and women from their community.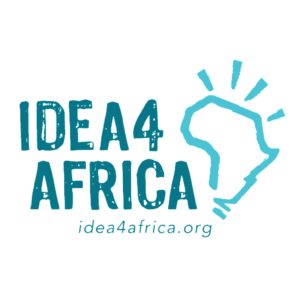 Idea4Africa (2019-2020 Seed Grant): Rwanda and Uganda
We've had some of the in-country directors join our grantee partner calls, as Sarah has turned communication over to them. We've met Elizabeth (Betty) Nakato, Country Director of Uganda, Patrick Ndikumana, Operating Director of Rwanda, and Pamela Munyana, Country Director of Rwanda.
Dennis Hanno, President of Idea4Africa, reached out to let us know that our funding is helping them jumpstart the production of taped entrepreneurship lessons in Kinyarwanda and other native languages in the region. This has historically been a challenge because all of their materials are in English and many people, especially people in lower-economic conditions, don't speak English very well. He said it will be huge in expanding their reach.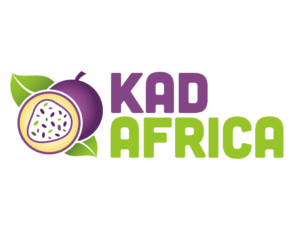 KadAfrica (2019-2020 Seed Grant): Uganda
KadAfrica is initiating a program that allows the girls to become data collection agents for KadAfrica. This can be an additional income-generating project for the girls (win/win!). You can read KadAfrica's 2018-2019 Impact Brief to get a better sense of their work, their growth, and their impact.
In light of COVID-19, Uganda's rural and refugee population is at great risk as they have little possibility of self-isolation and receiving proper information, and they aren't able to afford hygienic equipment. The KadAfrica staff has been attending the passion fruit plots to make sure their beneficiaries will still be able to harvest on time. They have distributed masks and bars of soap to all and equipped training sites with hand washing equipment. The beneficiaries are also producing extra masks, providing an alternative revenue stream.
The week of August 7th, KadAfrica was able to safely launch their 9th Cohort of the KadAfrica Experience! Here's the breakdown: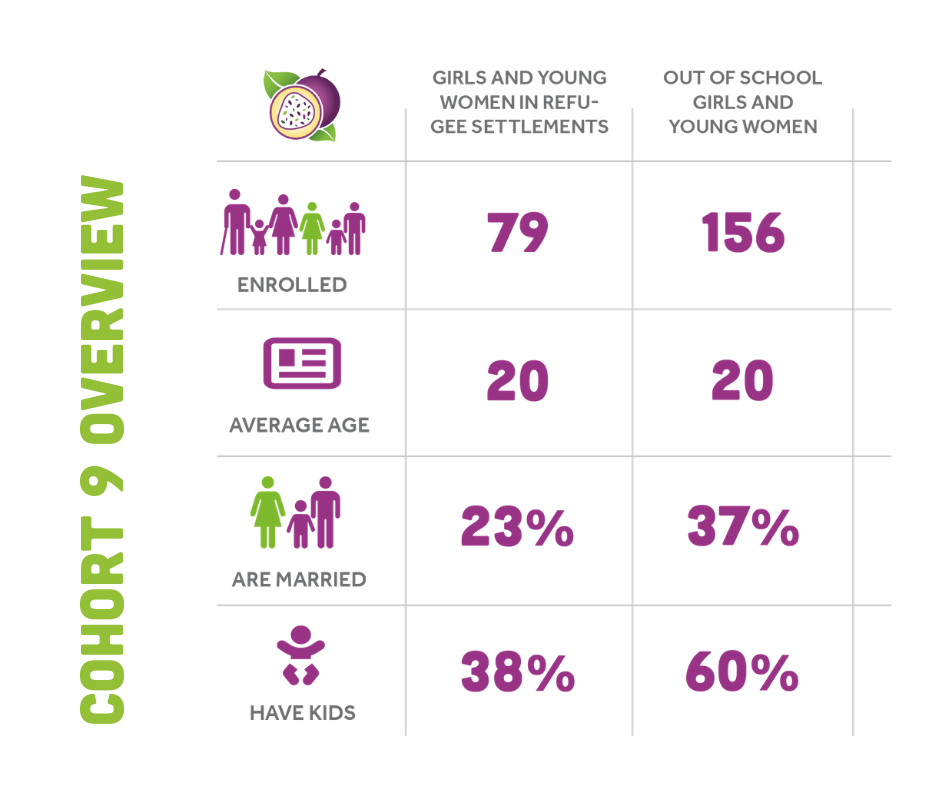 They also offer a new Training of Trainers opportunity called Passion Academy, where the KadAfrica passion fruit experts accompany teams through a full passion fruit project, facilitating access to seedlings, training in increasing yield and quality of production, and expanding the knowledge of groups of farmers. Their latest client in this program, Par-Fruita implemented their passion fruit project in the Nakivale refugee camp in Uganda with great success. Watch their video, showing their journey.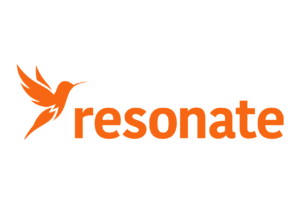 Resonate Workshops (2019-2020 Catalyst Grant): Rwanda and East Africa
Resonate has adapted its leadership and soft skills training to online and have trained over 300 women since April, but continues to struggle in fundraising and earned revenue opportunities.
Norette is looking for other East African NGO's or social enterprises that are piloting remote trainings in vulnerable communities with limited or no access to internet, so they can share experiences and learn from one another. Take a look at this video, another example of Resonate's storytelling ability.
Resonate has developed three leadership programs that complement the Government of Rwanda's COVID-19 relief and recovery efforts for vulnerable women and youth, which you can read about here.
They continue to look for organizations that would be interested in these initiatives to supplement their very reduced revenue stream. They are also looking for interesting and viable virtual fundraising ideas, as with other organizations, many fundraising activities have been cancelled.
They continue to provide free virtual trainings to organizations and educational institutions, including secondary school students, recent graduates, teachers, entrepreneurs, and program staff at NGO's  who are all pivoting because of COVID-19.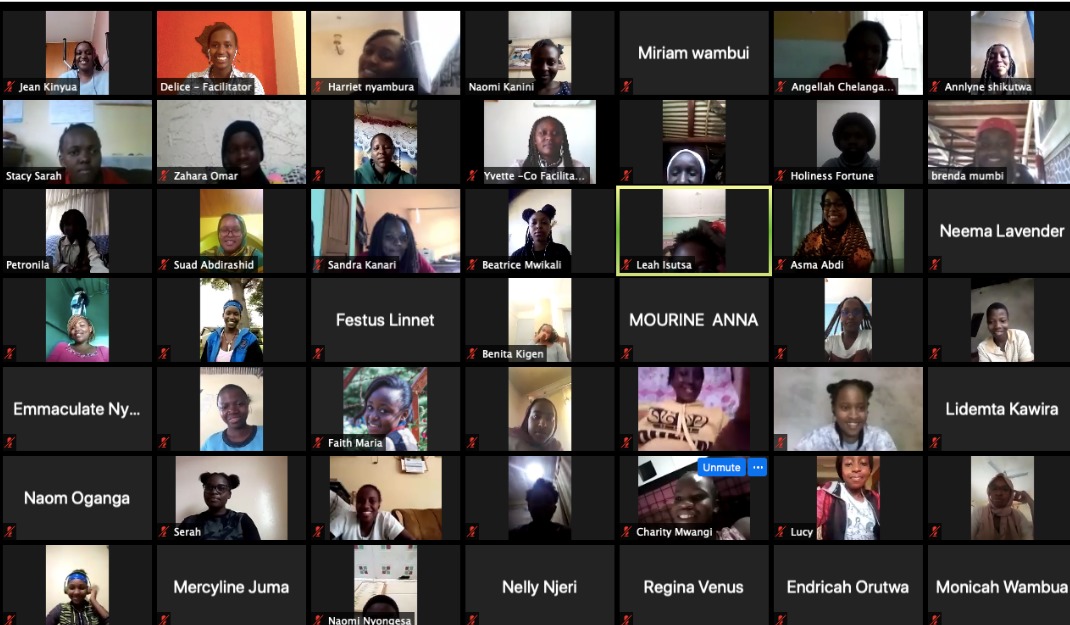 A typical virtual training at Resonate…we can all relate!
The Resonate team was getting ready to resume in-person trainings, with proper prevention measures in place, when there was a spike in cases and the government put in place stricter restrictions. Although this is frustrating, the team realizes it is necessary.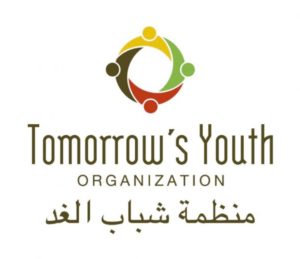 Tomorrow's Youth Organization (2019-2020 Partnership Grant): Palestine
TYO continues to distribute relief packages of healthy food and critical supplies throughout the refugee camps and underserved areas around Nablus.
In June, TYO won first place in Global Giving's World Refugee Week, where they raised $21,110 and were matched with an additional $15,570 from Global Giving to fund their COVID relief efforts.
Things seem to be getting back to some semblance of order at TYO. The children are back in school on a limited basis, very similar to the structure here in the U.S., with younger ones attending full time and middle and high schoolers implementing a hybrid approach.
Six Palestinian graduates received full tuition TYO scholarships thanks to the Qatar Fund for Development.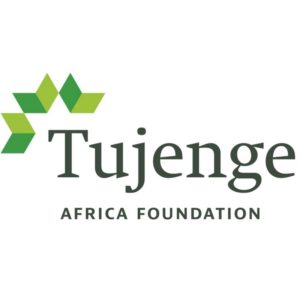 Tujenge Africa Foundation (2019-2020 Generational Grant): Burundi
During the pandemic, Tujenge is providing material and health care support to their students and families in rural communities. Despite implementing some belt-tightening measures, they haven't yet had to furlough and staff.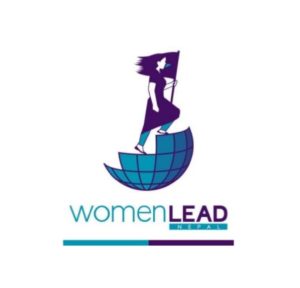 Women LEAD (2019-2020 Seed Grant): Nepal
WomenLEAD completed their application process for their Young Women's Political Leadership Institute (YWPLI) and the year-long Women LEAD course where they will be using a hybrid of online and in-person instruction and mentoring.
Nepal enforced a country-wide lockdown on March 24, 2020 and was able to ease the total lockdown after four months where individual locales could impose the level of lockdown necessary for the severity in their region. A second lockdown has been imposed in the three major cities of Nepal, including Kathmandu. Women LEAD was able to institute a limited return to work policy in June, but has been halted due to the second lockdown.
Women LEAD was able to adapt to the new normal and have digitized all organizational operations. They have actually grown during the lockdown, hiring through online applications and interviews. Dipasa Bista has joined as Development Officer. You can read more details in their recent newsletter.
All photos courtesy of our incredible partners.
LEARN more about all of our nonprofit partners here.
SHARE this story with your networks; see menu at top and bottom of page.
SUBSCRIBE! Like what you see? Click here to subscribe to Seeds of Hope!