Anseye Pou Ayiti: Past, Present, and Future
Categorized as: Education, Girls & women, Grantee, Leadership, Our Partners, Poverty Alleviation, Stories on December 12, 2020. Related Grantee: Anseye Pou Ayiti (Teach for Haiti).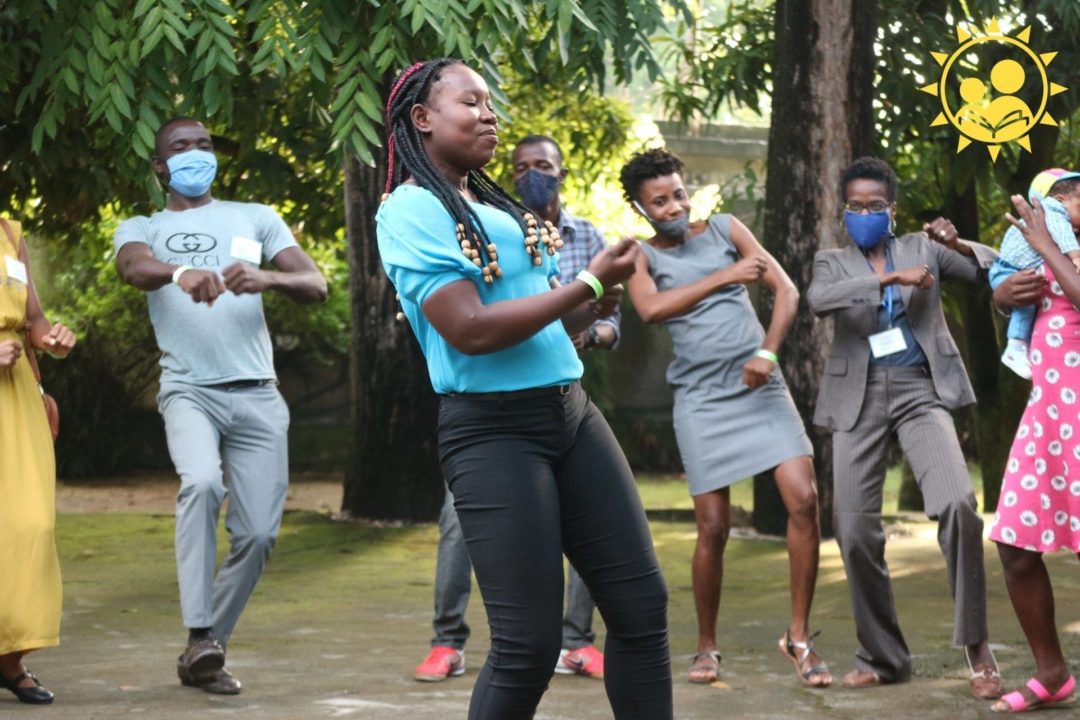 Editor's Note: In 2018, as "pre-board member", I was lucky enough to have the opportunity to travel to Haiti and accompany two Skees Family Foundation Board Members, Suzanne and Sally during their visit with Skees Family Foundation partners. Anseye Pou Ayiti was one of the partners that we visited and some of their partner schools, meeting with dynamic teachers and gifted students – we were even treated to lunch of traditional Haitian food!  A previous story details much of what occurred during our visit.
Since that visit, the world has turned upside down with the COVID 19 pandemic. And like the rest of the world, Haiti has had to come face with the turbulence that it presented.  However, prior to March of 2020, Anseye Pou Ayiti (APA) was having another positive and enlightening period.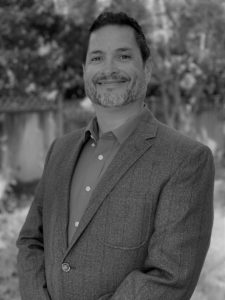 By Vincent Oviedo, Skees Family Foundation Board Member
2019 – 5 Years of Civic Leadership in Ayiti
Community at the Center 
Anseye Pou Ayiti recruits from within communities, partners with existing schools & teachers in local communities, conduct our professional development workshops in partnership with local allies. APA believes culture, customs, and community point the way forward.
Scale as Depth 
By investing in 5 model rural communities in Haiti – what will become 5 "proof points" – APA is equipping teachers, students, parents, school directors, and community allies as the civic leaders necessary to lead this movement. These are the communities:
Gros-Morne (14 partner schools) / 27 (Teachers-Leaders and Alumni Ambassador) 

Gonaives (28 partner schools) / 57 (Teachers-Leaders and Alumni Ambassador)

Hinche (4 partner schools) / 11 (Teachers-Leaders and Alumni Ambassador)

Boucan Carre (2 partner schools) / 5 (Teachers-Leaders and Alumni Ambassador)

Mirebalais (19 partner schools) / 54 (Teachers-Leaders and Alumni Ambassador)
Recruitment
By 2018, 215 Haitian teacher-leaders had been recruited for APA fellowship. In addition, 900 qualified candidates applied for the 65 fellowship slots in 2018.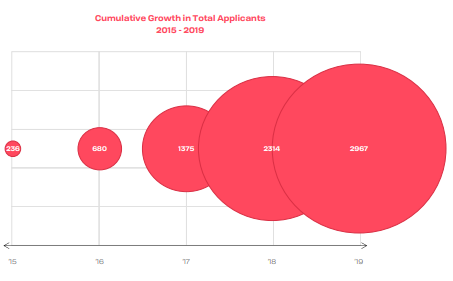 School Partnership
In 2018, APA had over 7000 students reached across 65 partner schools that had an 85% average pasting rate across APA teacher-leaders' classrooms – double the rate of the national average.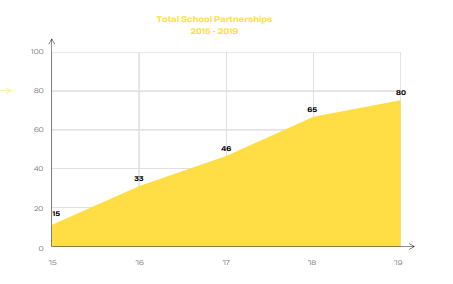 Teacher and Alumni Leadership
In 2018, 90% of APA's alumni ambassadors have remained in education and 8 had been promoted to positions of school leadership.
In the Works
Mobile app to tack student and teacher progress

Movement building in Haiti to allow advocacy of education equity and social justice

Cohort program for parents and school leaders
2020
The goal of Anseye Pou Ayiti is to equip 20,000 civic leaders for the 4 million children of Ayiti. This is to be done by working with Haitian communities to create a network of civic leaders and build an equitable education system based on shared history, values, and vision. 
The year started with kids returning to school from the holidays.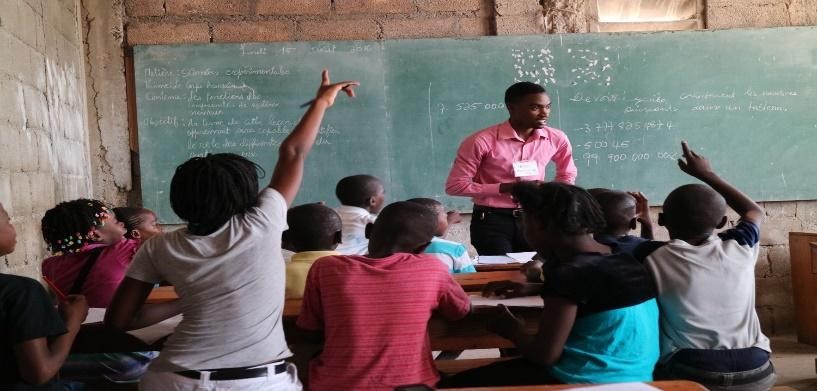 Then March 2020 came and the world changed.
APA and Haiti have responded to the pandemic. Countries such as Haiti were a bit more prepared for virus promulgation because of past and recent episodes of various natural disasters.  
Supporting families while students are out of school due to the COVID pandemic, including APA supporting distance learning via radio lessons: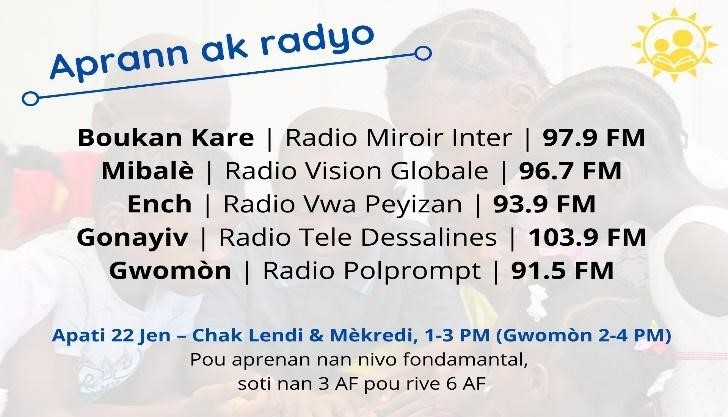 In late August, the school year resumed. In the midst of this pandemic, Anseye Pou Ayiti has continued to move along with creativity and awareness to continue its goal and mission.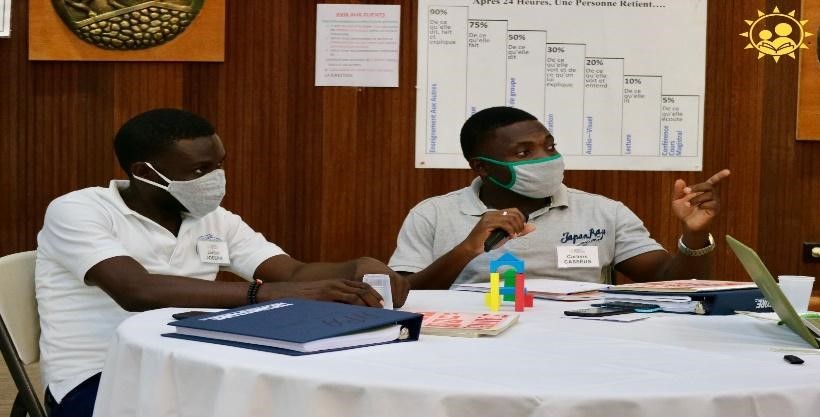 Currently in Haiti, there are COVID-19 testing sites to perform testing free of charge at five public/private health institutions in Haiti: West, South, Centre, Artibonite, and North department of Haiti.
As of December 3,2020, there have been 9,331 confirmed cases with 8,114 recovered (87%). To date there have been 233 deaths or 2.5% fatality rate. For more details, see Haiti's COVID-19 tracker here.
As everyone combats the virus, APA continues the mission and movement.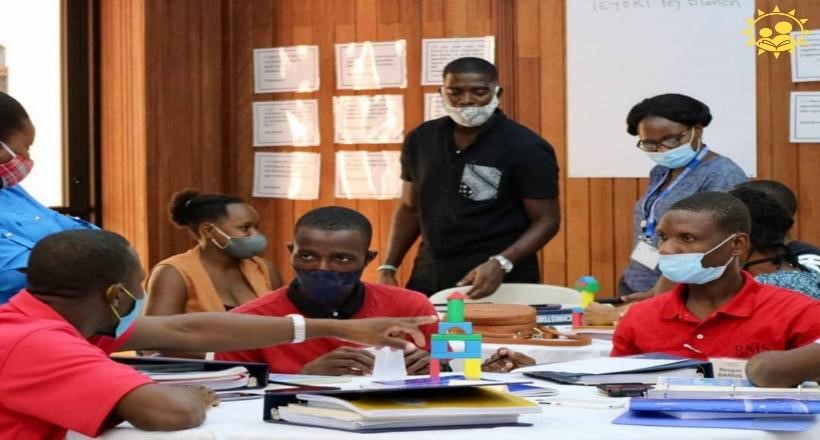 To envision an education system in Haiti that affords all the country's citizens their human right to a high-quality education by promoting teacher excellence and student success. We have a bold vision focused on reimagining the role of high-quality Haitian teacher leaders for the ultimate benefit of all students.

Anseye Pou Ayiti will raise education outcomes in disadvantaged areas of Haiti by recruiting and equipping outstanding teachers for existing schools. Transformational teaching and leadership will equip all children with the knowledge, skills, and mindsets to achieve their full potential with equal opportunity, pursue lives of mutual prosperity, and contribute to a more enlightened 21st century world.
What's Next?
APA's talent development cycle is a core component of the APA approach to equip a new generation of civic leaders. During the 2020-2021 year, they aim to continue providing targeted, contextualized, and sustained professional and leadership development for their 2019 and 2020 cohorts as well as their alumni ambassadors.
As of September 2020, APA is continuing to coach 50 teacher-leaders from their 2019 cohort. They have also recruited 15 participants for their 2020 teacher-leader cohort, all of whom are from their partner communities. While they decided to reduce the number of participants for the 2020 cohort to minimize the risks associated with the political unrest in Haiti and avoiding large-group activities based on the ongoing pandemic, they continue to coach and support all participants through hyper localized activities (conducting professional development workshops in each partner region instead of holding one big event for everyone), one-on-one meetings between teacher-leaders and Community Coaches, distance learning methods, and through remote coaching activities.
They are also recruiting for their other two cohorts: the next cohorts of parent-leaders and school leaders. As in the past, they know that community-level transformation isn't possible solely with teacher-leaders. All three cohorts are vital to achieve deep and sustainable change.
Want to Know More?
Watch to learn more about APA's mission from their team, teacher leaders, and students!
Photographs and video courtesy of Anseye Pou Ayiti.
LEARN more about Anseye Pou Ayiti here.
SHARE this story on Facebook and Twitter; see menu at top and bottom of page.
DONATE directly to Anseye Pou Ayiti here.
SUBSCRIBE! Like what you see? Click here to subscribe to Seeds of Hope!