Bridging the Ethnic Divide: Education Bridge Promotes Peacebuilding in South Sudan
Categorized as: Africa, Education, Girls & women, Grantee, Leadership, Our Partners, Stories, Youth on November 9, 2019. Related Grantee: Education Bridge.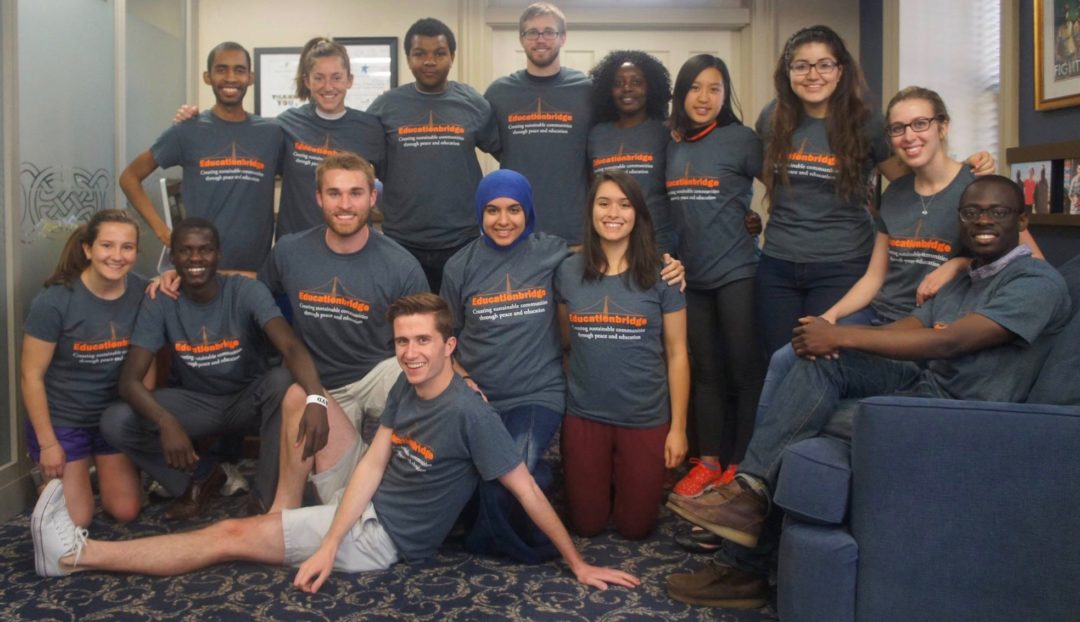 The Education Bridge team
Editor's Note: Skees Family Foundation began working with Education Bridge in 2019. They received a Generational grant, given by the third generation of the Skees family. Our vote to work with them was unanimous, which, if you have ever had a meeting with more than ten voting members, you know how difficult it can be to accomplish that. But our generation was so inspired by Education Bridge's model, work ethic, and courage that the decision came easily. 
As most of our readers probably know, South Sudan gained independence in 2011, but their road to recovery was, and maybe still is, far from over. Most of their schools had been destroyed and education at that point was not the priority. Since gaining independence, they have still been immersed in civil wars and violence. However, Education Bridge has put that conflict on the back burner and has pushed education in South Sudan forward.
Read on to learn about what they are doing and how they are reshaping the future of South Sudan.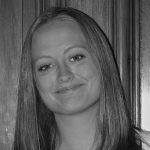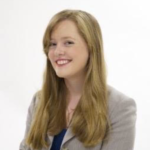 By Brienne Skees, VP of Research and Data Management and Program Officer of Skees Family Foundation (left) and Alison O'Neil, Social Media Manager at Education Bridge (right).
Who is Education Bridge?
Education Bridge is a non-profit organization that builds and operates schools in South Sudan. They were founded by a Sudanese man named Ngor Majak Anyieth (Majak), who created the school while he was an undergrad student at Notre Dame. As an organization, their mission is to create flourishing South Sudanese communities through holistic education and peacebuilding. This mission is reflected in their two primary goals:
Goal One: Education for Girls and Boys
Their first goal is to increase access to quality secondary education in South Sudan. In particular, they focus on helping girls attend school in a country where child marriage is common and the female literacy rate is sixteen percent. To achieve this goal, they aim to build and operate schools across the country, and provide scholarships to girls and students with financial needs. In February 2017, they opened their first school in Bor.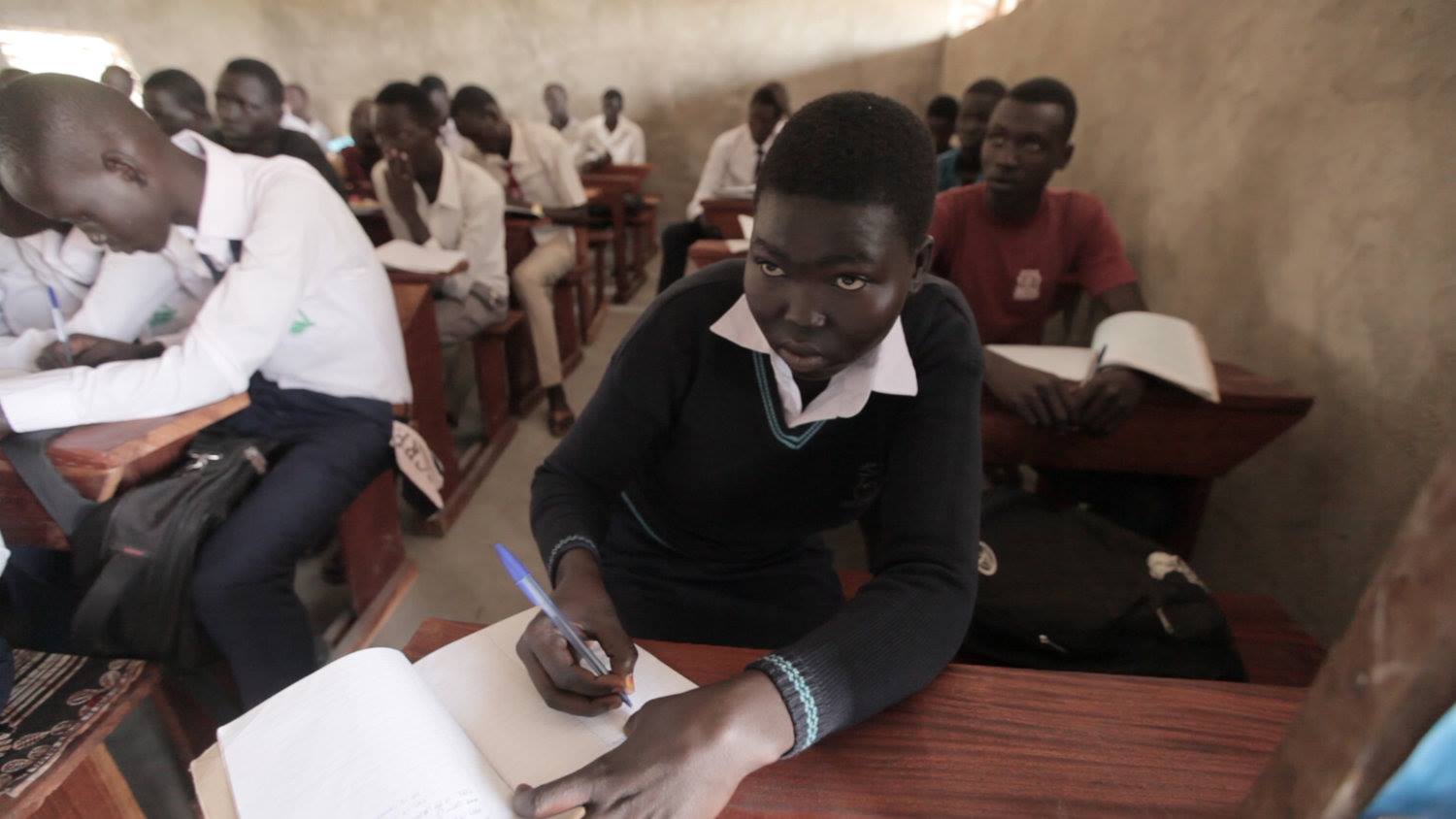 Students in the classroom at Education Bridge
Goal Two: Peacebuilding
Their second goal is to help students develop peace-building skills. They hope to help alleviate ethnic conflict among younger generations in South Sudan by using their peace-building curriculum and also by creating diverse school communities where students from different ethnic groups can safely interact with one another. They are one of the only schools in South Sudan that focus on helping students develop peacebuilding skills. They have worked with faculty and students at the University of Notre Dame to develop a peacebuilding curriculum for their students. This curriculum focuses on teaching students mediation and negotiation skills, and on instilling in our students a commitment to peace and equality. 
How Do They Do It?
Greenbelt Academy is located in Bor, Jonglei State. Their school currently serves 400 students, including 80 female students, from Grades 9-11. They have 12 teachers and 10 non-teaching staff. Their school uses the South Sudanese School Curriculum and teaches Chemistry, Biology, Physics, Mathematics, English, Geography, History, Accounting, Commerce, English, Christianity and Agriculture. Due to the ongoing famine in parts of South Sudan, their school provides lunch daily in order to help their students stay healthy. They also provide housing for students who can't make it to and from school safely.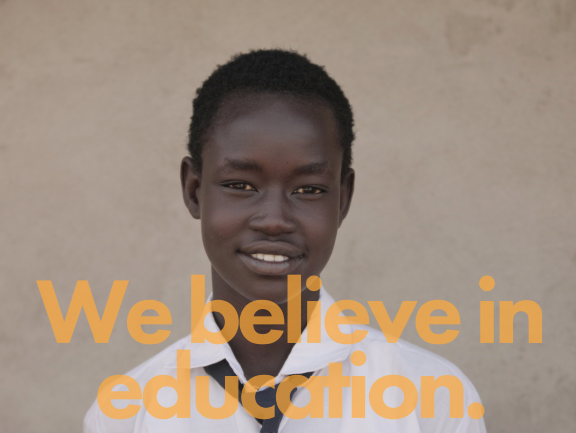 One of their many amazing students
Moving On Up
In spite of the school being relatively new, they are already making huge strides! In the summer of 2019, they sent three students to the US to study, two to Notre Dame and one to Yale for their summer scholars programs. Each student was awarded scholarships to attend these two-week programs.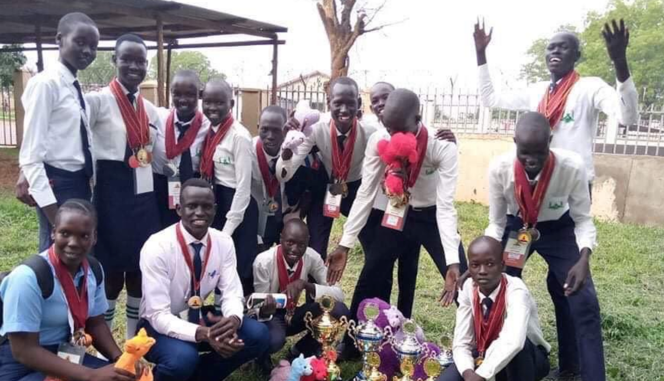 Participating students from the Global World Scholars' Cup
Additionally, their Greenbelt Academy students were able to compete and advance several rounds through the World Scholars' Cup. Twelve students from Greenbelt Academy took home first prize in the national level, held in Juba, South Sudan. Six of the winning students, accompanied by two teachers, went on to compete in the Global World Scholars' Cup in South Africa in late September. Despite a tough competition with competitors from twenty other countries including the United States, Kenya, Korea, South Africa, and the United Kingdom, among others, their students excelled and won two gold and eight silver medals in various components in the competition. 
What's Next?
Education Bridge has some really exciting things in the works. Right now, their dormitories are specifically for girls. However, they will soon be branching out with a boys dormitory. They are also working on plans for a library. Keep an eye out for Education Bridge's developments!
All photos were provided by Education Bridge or obtained through their social media channels.
LEARN more about Education Bridge here.
SHARE this story with your networks; see menu at top and bottom of page.
DONATE directly to help support Education Bridge here.
SUBSCRIBE! Like what you see? Click here to subscribe to Seeds of Hope!