Why Farmer Centric Design is Crucial to Technological Advancement in Farm-Tech
Categorized as: Education, Girls & women, Grantee, Job Creation, Latin America, Leadership, Our Partners, Poverty Alleviation, Stories on January 23, 2021. Related Grantee: Bean Voyage.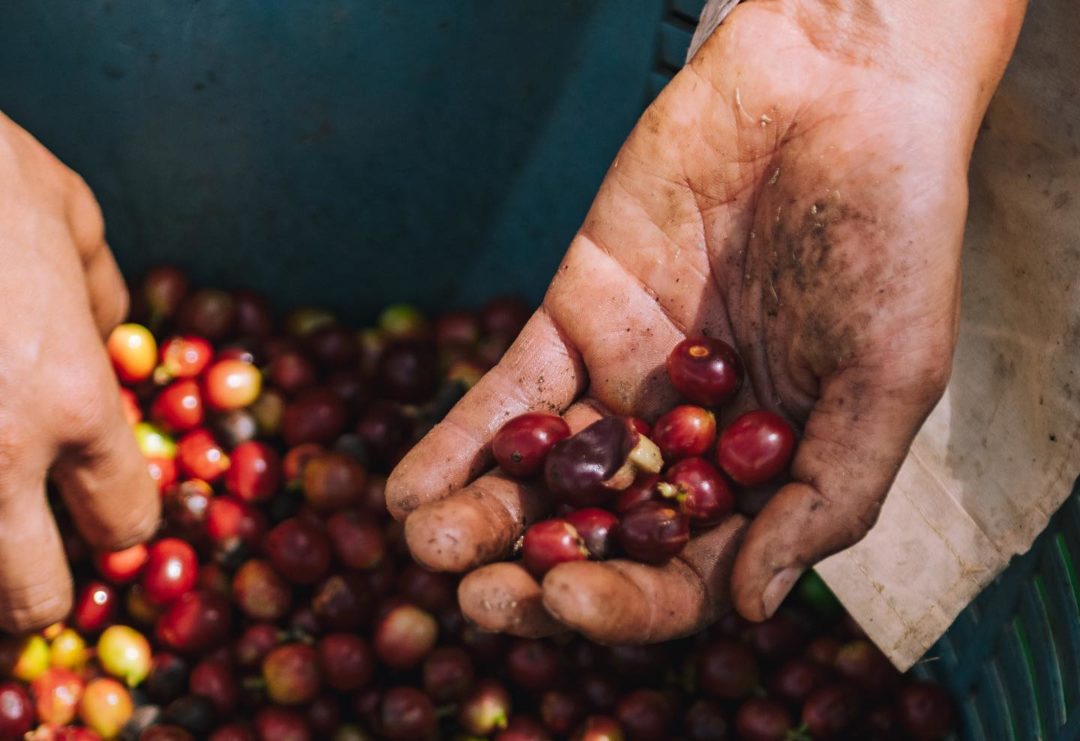 Editor's Note: Skees Family Foundation has been working with Bean Voyage for several years now, and we just love the work they are doing.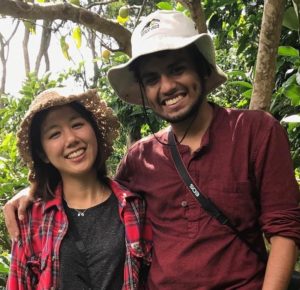 By Sunghee Tark (left) and Abhinav Khanal (right), Founders of Bean Voyage
Four years ago, at the early stages of Bean Voyage, we received an invitation to present Bean Voyage in front of a major development agency for a seed fund to develop our ideas. During our presentation, we explained our plans to develop a farmer centric training program to improve the quality and business practices for smallholder women coffee farmers. At the end, the room, filled with all men, asked if we intended to use any "blockchain" in our programs. Knowing full well that our partner farmers were far from being able to use blockchain tools, we expressed hesitation at the idea of introducing a tool that would alienate farmer engagement. The committee then asked if we wanted to build some form of an app to help with the training. Again, knowing that we were still supporting farmers with enrollment into Facebook groups, we resisted any ideas of developing an app as part of our ideas. At a time when Ag-Tech and BlockChain were the jargons that the development community sought to support, we were rejected and suggested to incorporate more 'blockchain language' in our future planning. 
Disappointed, but aware of the fact that we were onto something with farmer-centric programming, we collaborated with coffee farmers and industry partners to co-develop a curriculum and training program that focused on ensuring high knowledge retention rates among the farmers. Sure, we did not receive the major grants that would allow us to scale exponentially, but we were able to fly under the radar and test various models to find a model that delivers impact on the ground.
Covid-19: Transitioning To and Utilizing Tech via WhatsApp
Fast forward to 2020, in the wake of the COVID-19 pandemic, we were unable to host in-person workshops. So, we launched our version of remote training: Colaboración Virtual 2020 (COVIR-20). COVIR-20 was a response to the COVID-19 pandemic to continue providing key knowledge programs (often time-sensitive) and market access support to smallholder farmers by leveraging existing low-cost and highly-accessible technology such as WhatsApp. Why WhatsApp? The reason for it was quite simple. We have actively used WhatsApp as the main communication platform with our partner farmers since 2016. Farmers whose age ranging from 16-60+ knew how to use the app, most of their phone plans had data for WhatsApp already included and its voice note feature allowed for those that did not feel comfortable reading to communicate easily.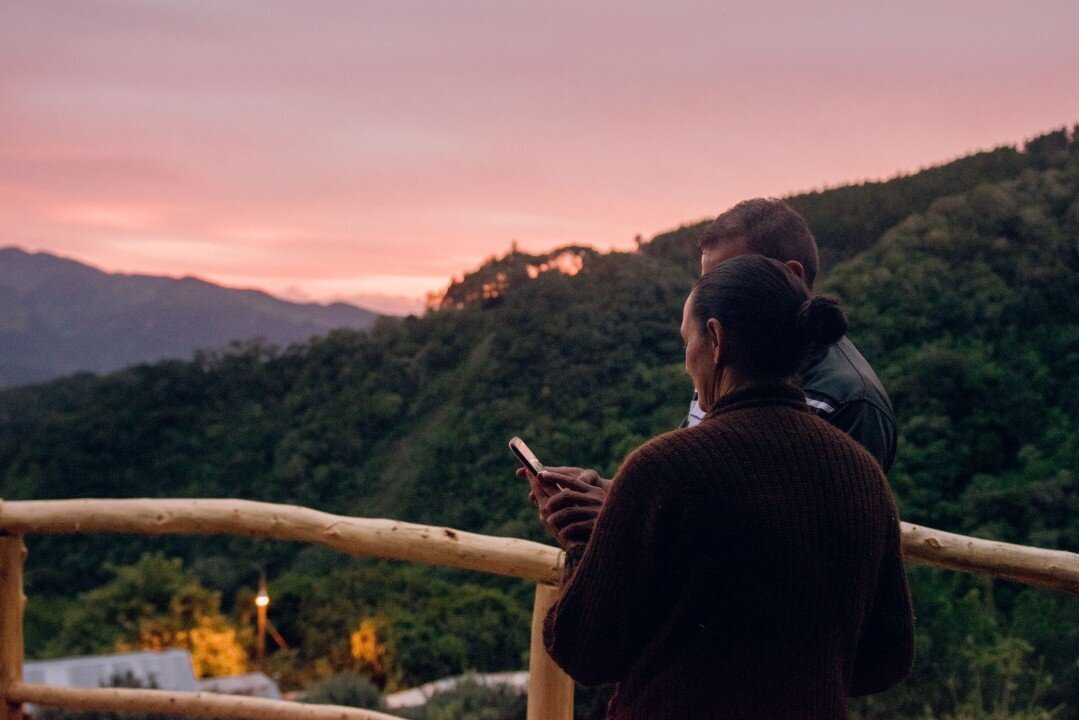 Each week, farmers received curated learning materials via WhatsApp in voice notes and images. We then hosted live sessions on WhatsApp where the farmers had a space to ask questions and gauged their own understanding by playing interactive games. 
To Pilot COVIR-20, we tested our e-learning on post-harvest practices and market programs for 67 coffee farmers in the collective. During the pilot, we witnessed a 78.1% increase in knowledge retention rate of learning material provided, faced an attrition rate of less than 8%, and 90% of the farmers responded to surveys saying that they would take an "online" course via WhatsApp again. 
As a result of our early success, we were able to build strategic alliances with the Canada Fund for Local Initiative and CoopeAnde to scale the program for 250+ smallholder women by the end of 2020. As we write this, our team of 10 community-based facilitators is running a 40 hour training for these farmers on topics such as farm finance, household finance, exportation, COVID-19's market impact for coffee farmers, and climate resistant farming practices. 
Ag-Tech: Failing Womxn Farmers
An article published by Feed The Future, contends that Ag-Tech has failed women farmers. It states "the uptake across this industry is abysmal, and this is not because the 'end user' is not seeing the value proposition. It is because this customer, which is a far better way to reframe the relationship between implementer and intended that removes the latter out of the category of 'charity case,' is not getting what s/he wants."
The Ag-Tech space has truly been saturated by a heavier focus on the "Tech," and limited focus on understanding the ecosystem of the "Ag." Myopic focus on men as users further aggravate the problem. 
"Women work in agriculture as farmers on their own account, as unpaid workers on family farms and as paid or unpaid laborers on other farms and agricultural enterprises," and they comprise 43 percent on average of the labor force in farming communities, according to a study by FAO published in 2011, making women even more critical stakeholders to be taken into consideration for any developments in Agriculture.
The article by Feed The Future continues to suggest that, "rural smallholder farmer women do not live in vacuums. They live in tenuous economies that are challenged with migration, climate change, and societal challenges that implementers can barely conceptualize. If the AgTech application does not demonstrate tangible value immediately, it will not be used."
WhatsApp for Farmers
But, this piece is not about a pat on our backs for getting it right back in 2017 (although we are glad that we listened to our community partners and our values). Instead, we wanted to share some lessons that we have learned providing farmer centric training using digital tools with the hope that the Ag-Tech space will evolve to be a more gender inclusive (therefore, effective) one. Here they are: 
WhatsApp is more than a texting platform

: for many around the world, WhatsApp is a simply one of the texting services, and yet in many communities of Costa Rica (and around the world), WhatsApp has the ability to gather farmers at a time where physical interactions are limited. In many countries, WhatsApp is provided as part of a phone plan, and independent of their educational level or age, our experience informs us that it is a highly accessible and cheap (time & resources-wise) tool. Developing a curriculum that is tailored to WhatsApp can look like actively engaging its features such as voice notes, photos, texts, to share learning materials and evaluate the progress. At Bean Voyage, we run a 1-hour weekly workshop on WhatsApp for our farmers. During the session, all farmers "sign in" to their WhatsApp groups and engage with our facilitators on topics that are being discussed during the session. Voice Notes and images allow farmers who do not find reading comfortable to engage with the materials with more ease, allowing us to effectively bridge the information gap that's often seen in rural communities.

Youth need to bridge the digital divide

: there is a gap between smallholder women farmers and the tools that are currently available. While it is easy to look at technological tools as the end, it really is a means to the end. We discovered that establishing community-based facilitators, focused on rural youth who tend to be at a high risk of unemployment, is the path to bridge that gap. Not only are they located in coffee farming communities and able to provide in-person support to farmers, but they also are much savvy-er when it comes to new tools. The younger generation tends to adapt quicker to the changing technology, and their understanding of their local context is key in transferring this knowledge, and bridging the digital divide. Every two weeks, we catch up with the facilitators for a 1-on-1, and learn about what kind of content is working, what is challenging, and the ways in which our training can meet their participants' learning needs. 

Semi-Virtual is the way to go:

although we spent much of this piece talking about the ways in which our training has been successful, we have also gained some key insights on what can really work looking ahead. One of the key lessons has been that we have to balance tech tools with in-person services. For most of 2020, we hosted our training virtually, and although the attendance was higher (because, let's be honest, everyone was home), we did notice that farmers felt more disconnected from one another than during in-person sessions from 2019. Our training is organized in groups of 20-25 farmers, and during regular training, farmers are not only learning from the facilitators, but are able to connect with one another, forming a peer-support network whose impact goes beyond our training. With Whatsapp training, however, it was difficult for them to have side-chats, or arrive slightly early to meet one another. As we prepare for the 2021 training season, we plan to hire more facilitators, reduce group sizes, and organize monthly in-person sessions where farmers can connect with one another at a deeper level. Formation of community is as important to our mission as training and we believe it's hard to entirely replace the connection you form through in-person interactions with virtual ones.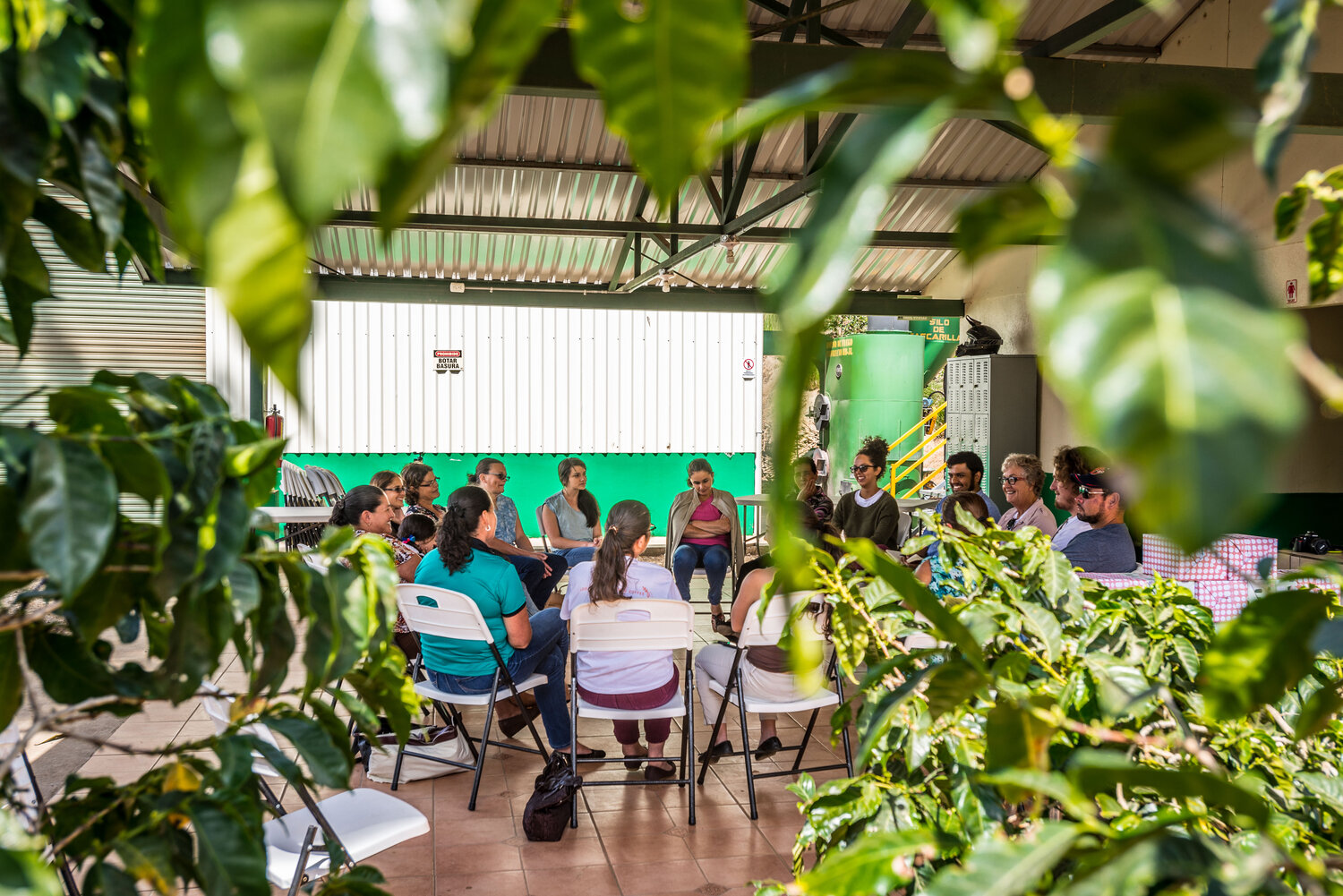 In 2021, we plan to offer training on four key topics which are crucial for smallholder women coffee farmers to run their coffee business sustainably. Topics to mitigate the risks of uncertainty in the market have risen as key topics at the height of the global COVID-19 crisis. Therefore, we will be spending much of our 2021 equipping farmers with key knowledge in adding value to their agricultural products, diversifying their income sources and gaining the market system and infrastructure. Some of these topics include home roasting and tasting, understanding the specialty coffee market, diversification and adaptation to climate change, and marketing and social media. They will be offered in a semi-virtual format with the hope that the conditions for COVID-19 getting better. 
Going Virtual in 2021?
Finally, if you're looking to introduce technology (if you have not already), we highly recommend sitting down with the stakeholders that are at the core of your mission and asking them a few basic questions: 
What is your biggest need?

What are digital tools that you feel comfortable using?

What are ways in which technology can help you address your needs?
Three very simple questions, and can have a magical impact on your Ag-Tech programming.
All pictures obtained via Bean Voyage.
LEARN more about Bean Voyage here.
SHARE this story with your networks; see menu at top and bottom of page.
SHOP to help support Bean Voyage and buy coffee here.
SUBSCRIBE! Like what you see? Click here to subscribe to Seeds of Hope!