Thoughts From Uganda: Stories of Pivoting Through the Pandemic
Categorized as: Africa, Girls & women, Grantee, Job Creation, Leadership, Our Partners, Poverty Alleviation, Stories on April 10, 2021. Related Grantee: Idea4Africa.
Editor's Note: The COVID-19 pandemic has had a deep impact on the work our partners do, and we have been so inspired by their perseverance and flexibility during this (very long) year. Read the story below to learn about how one of our partners, Idea4Africa, is coping with not only the pandemic and the violent and mentally traumatic repercussions of the lockdown, but also added hurdles stemming from political transitions. 
This is part one of a two part series, with this piece focusing on Idea4Africa's work in Uganda and the next on their work in Rwanda, with very stark differences in their governments' handling of the pandemic.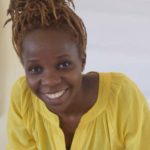 By Betty Nakato, Idea4Africa Country Director, Uganda
Uganda and the Pandemic
Today, Uganda stands at a little over 40,000 Covid-19 registered cases, approximately 15,000 recovered cases and 334 deaths. The country also ordered and procured 18 million doses of the AstraZeneca vaccine, but the masses are hesitant to get it. Although these figures are not as grim in comparison to what is happening around the globe, it is important to note that the Ugandan healthcare system is not equipped to handle any irregularities. Most people earn daily wages with very limited ability to make ends meet past a week without work. Uganda also has a population of 44.27milion people with more that 78% of that below the age of 35.
In March of 2020, the government introduced strict measures that included stay at home orders and shut down everything but for healthcare and food services for 3 months. In June, some of the measures were lifted but schools and places of worship remained closed until October. In October, students in grades that sat for the national exam went back to school. Consequently, many school-going aged children have been out of school for more than a year to date. Schools only reopened this month to send back students in a staggered manner. The country has seen an increase in domestic violence, teenage/child pregnancies, and urban-rural migration as businesses close and employers continue to lay off workers.
Like many parts of the world, Uganda is also navigating a political storm, that has registered unprecedented violence including kidnapping and torture of political opponents. Over the past 6 months, many young people have taken  to the streets to protest against injustices and failed systems of the current regime of 34 years. The internet was shut off during the election week in January and it is still not fully restored. Phone calls are tapped regularly and those that are vocal against the government continue to disappear.
Finally, we have seen an increase in mental health related illnesses and according to Dr. John Kiryabwire, the president of the Neurosurgical Society of Uganda, there has been a 30% increase in cardiac/stroke related deaths among Ugandans below the age of 35 over the last 10 years.
Our Work
Our work has been affected but our hope remains in the determination and focus of young people to forge a different narrative for themselves, their communities, and ultimately our whole world. More young people went to the polls to vote this year, and there are more younger members of parliament than the country has ever had.
Our high school program is at a halt as students have been out of school. For the greater part of the pandemic, we shifted focus to provide mental and emotional support to our communities. We did many WhatsApp and over-the-phone coaching. In December of 2020, we slowly went back socially distanced in-person workshops and those carry on to date. Our Idea4Africa loan funds number of participants and continues to grow. It has been crucial in re-orienting some of the entrepreneurs in the program.
Adapting to the Pandemic
Byamungu fled from war in Congo with his family in the Fall of 2013. He was resettled in Nakivale as a refugee where he has lived for the last 7 years. In 2018, he attended and completed I4A's From Ideas to Action training. Guided by the knowledge from the training, Byamungu and his wife were inspired to start a business that grew, bought, and resold vegetables. During our visit with Byamungu, he said "before the training my wife and I used to depend only on the monthly food rations from the World Food Program, but with the vegetable business, I contribute towards my children's school fees and provide basic needs for my family."
Byamungu and his wife started their business with $10 and had grown it to $50 before the pandemic. However, with the lockdown they have had to dip into their capital to provide food for their family. Byamungu said, "Covid-19 has put me back to my knees." However, he had put aside $12 to reestablish his business once the lockdown measures were eased. When we visited, he and his wife were just returning from a purchase trip. They were hopeful they would rebuild.

Byamungu and his wife (L) and Jonas (R).
Jonas Kahindo was one of the 100 young people who attended our first Entrepreneurship Seminar in the Summer of 2018. Since then, he tried different businesses including graphic design and photography that didn't work out well. At the beginning of this year, Jonas acquired a sewing machine from a training he attended and finally started sewing. The timing couldn't have been more perfect since all individuals are required by law to wear a mask in public places. He started with a plan to repair and make men's clothing but he would quickly pivot to making masks that required very limited material and time compared to full outfits.  Jonas is very proud to contribute to the safety of his community.
All photos courtesy of Idea4Africa.
LEARN more about IDEA4Africa here.
SHARE this story with your networks; see menu at top and bottom of page.
DONATE directly to help support IDEA4Africa here.
SUBSCRIBE! Like what you see? Click here to subscribe to Seeds of Hope!