Legacy of Love: Honoring Jasmine & Hugh Skees
Categorized as: About us, Stories & Tagged as: Dayton, Dayton International Peace Museum, Hugh Skees, Jasmine Skees, Kentucky, Mercy Manor, Obituary, Oklahoma, Philanthropy, Precious Blood Ministry of Reconciliation (pbmr.org), Social justice on March 27, 2021.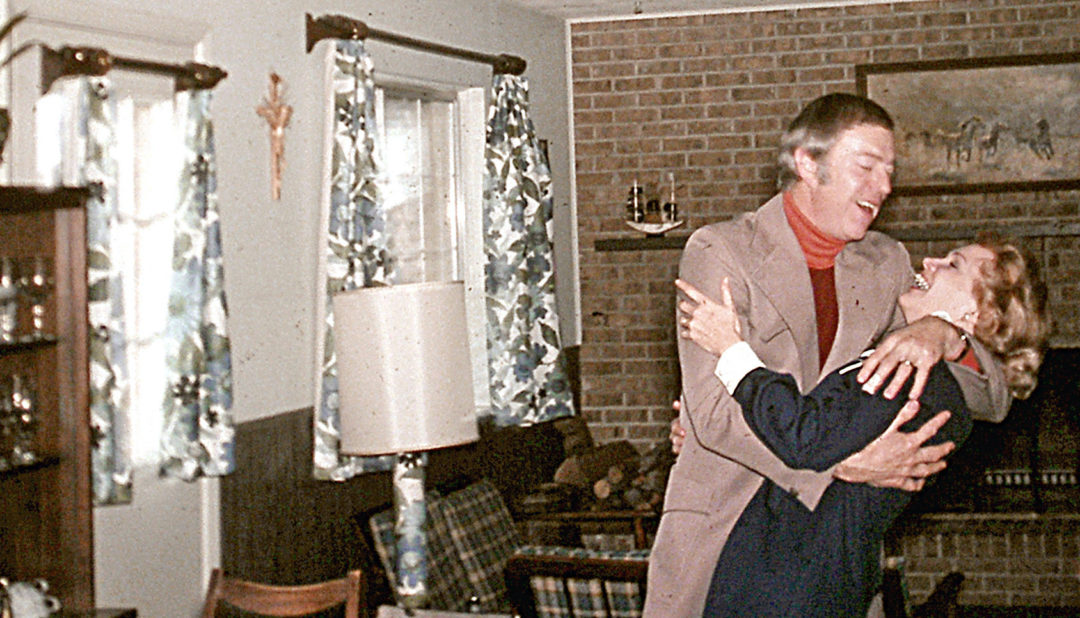 Editor's note: This past year might have brought deep trauma and loss to many of you, our friends and partners, and to too many good people around the world. We join you in heartache as we release both of my parents, former SFF board members, married 64 years and deceased within five months of each other: Hugh in October 2020 and Jasmine in March 2021.
Does any life outlast the ravages of time? Does any legacy conquer the oblivion of death? — Maybe love can.
–Suzanne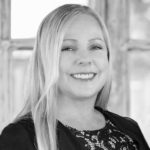 By Suzanne Skees, Founder and Chair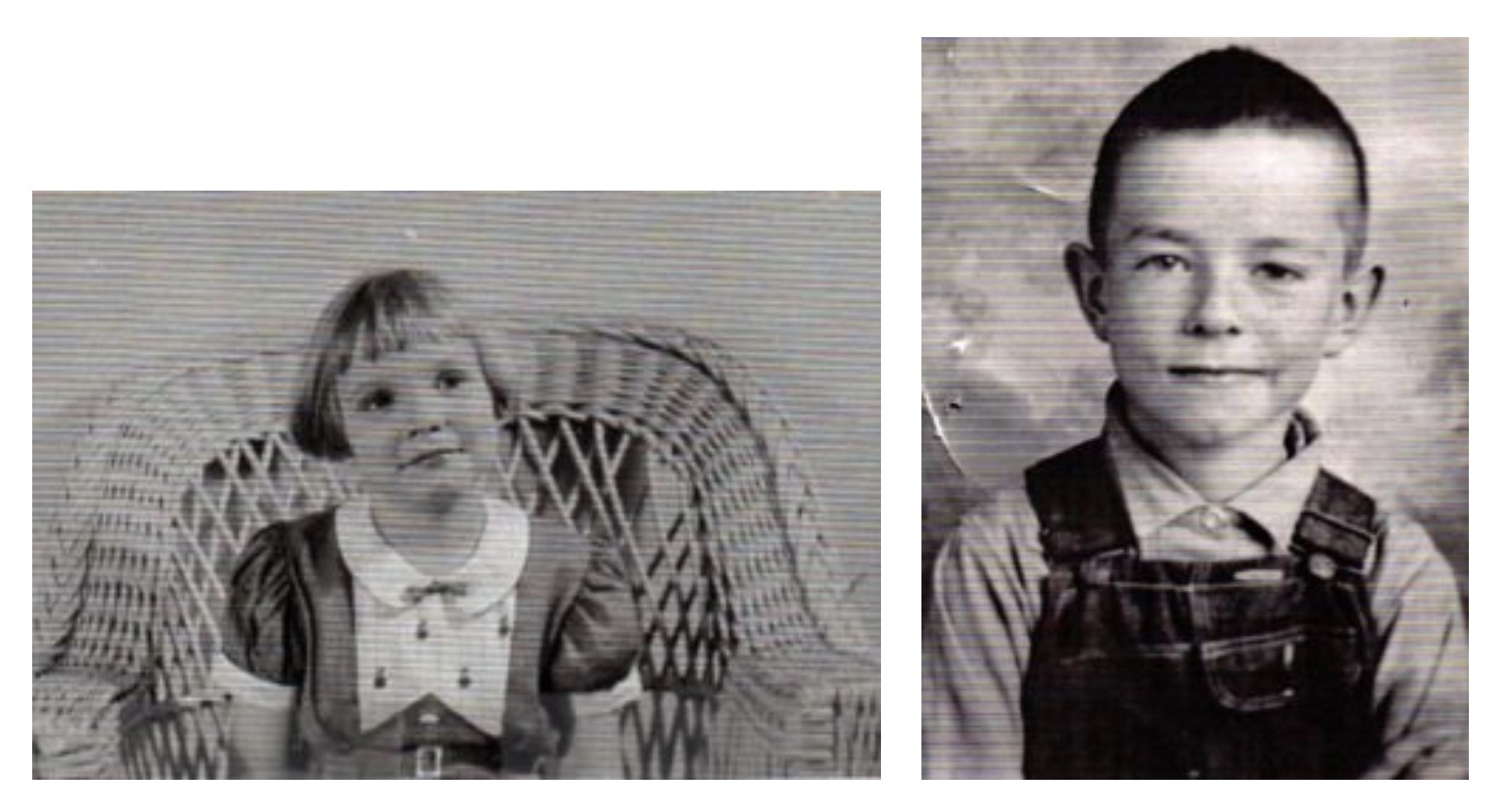 Jasmine and Hugh when they were children in Oklahoma and Kentucky
Deliberate Soulmates
Farm Boy
Hugh, the youngest of eleven children, grew up on a farm in Elizabethtown, Kentucky, where he milked the cows, fed the chickens, and helped tend tobacco, soybeans, and wheat from age six onward. His devout Catholic family was a hardworking, stoic bunch; Hugh later would marry his opposite. Jasmine, seven years younger and born in Butler, Pennsylvania as the tenth of thirteen children, moved in infancy with her family to Okmulgee, Oklahoma, when her father received a promotion to plant manager for Pittsburgh Plate Glass.
Southern Belle
Jasmine's family lived in town, although two of her older brothers owned a cattle ranch nearby. She played classical piano and served as the church organist. She excelled in school. Her parents permitted just one year of college since they expected her to marry and become a homemaker; unlike her sisters, who'd all gone into nursing, Jasmine attended Oklahoma A&M (now Oklahoma State) in Stillwater, OK, studying art and design.
Their Convergence
Hugh, meanwhile, the first in his family to attend college, worked his way through St. Louis University to achieve an undergraduate degree in organic chemistry in just five years. (He would later earn his master's in night school while working full-time, married and parenting a quick succession of babies.) Jasmine, then in her late teens, left Oklahoma to live with two elder sisters in St. Louis and–perhaps just by coincidence?–procured a secretarial job in the math department of St. Louis U.
The scientist and the artist met when he passed in the hallway and did a double-take: As family lore goes he noticed at once how her shapely blue sweater set off her beautiful eyes, as well as the statue of the Blessed Mother perched on her desk.
He wanted to date Jasmine but, lacking any pocket money, resorted to walking her home from Sunday Mass.
Drafted into the army, Hugh then left to serve in Germany, and their courtship developed through love letters during the next two years. They married within two months of his return, on July 31, 1956.
Their Success
Opposite as their personalities were, and despite many challenges, they remained married all their lives. They attributed their long-term love not to magic or luck but to a deep, reverent commitment held by both to the partnership itself.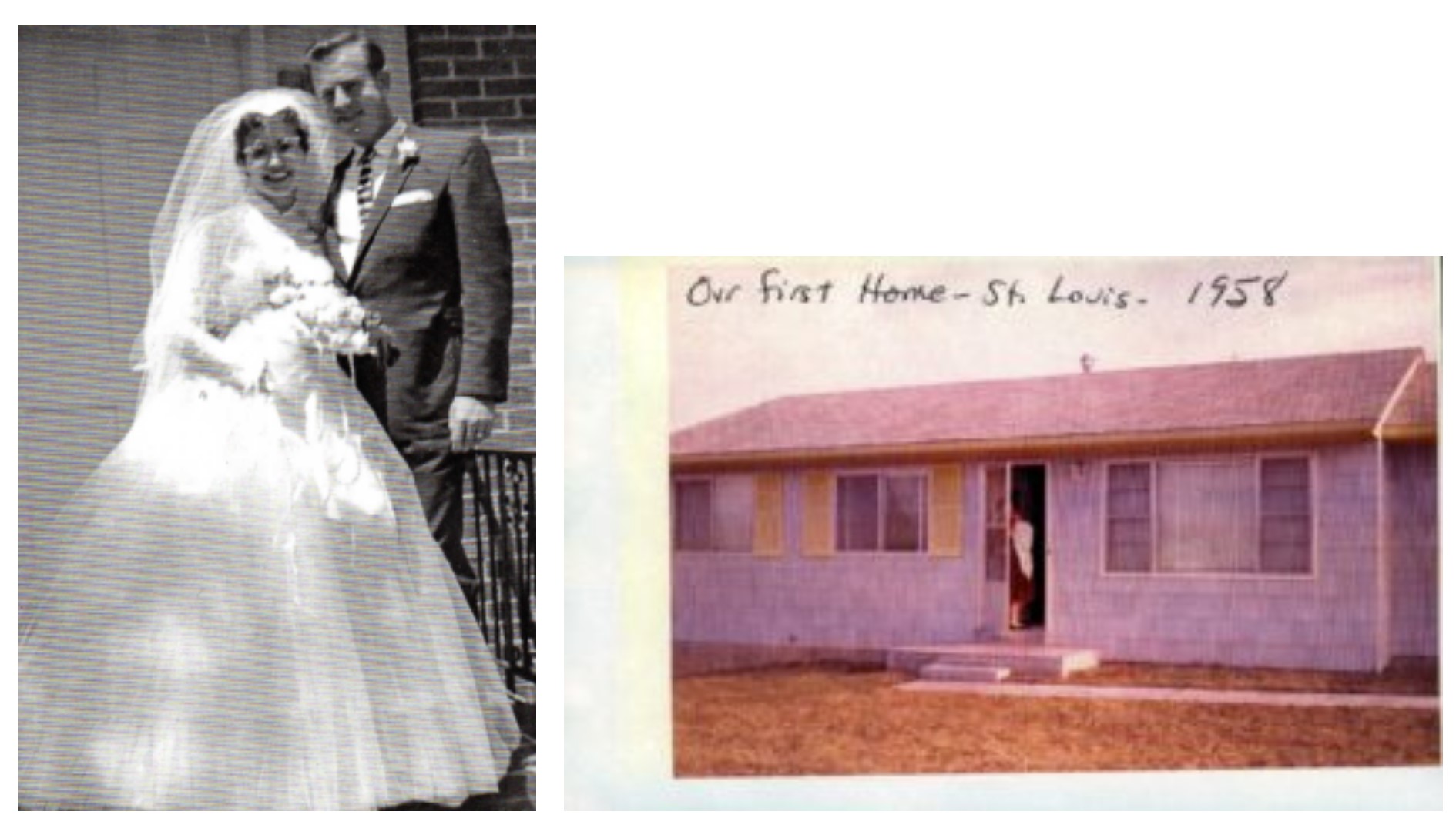 They had a very small wedding at the peak of summer heat in Okmulgee, Oklahoma on 31 July 1956; their first home in St. Louis, Missouri.
Prolific Parents
Building Career and Family
Jasmine and Hugh rented a tiny half of a duplex and quickly gave birth to seven children in eight years; first in St. Louis and then Dayton, Ohio, where Hugh procured work in paper processing (remember fancy, colored junk mail addressed personally to you?) at The Standard Register Company. Excepting a few years' stint in Chicago, he worked there for thirty years and they called Dayton home for over five decades. 
A highly efficient perfectionist, Jasmine took pride in cooking dinners "from scratch" on a meager budget, sewing all seven children's clothing, and keeping their home spic-and-span clean.
Conscious Coparenting
She and Hugh made a conscious decision (we found later in their letters) to co-parent actively, with Hugh changing diapers and helping with baths, bedtime, and homework, and both of them endorsing individuality and independence. Sure enough, we four daughters and three sons covered the gamut in traits and scattered across the U.S. in search of seven different dreams for family, career, and home.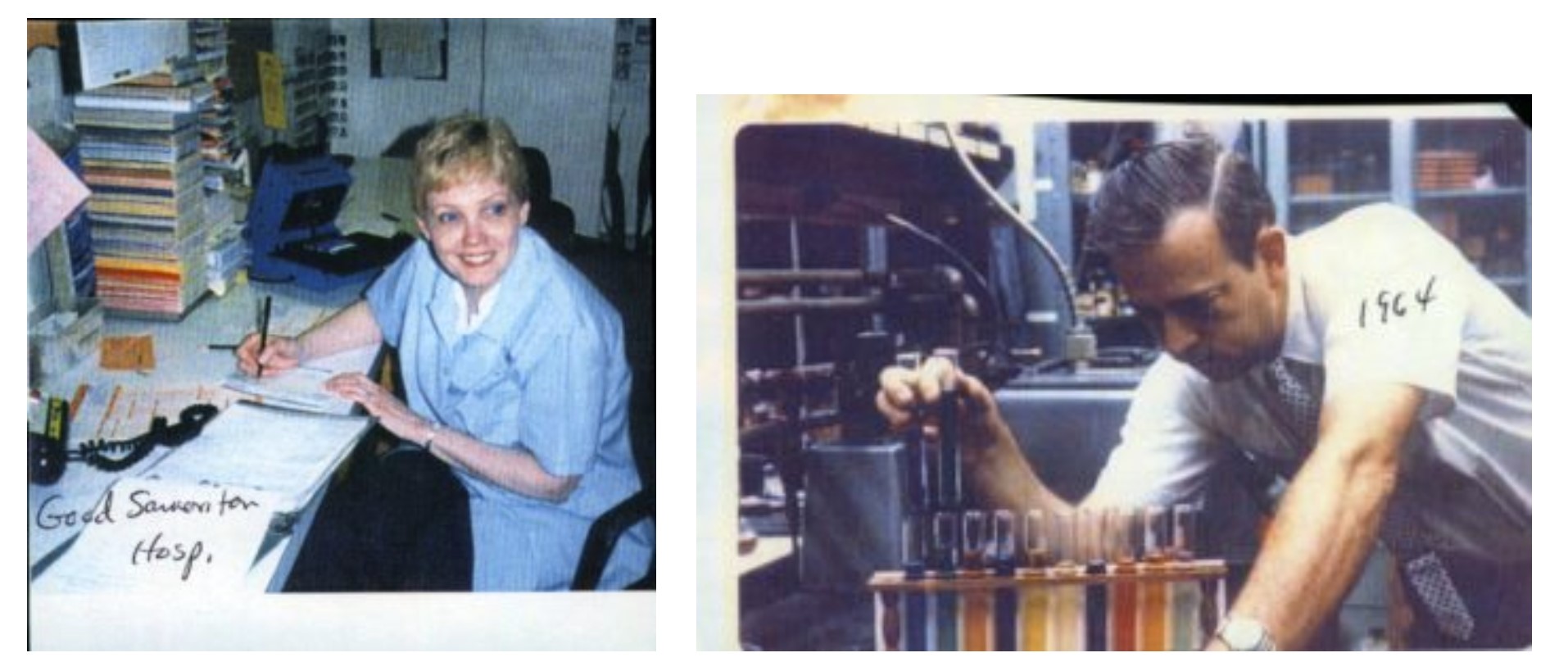 Jasmine worked part-time as a unit secretary at Good Samaritan Hospital and Hugh managed an engineering department at The Standard Register Company in Dayton, Ohio. 
Lifelong Learners and Givers
Church, Homes, Blood, and Peace
Hugh fervently believed that giving back to the community is both a responsibility and privilege. He served on the school board, volunteered at the family's church, and organized a community garden to help us and other local families learn how to grow and can vegetables. He was a 50-Gallon blood donor for the American Red Cross and helped build houses for Habitat for Humanity. Once he retired, Hugh drove seniors to medical appointments and served as a volunteer receptionist at the Dayton International Peace Museum.
Prayer Shawls and Hospice
Jasmine also shared her love with the world far beyond her family. Volunteering at church from the time the children were little to when they all left home, Jasmine then expanded her service to praying with surgery patients at local hospitals, visiting hospice patients to give their caregivers a break, and crocheting hundreds of prayer shawls for family and friends in crisis as well as women in domestic abuse shelters (see Mercy Manor, below), and women whose sons were injured or killed in gang violence (see PBMR, below). 
Learning as a Hobby
All their lives, both Jasmine and Hugh pursued studies–first in books and later, in college classes–in faith and spirituality, American and world history, and art and innovation. They enrolled at Wright State University, Sinclair College, and the University of Dayton … When the time came to move into the nursing home, they showed up together at every "on-campus" class and concert offered.

Jasmine crocheted hundreds of prayer shawls "with love in every stitch" distributed to friends and family in crisis as well as several hospitals and churches; Jasmine and Hugh at their kitchen table preparing for an SFF board meeting with daughter Suzanne; Hugh did handyman work and volunteered as a receptionist at The Dayton International Peace Museum.
Pioneer Social Justice Warriors
All Humans Equal
Despite living in a cookie-cutter house on a cul-de-sac in the suburbs of the Midwest, both Jasmine and Hugh had a vision far beyond their life and believed in the intrinsic value and equality of all humans. They supported César Chávez and farmworkers' rights, revered the work of Mother Teresa, Gandhi, and Dr. Martin Luther King, Jr., and embraced liberation theology's "preferential option for the poor" modeled by Jesus.
SFF Board Service
Along with their ongoing local volunteerism, Jasmine and Hugh leaped at the chance to serve on the board of the Skees Family Foundation–not because they viewed themselves as entitled or even qualified, but because it was another portal for giving.
We have always said, at SFF our family believes that love is in our DNA. The name of our foundation, in fact, hails to their heritage of "philanthropy of the hands"–which simply means that even if you don't have a lot of money, you have blood (which Hugh donated), talent, and effort to share.
As SFF board members, Jasmine and Hugh connected our family to local issues of hunger, incarceration, homelessness, domestic violence, and peace and reconciliation. They supported programs from job creation in Appalachia to restorative justice in Chicago, but they also rallied for the global giving that comprises 85 percent of our grantmaking.
Their greatest contribution was their cheerleading of the rest of us; they always affirmed our efforts and made us believe we could accomplish our extremely ambitious mission to end poverty through equality.
Connect with Their Legacy
Obituaries and Memorial Service
Obituaries: Read Hugh's obituary on DignityMemorial.com; Jasmine's will be up soon on that site and we will update you here on Seeds of Hope.
Memorial service: If you would like to join our family, in person at the Tobias Funeral Home in Dayton, Ohio, or onscreen via Facebook Live, please mark your calendars for a dual memorial for Jasmine and Hugh on Saturday, August 21 at 11:00amEDT.
Video about Jasmine
Jasmine talks about her life's journey from her birth to her board service for the foundation in this video. We shot it in their progressive-care apartment just as her memory had begun to disappear … Unfortunately, Hugh had at that point already forgotten much of his later life.
More Stories about the Lovebirds
More about their legacy here:
"Philanthropy of the Hands" story proves that giving even one dollar or one hour of one's time matters and can leave an impact not only on the recipient but everyone around you.
"Will Work for Peace" story about Hugh's service to the Dayton International Peace Museum.
Hugh's 27 patents for paper processing and printing, films and coatings, and insulation can be searched online via "Hugh B. Skees."
Jasmine joined many prayer groups and retreats through her lifetime and attributed the forgiving love of God as a catalytic healing force for her. Even in her final years, she was a loyal member of a group called Sage Sisters, a contemplative-book and -prayer group.
"Prayer Shawls" story on Jasmine's ministry to bereaved mothers.
"Girlbosses" story about how Jasmine and five other Skees women stepped from their kitchen, classroom, and offices into powerful philanthropic roles.
"Family Engagement" story highlights Jasmine's famous brownies at a reunion in historic Williamsburg, VA where extended-family members learned about the foundation's mission to end global poverty.
"Go Light Your World"
One of Jasmine's favorite songs–she would force every one of us to listen to it with her so we might believe in our capacity to do it–puts to music what, I believe, both my parents strove to do for their entire lives.
May they both rest in light and love, always.
If you wish to commemorate Jasmine and Hugh, please make a donation in their names to one of three nonprofits that were very dear to their hearts:
SHARE this story with your networks; see menu at top and bottom of page.
SUBSCRIBE! Like what you see? Click here to subscribe to Seeds of Hope!