Expansion for Resonate Means Amplifying Women's Confidence in Kenya
Categorized as: About us, Africa, Education, Girls & women, Grantee, Leadership, Our Partners, Poverty Alleviation, Stories, Storytelling on August 24, 2019. Related Grantee: Resonate.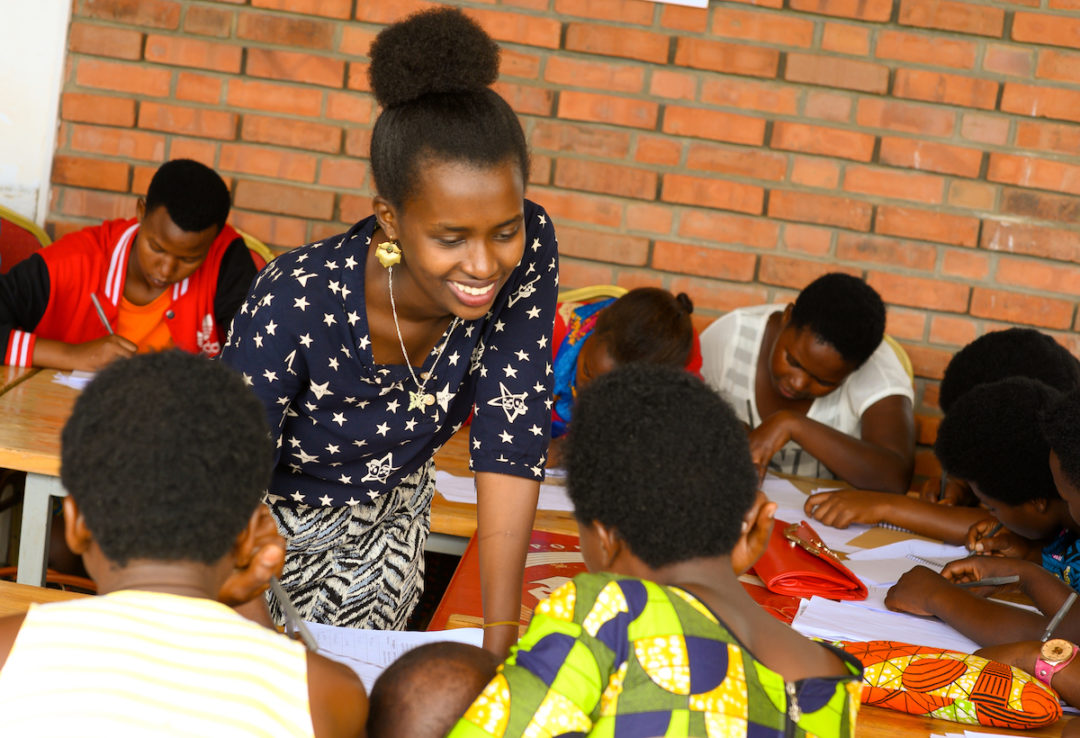 Resonate Facilitator: Delice Fatiro, Resonate's Program Associate and Training, leading a Storytelling for Leadership workshop with young women in Gahanga, Rwanda.
Editor's Note: Storytelling transforms lives. At Resonate, we know it because we live it every day in the work that we do, but also through the resilient and inspiring women we have the privilege to work with. What does transformation look like? In 2018, we followed up with past participants from our confidence-building leadership program and found out that 60% of them took on leadership roles in their communities, 36% started businesses, and 43% had a professional or academic advancement.
But more importantly, transformation looks like Priscilla, a Resonate participant, who said: "I started believing that who I am, what I do, and what I think are important – and that I can have a say in my community. Today, I am a leader in my community and it feels wonderful to participate in the wellbeing of my people."
It's women like Priscilla who move us and inspire us at Resonate to continue championing our mission of closing the confidence gap and giving women and youth the confidence and leadership skills they need to fully take advantage of social and economic opportunities that are available to them.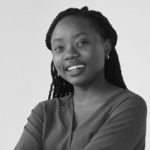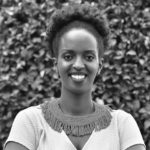 By Eva Barasa, Resonate Partnerships Intern (left) and Norette Turimuci, Resonate Executive Director (right)
Since 2014, Resonate has trained over 7,000 women and partnered with over 65 organizations, and we have gradually developed our position as pioneers for soft skills development and the importance of confidence in building leadership. While most of the work has taken place in Rwanda, our vision has always been  to create a world where women and girls are leading the changes they want to see in their lives and communities all over East Africa. It has taken us five years of program piloting, implementation and successful measurement to be ready to expand our work to Kenya, Tanzania, and Uganda.
In Rwanda, we marvel at how the young, timid women who once walked into our Storytelling for Leadership training are now creating opportunities for their communities; we see women reaching out for those high-level jobs they thought were not for them; we see women starting a second business, when they used to be afraid to tell their neighbor about their first. Now, we cannot wait to see that with young women in Nairobi, Arusha, or Kampala! We want to see our impact numbers reflected in other places in East Africa.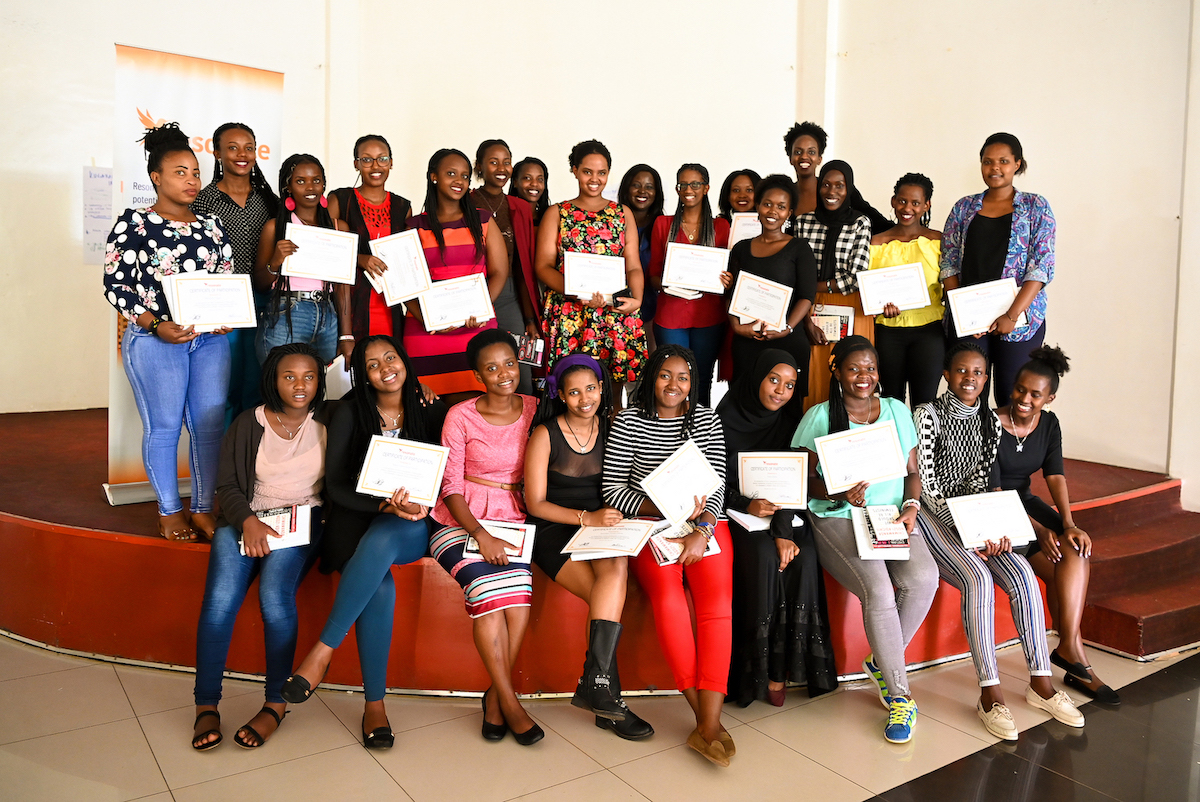 Graduation day of a 6-month Action for Leadership program for recent secondary school graduates who learned leadership skills experientially through designing and implementing a community project.
This is something we are very excited about. Thinking about our program expansion, Delice Fatiro, Resonate Program Associate (and former Resonate participant) said: "Being a Resonate trainer is amazing! I get to learn a lot from our participants' stories. Every time I hear an impact story from a workshop I led, it warms my heart, adds value to what I do, and keeps me grounded. Resonate's expansion means hearing more of those stories from all over East Africa. It means meeting more people, sharing experiences from different backgrounds, and most importantly, empowering each other to be the best versions of ourselves."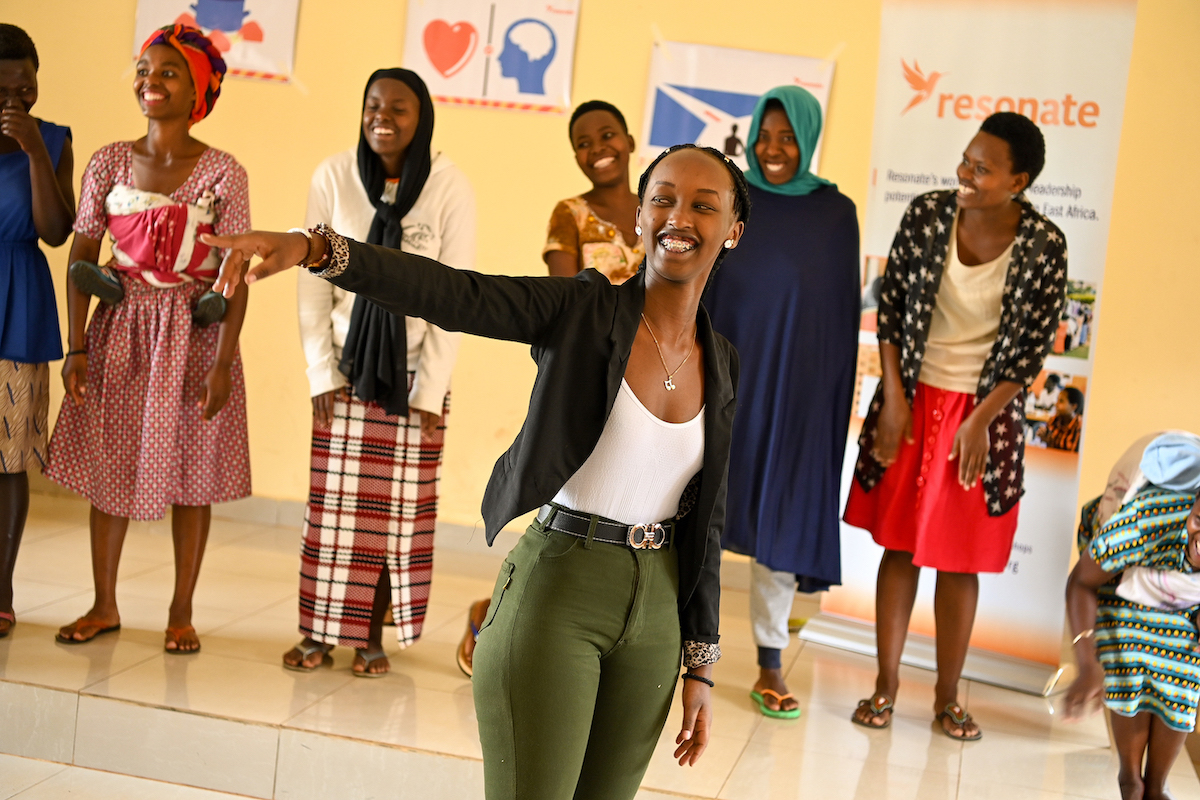 19-year Cynthia, a Resonate Facilitator, learning an energizer at a Storytelling for Leadership workshop for young women who dropped out of school because of early pregnancy and who are now trying to become financial independent and provide for the children.
As a start, we are seeking to connect with organizations providing hard skills training or education to women and youth, and to partner with them by integrating our leadership training into their programming so that women have the confidence to create the bright future they want for themselves. We are starting with Nairobi, Kenya this month. On August 28th, we're hosting a networking session to connect, share, and learn from organizations that work hard to empower Kenyan women and youth. On the morning of August 29th, we'll lead a demo workshop to help partner organizations experience the power of storytelling and gain a better understanding of how Resonate can help them amplify their impact.
Next, we will focus on building partnerships and community networks in Tanzania and Uganda.
The stories we hear from our participants remind us that our work continues, and our presence is still needed by that timid woman or youth trying to understand how they can break the cycle of poverty, unemployment, or professional stagnation in their lives. We cannot wait to uncover more stories.
All photos were provided by Resonate.
LEARN more about Resonate here.
SHARE this story with your networks; see menu at top and bottom of page.
DONATE directly to help support Resonate here.
SUBSCRIBE! Like what you see? Click here to subscribe to Seeds of Hope!