Laudex: A Revolutionary Student Loan Program in Mexico
Categorized as: About us, Education, Job Creation, Latin America, Leadership, Poverty Alleviation, Stories on August 10, 2019.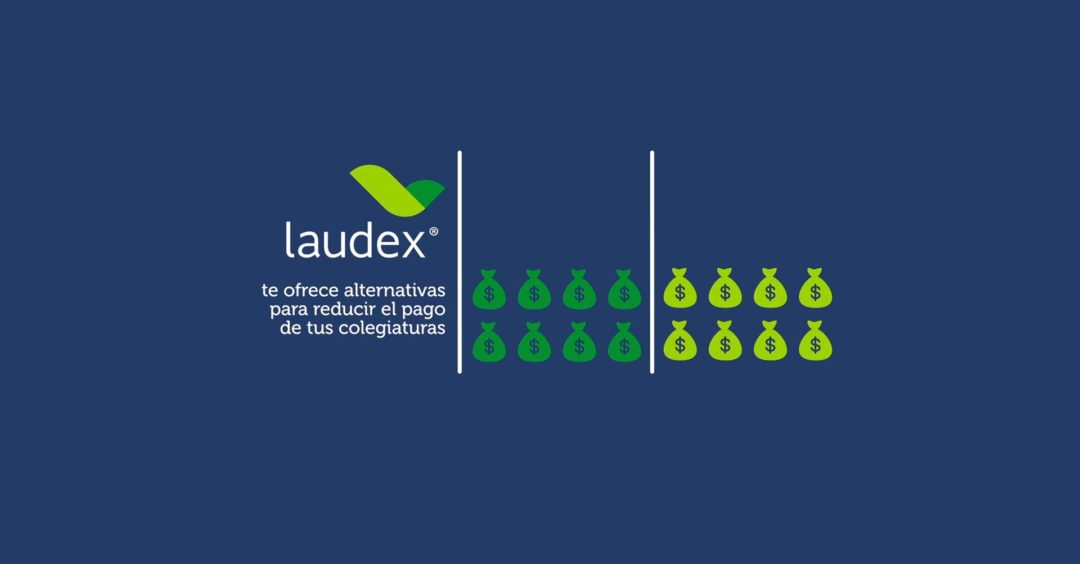 Laudex offers alternatives to reduce the payment of your tuition fees! Photo courtesy of the Laudex Facebook page.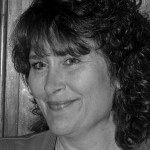 By Shelly Skees, Skees Family Foundation Secretary
Editor's Note: As most of our readers might remember, the Shelly-Brienne family took a trip to Mexico in December to visit some of our partners–one of them being Agora Partnerships. They find innovative social entrepreneurs who are trying to make a difference in communities throughout Latin America. One of their incredible choices was Laudex. Read on about Francisco Cordero, founder of Laudex, with whom we were able to meet and chat.
Francisco Cordero started his company, Laudex, eight years ago. He realized there were nearly one million potential students who would not be able to attend university solely because they did not have the financial ability to do so. At the time, there were no financial institutions set up for student lending. In Mexico, public education is free, but entrance to public universities is dependant upon the chosen degree, merit, and the students' connections. University in Mexico is also traditionally paternalistic. Before Laudex, if the parents lacked the means to pay for private college and the student was not admitted to a public university, there was no other way for them to get into university, regardless of how smart or motivated that student was. Francisco realized this and began to formulate a plan to make low interest loans with flexible repayment options available to students so that they could attend university if they desired.
A brief introduction to Laudex, for the Spanish speakers among us. 
Francisco had a very small team for the first three years. About 2 months after launch was when he hired his first employee. He was very cost-oriented and decided that he needed to break-even before hiring very many staff members. However, the demand for his loans was so high that his business grew rapidly. He now has about 150 employees. His workforce consists of sales representatives and counselors, customer service representatives, and financial analysts. Francisco makes an effort to employ previous students–about fifteen to twenty percent of his current employees were clients at one time.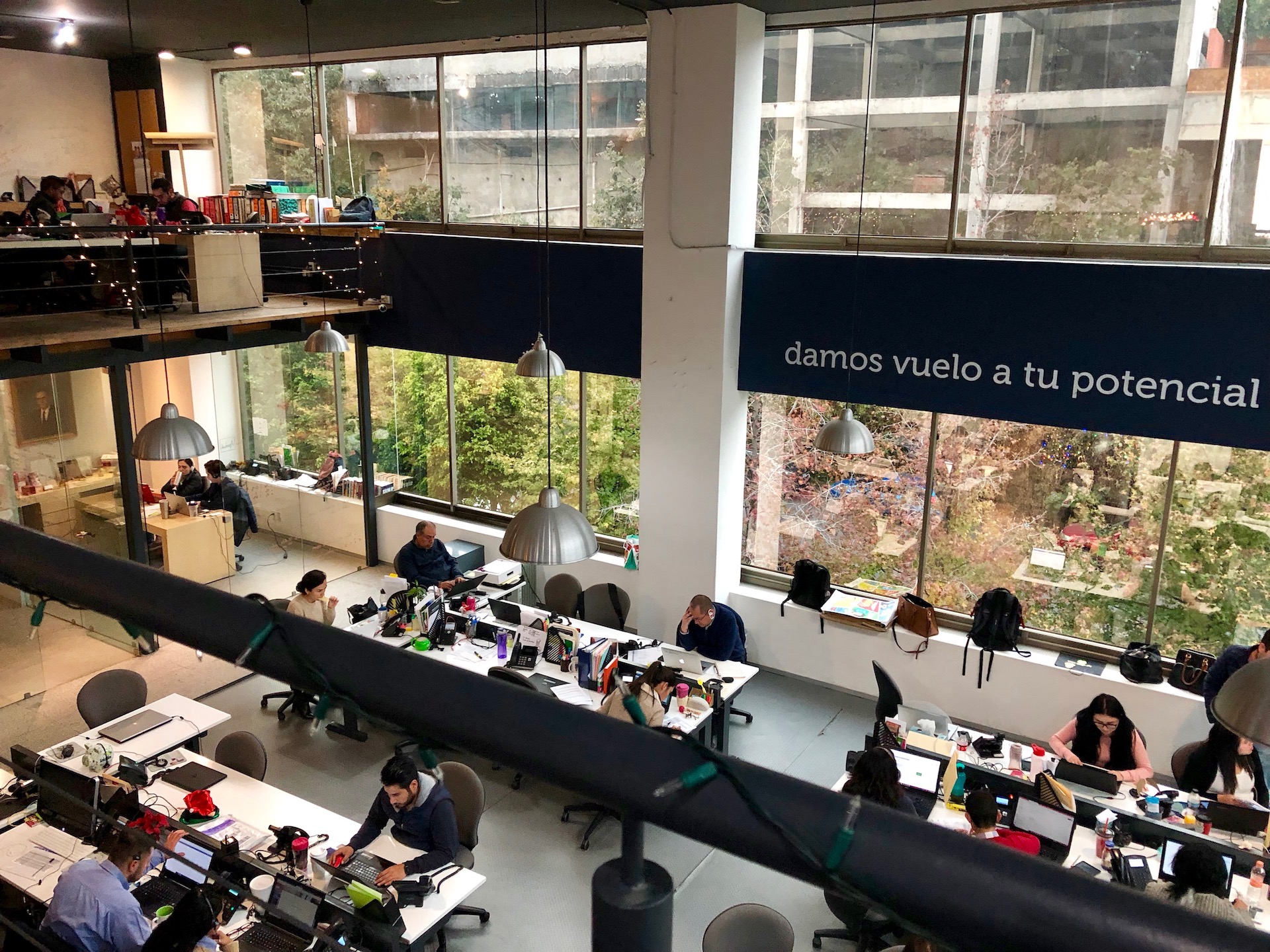 Some of the many Laudex employees, hard at work. Photo courtesy of Alex Skees.
Laudex has a large social media presence, but they bring in most student clients through representatives on campuses. There are forty-five universities in the Laudex network. About one-third of the university students in Mexico are funded by Laudex. Loans are also given independently of university programs, including loans to study abroad, high school, and Masters programs.
Students and their families are encouraged to make payments while in school, so that when they graduate, they only owe around sixty percent of their loan amount. Francisco is very proud of his high repayment percentage (97.5 percent repayment!) and his social impact. As of this site visit, he has impacted over 12,000 students. College enrollment is low in Mexico compared to other countries because other countries have multiple robust lending programs. Because this is not the case in Mexico, they are the lowest on the scale.  An article in World Education and News Reviews states that according to UNESCO statistics, tertiary enrollments in Mexico have more than doubled, going from 1.9 million to 4.4 million between 2000 and 2017, placing tremendous stress on Mexico's education system. Despite that growth and recent leaps in educational participation, the country's tertiary enrollment rate still trails far behind those of other major Latin American countries. For example, tertiary gross enrollment ratio (GER) stood at 38 percent in Mexico in 2017, while it ranged from 50 percent in Brazil to 59 percent in Colombia and 89 percent in Argentina, per UNESCO.
SFF learned about Laudex through our long-time partner, Agora Partnerships. Laudex partnered with Agora in 2012, before Francisco had hired his CFO. At that time, there were no Agora entrepreneurs in Mexico –this was their pilot program. When asked what he liked, learned, and enjoyed in his partnership with Agora, Francisco was very forthcoming. He said that Agora helped him understand the importance of measuring impact. He now asks each graduating student two questions: "Without Laudex, would you be studying in university?" Followed by: "Without Laudex would you be studying at a different university?" Nine out of ten students say they have been directly impacted by their loans from Laudex.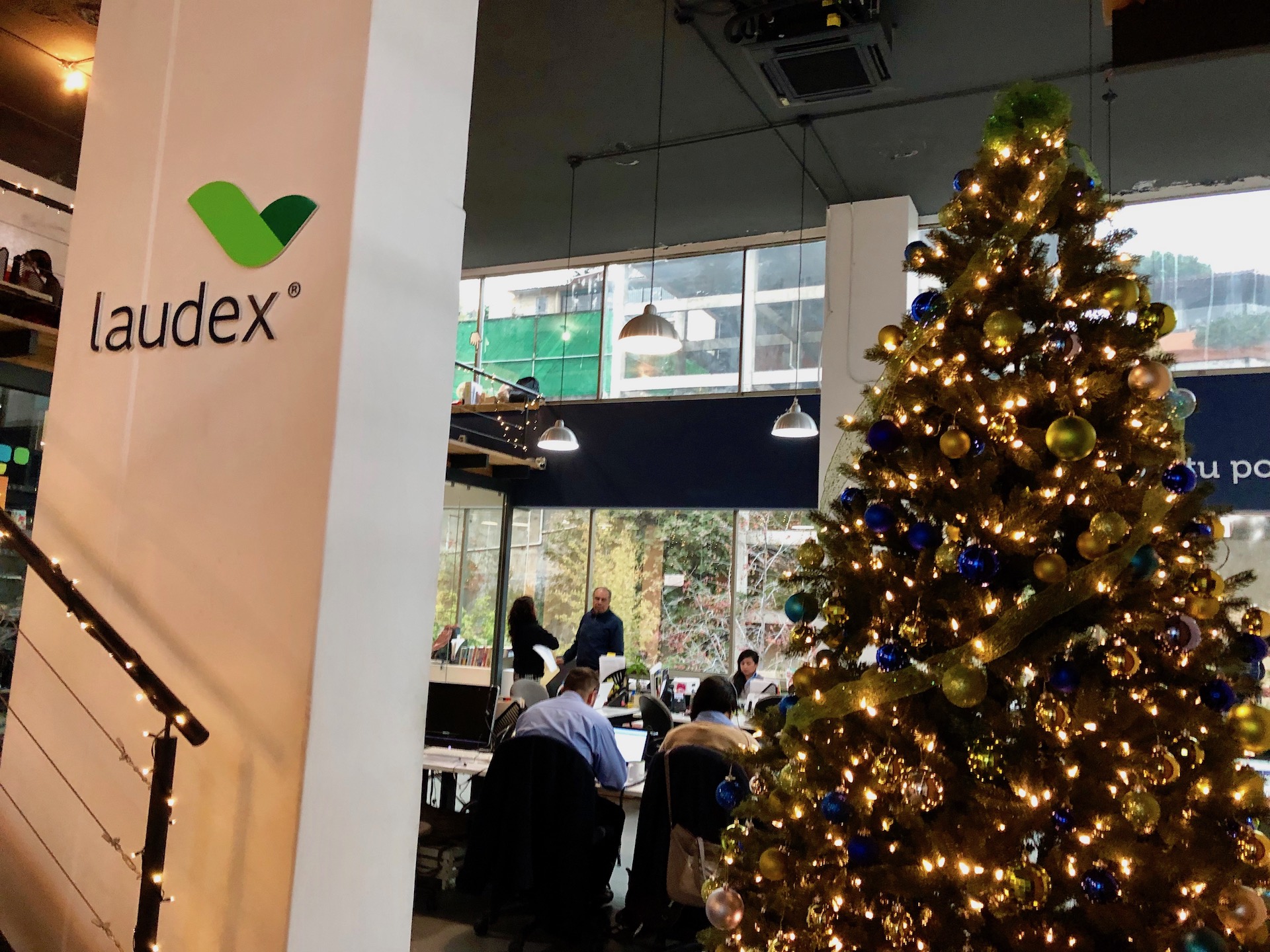 The Laudex office, beautifully decorated for the Christmas holiday. Photo courtesy of Alex Skees.
In the future, Francisco hopes to try to improve his impact-assessment skills. He would like to do better at tracking the employment rate post graduation, but believes it is now currently at eighty to ninety percent. Francisco also aims to gain a better understanding of the quality of employment and how the degree received at university is impacting students' employment choices. 
When asked what his goals, ambitions, and hopes are for the future of Laudex, Francisco said that he has an admittedly lofty ambition of helping one million students by 2030. He understands that the university market needs to grow–currently only twenty-eight percent of students in Mexico attend university. He knows that to achieve his goal, more students will need to finish high school and decide to attend college, and he will need to expand his network of universities and secure more investors.
LEARN more about Laudex here.
SHARE this story with your networks; see menu at top and bottom of page.
DONATE to help support social entrepreneurs by giving to Agora Partnerships here.
SUBSCRIBE! Like what you see? Click here to subscribe to Seeds of Hope!