The Story of Ending Poverty in the Least Likely Place
Categorized as: Africa, Girls & women, Job Creation, Our Partners, Poverty Alleviation, Stories, Storytelling on January 7, 2017. Related Grantees: African Entrepreneur Collective, Agora Partnerships, Firelight Foundation, Freedom From Hunger, Grameen Foundation, Kiretono Resource Centre through AID Tanzania, Upaya Social Ventures.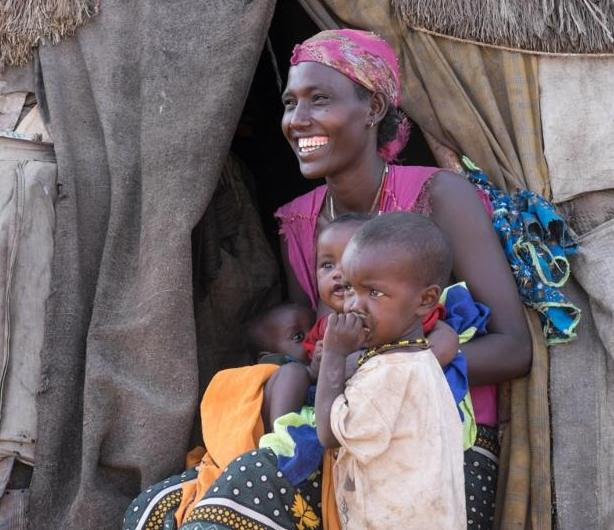 Editor's note: Our partners at The BOMA Project believe fiercely in the potential of a mother's love and intelligence and have found practical ways to get mothers to work in a rural region of Kenya where few jobs exist. Can BOMA really alleviate hunger and poverty for ONE MILLION women and children within five years? Read about their strategy and decide whether you'd like to join our family in supporting their ambitious plan. 
By Kathleen Colson, BOMA Co-Founder and CEO
How a Human Story Paints the Truth of Collective Data
At BOMA, we believe in data. Here's why.
Take a careful look at the photo above. It tells a powerful story — the story of Marsogoso Galnagale, a proud participant in BOMA's holistic poverty graduation program. With a cash grant and two years of training and coaching from BOMA, Marsogoso started a business that gives her the income and savings she needs to feed her children, send them to school, and plan for a brighter future.
Marsogoso's photo is created by thousands of pixels — tiny points of colored light on your display screen. In the same way,
Marsogoso's story is powered by thousands of data points: bright dots of statistical illumination, collected by BOMA in the field.
In 2017, we will mentor and track data on more than 11,000 women in our program. Taken together, these data points create a picture that we use to understand the economic lives of women in extreme poverty, which in turn helps us to continually improve our life-changing program.
At BOMA, we believe in data, and we believe in the power of sharing it with you. Scroll down to read this paint-by-numbers story.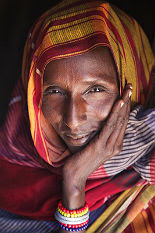 At Enrollment
When participants enter our program . . .
90% cannot read sentences
90% have never attended school
88% do not have cash savings
99% do not have a bank account
59% had sent their children to bed hungry in the last week
83% did not have enough food or money to buy food in the last 30 days
83% had restricted their own portions so children could eat

At Graduation
When participants exit our holistic program,

two years later . . .
93% of women have graduated from extreme poverty
98% of businesses are still in operation
123% increase in value of average BOMA business
163% increase in monthly household income
89% of participants can now access more than one source of income
98% of women have savings
877% increase in average participant savings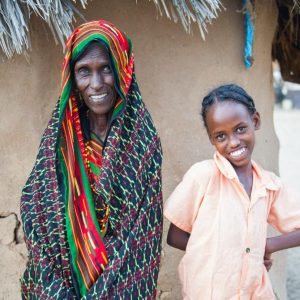 Hope for Families
. . . and a future filled with promise 
93% of graduates say no child in their household had gone to bed hungry in the past month
76% report that all primary-school-aged girls in the family are attending primary school
170% increase in average amount that participants have been able to borrow from their BOMA business to pay for food, school fees, medical care and business expansion.
258% increase in spending on medical care and 63% increase in spending on education

Empowering Women
. . . in their households and communities 
REAP has a positive impact on women's empowerment and household decision-making: 97% of participants now decide either alone or with their husband about spending on food, and 88% have at least an equal say on sending children to school and family medical expenses.
61% of participants share their new knowledge by giving business advice to other women in their village
Expanding Our Program
. . . across the rural drylands of Africa
We work in the arid and semi-arid lands of Africa, which represent 40% of the continent
In 2016, BOMA enrolled 2,310 women in dozens of settled and semi-nomadic villages across Northern Kenya
By scaling our program through government adoption and NGO partnerships, we are poised to reach 100,000 women across the drylands by 2018 and 1 million women and children

within 5 years

.
All photos and datagraphic courtesy of The BOMA Project.
LEARN more about the BOMA Project here.

SHARE this story with your networks; see menu at top and bottom of page.
DONATE to help support The BOMA Project's focus on local solutions to modern problems in Northern Kenya, here.
SUBSCRIBE! Like what you see? Click here to subscribe to Seeds of Hope!