Transforming Education in Haiti Takes Collaboration
Categorized as: Caribbean, Education, Grantee, Job Creation, Leadership, Our Partners, Poverty Alleviation, Stories, Youth & Tagged as: Anseye Pou Ayiti, Huffington Post, Primary school, Teach for Haiti on October 3, 2015.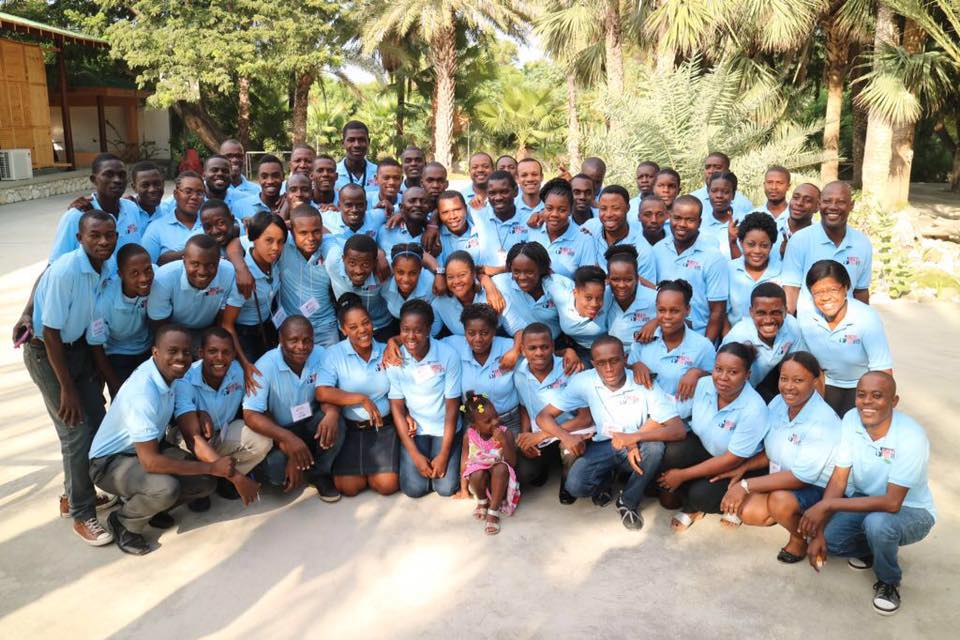 Photo courtesy of Anseye Pou Ayiti.
Editor's Note: On average, children in Haiti get only five years of formal education. Statistics like this is why our foundation has teamed up with Anseye Pou Ayiti (Teach for Haiti) to provide more opportunities for quality education in the country.
The Skees Family Foundation puts opportunity at the center of our grant making. We want to use the resources we have as a foundation to create as much opportunity around the world through job creation and education. As you'll read below, only 30% of low-income children in Haiti will complete their education. To meet this need, we've partnered with a dynamic organization, Anseye Pou Ayiti (Teach for Haiti), that is training teachers in order to provide quality education where it is needed most. 

 By Jean-Claude Brizard for Huffington Post
View original article here.
Jean-Claude Brizard is a partner at Cross & Joftus, LLC, a firm dedicated to helping education leaders achieve outstanding results. . He is also an Aspen Institute Pahara Fellow and member of the Aspen Global Leadership Network.
Addressing 2015 Aspen Action Forum's theme of collaborative leadership, Brizard shares his experiences working to transform the public education system in Haiti.
In Haiti, only 30 percent of children from low-income households will successfully complete primary school. Ten percent will complete high school and 1 percent will reach university. And of those who complete their university studies, approximately 80 percent will look for opportunities outside of the country. With these hard statistics in our minds, we pulled into the parking lot of the Sans-Souci Palace in Milot, Haiti. I spent the first 11 years of my life only a few miles away, but I had only been here two or three times. In fact, it had been 19 years since I last visited Haiti. This homecoming was long overdue.
I was in Haiti with the board of Anseye Pou Ayiti (Teach for Haiti in Haitian Creole), an organization that recruits and trains teacher leaders, equipping them to transform the lives of their students; for a five-day trip to meet with the first cohort of 30 students and visit our network of partner schools.
Among the group was an information and communication technology specialist; a leader at a charter school in Philadelphia; the CEO and Founder of an organization focused on creating a health movement for African American women and girls grounded in civil rights history and principles; an independent consultant who specializes in international nonprofit finances; and a district leader from the Charlotte-Mecklenburg public school system in North Carolina. Included in the group, of course, was Nedgine Paul, the co-founder and CEO of Anseye Pou Ayiti Some of us have deep connections to Haiti, but we were all united in our belief that through quality education we can lift a people and a country.
In Haiti, we have a saying, men anpil, chay pa lou, or many hands lighten the load. As I contemplated the challenges ahead as we set out to build a movement with APA, I thought of how the eight of us had come together for this effort and of the bonds that quickly connected us. None of us are under any illusion about the challenges that we face as the APA movement gains momentum. Through APA, we will invest in local teacher leaders as the way to transform Haiti and create a new narrative for what is possible in this proud nation. We have intentionally placed our cohort members in rural, underserved communities instead of the capital of Port-au-Prince. And we want to join forces with others who believe in education as a human right, and that all children deserve access to quality education.
Today In Haiti, approximately 80 percent of primary school teachers are not formally trained. APA's vision for success includes recruiting a mixed cohort of current and new talent — we value current teachers as well as recent university graduates beginning their careers. We are the first in the Teach For All global network to take this approach. Word is spreading of APA's presence and more schools across the country are asking for help. Even school principals are inquiring about participating.
Despite myriad challenges clear to us on this trip, I found myself getting more hopeful for the future as we visited APA partner schools, spoke with school principals, and with members of APA's first cohort of teacher leaders. To say that they are inspiring would frankly be an understatement. They are brilliant, poised, and very self-aware. One said, "I am not arrogant. I know my craft and I know where I need support."
These leaders also understood their community and local and national politics. They were already thinking about how to create a movement uniting allies who believe change within the education system is possible, especially through a contextualized approach that values Haiti's rich culture, language, and history.
APA has been deliberate in selecting a diverse corps that will touch multiple areas of the country. As the cohorts grow, I am confident that we will see a flywheel effect. But in the tradition of true collaboration APA is not taking this road alone. We are building a sustainable model by working in close partnership with local organizations, public and private institutions, local universities, and community groups. We are also grateful for the support of the US Embassy in Haiti and Fondation Digicel.
As an Aspen Institute Pahara Fellow, I think of lessons we can draw from APA's approach to begin to break down the polarizing rhetoric that plagues our US education system. Our cohort of Fellows come from all walks of life and the lessons that we draw from the fellowship reinforce the need to actively engage diverse ideas and voices. The world does not need another education advocate arguing one side or the other. Our children, especially those from poorer Zip codes or countries, need doers who are focused on collaborating to finding solutions to break down the barriers to accessing a quality education. Their future — our future — depends on it.
LEARN more about Teach for Haiti's mission to raise education outcomes in disadvantaged areas of Haiti by recruiting and training outstanding teachers here.
DONATE directly to the Teach for Haiti here.
SHARE this story on Facebook and Twitter; see menu at top and bottom of page.
SUBSCRIBE! Like what you see? Click here to subscribe to Seeds of Hope!