Boys in Action: Creating Economic Security Through Chicks, Pigs, Goats, and Fish
Categorized as: Caribbean, Grantee, Job Creation, Our Partners, Poverty Alleviation, Stories, Storytelling & Tagged as: Voix et Actions on August 11, 2018. Related Grantee: Voix & Actions.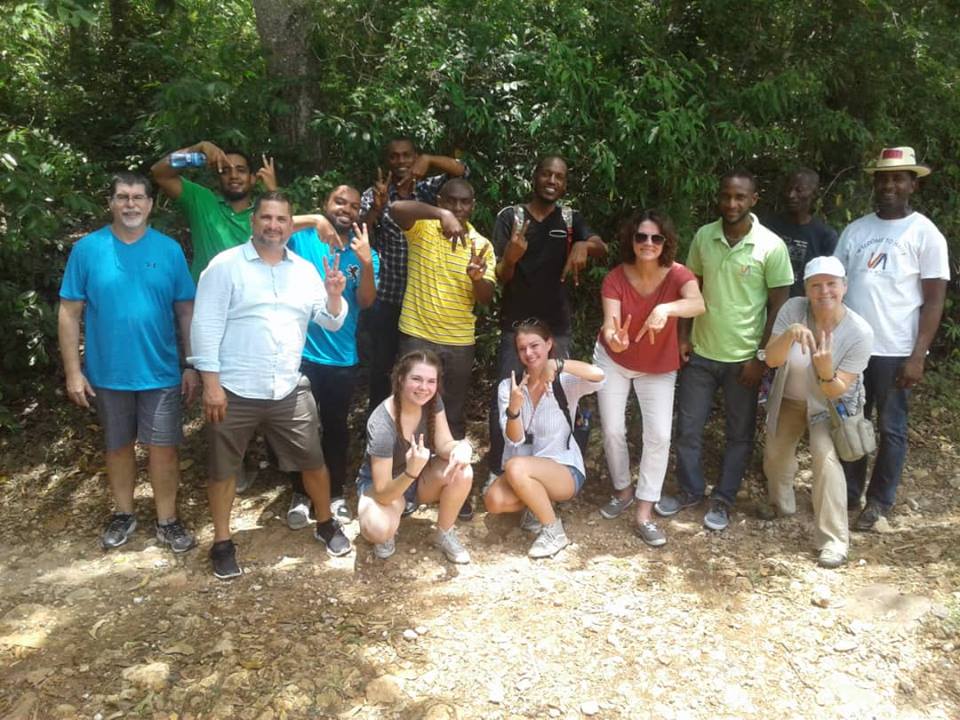 How to bring lasting prosperity to Haiti? It turns out not by funneling outside funds into Port au Prince, but by empowering small rural communities through tangible economic opportunity. Voix et Actions' model of providing livestock to members of a small village to sell at the market is changing the lives of hundreds of families.
Editor's Note: SFF partnered with Voix et Actions in 2017-2018 through our Generational Grant program. Voix et Actions began when a group of high school friends came together after the 2010 earthquake and committed themselves to help their fellow Haitians. Over the years, these volunteers have mentored students, sponsored health clinics, taught classes, designed and operated a micro-loan program for  entrepreneurs, and established an animal husbandry farm in Trouin. Voix et Actions has helped over 110 families (550 people) in the Trouin area.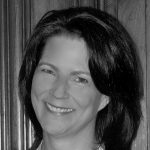 By Sally Skees Helly, Director and Board CFO
Traveling to Haiti
In July 2018, my family traveled to Haiti to spend time with grantee partners, and meet new organizations, all doing remarkable work helping to improve the lives of Haitians, one person, one community at a time. This was the first global physical site visit for my family and the experience was truly transformative.
Haiti is an extraordinarily beautiful country with breathtaking coastlines, lush tropical landscapes, expansive rice fields, and spectacular mountain ranges. I was surprised at the diversity of the landscape in a country only about the size of Maryland.
Meeting the Boys in Action
One of the highlights of our trip was traveling over heart-pounding (for those of us afraid of heights) mountain ranges to reach our grantee partner, Voix et Actions (VA) at their Village Farm in Trouin. We met James Duracin, the director, and several other team members.
Picture a tidy farm in a little village, high in the mountains, with chicks in the hen house, goats roaming through the trees on long ropes to keep them from wandering too far, little piglets suckling their mothers in the pig pen, and hundreds of small tilapia growing in the fishery. Many of these animals will be sold at a discount to women in the community, who will then sell them at the market for a profit. Some animals will be bred by the beneficiaries and the offspring sold for a profit. Other animals are sold at the Port au Prince to help sustain the program. VA also provides vocational training in baking, tailoring, and mechanics.
How the Livestock Programs Work
The Fishery: The fishery program is in the pilot stage. VA is providing both a source of income and an additional source of protein to the community. Sixty percent of the fish are sold to the community, and forty percent are sold at the Port au Prince market. VA is hoping to continue to increase the number of fish by improving the quality of the fishery; and eventually by building a second fishery.
Chicks and Hens : We enjoyed seeing the 200 chicks that arrived a few days earlier. The hen house is clean and cool as the chicks scurry around eating food and drinking water. The chicks take about 45 days before they are sold at the market. The beneficiaries can make approximately $10 per case of chicks; and VA collects about $6 per case to cover overhead costs. Future plans include installing an incubator to increase profitability.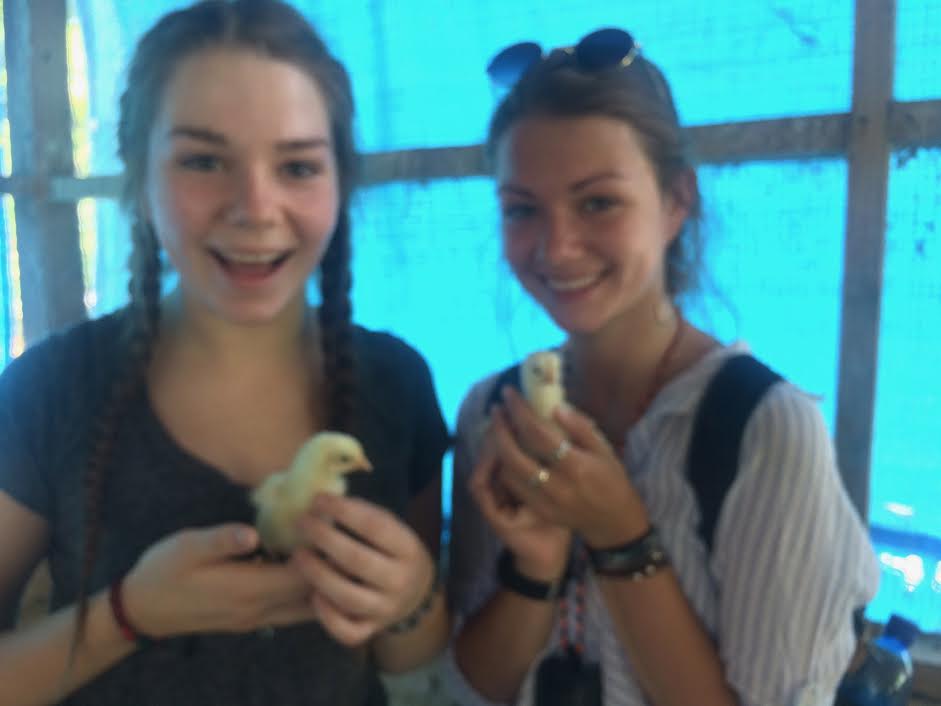 Sarah and Michaela loving the little chicks.
Goat Breeding Program: VA designed and operates a goat breeding and distribution program, and currently has about sixteen goats. Goat breeding is intended to improve the genetics of the goats by breeding a female Haitian goat with a male from the BOER species, to produce larger than normal offspring. After six months, the young goat is worth more than the purchase price of the female.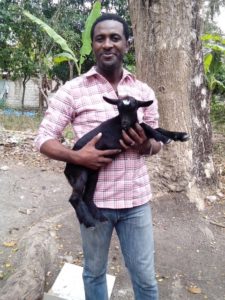 Jhonson Joseph, manager of the goat program.
Pig Breeding Program: We were lucky enough to visit soon after two of the sows had litters, and more than twenty baby piglets were running around the pig pen. In Haiti, the saying goes that "a pig is the peasant's bank account." It looks like VA is about to make a sizeable deposit into the Trouin community's collective account!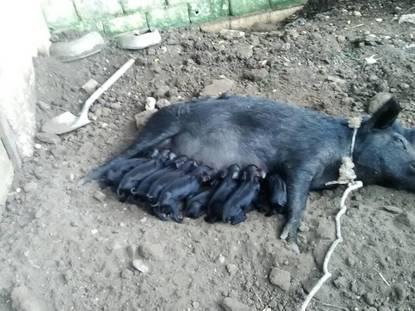 Mama with her 10 piglets in May 2018.
How the Beneficiaries are Impacted
We also met several women who sell livestock at the market. We asked questions and learned more about their lives. Most of them re-sell varying products from toiletries to rice and beans in the village market (think of a village-wide farmers' market held on a daily basis). Making extra money by selling livestock has given these women more economic security and the ability to see beyond day-to-day necessities. They can plan to pay their children's school fees, make improvements on their homes, and spend more time with their families. It turns out that farming is one of the only means of livelihood in the region and the unpredictable environmental conditions makes farming a less than secure way to support a family.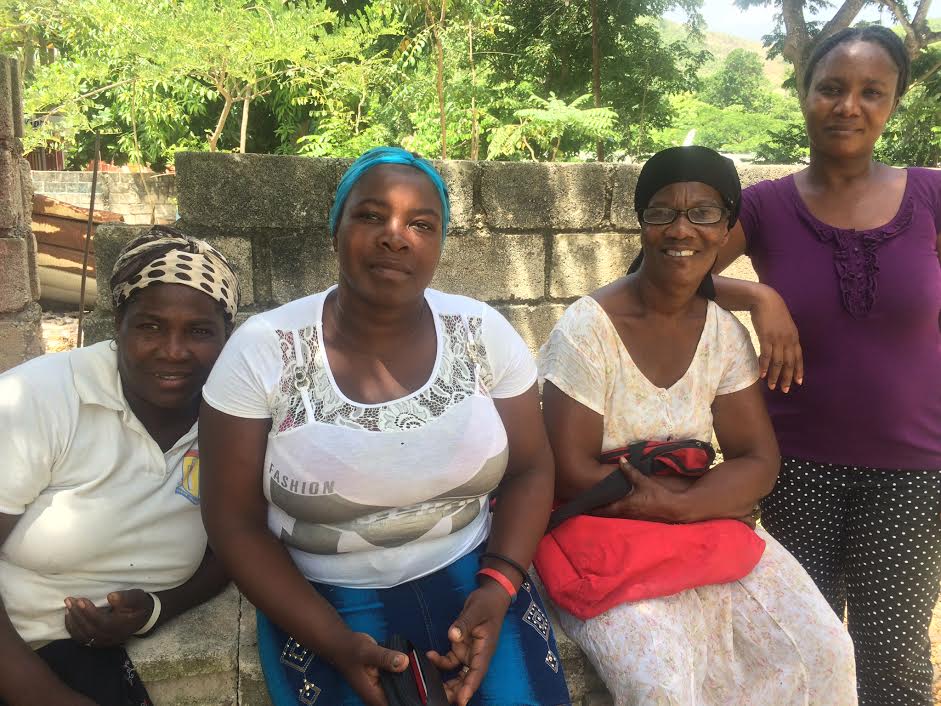 Four of the entrepreneurs of the livestock program.
People leave the rural countryside due to lack of opportunity. This migration fills the cities with ghetto towns and sends young people out of the country to find a way to support their families. According to many we spoke with, this is degrading the social fabric and negatively impacting Haitian culture and community. By giving the community another industry and means of secure income, the hope is that the rural exodus plaguing the country will abate.
Changing the Narrative about Haiti
The narrative that many in the US and outside of Haiti hold is one of a poor country plagued by disaster and corruption. Much has been reported about the mismanagement and misallocation of relief funds from the hurricane in 2010. In my view, this is a misconception. Although there is some truth to the problems plaguing the governmental systems in Port au Prince, that is certainly not the whole story. This country, whose rich history of independence and tenacity, has the potential to pull itself out of its economic challenges.
One of the most constant threads of conversation I had over my short week in Haiti was around the vision of the future of Haiti. Each Haitian we met is committed to the future of their beloved country and believes that improvement will only come from a grassroots effort in the communities and villages outside of Port au Prince. By increasing opportunities in small communities, as VA does through the Village Farm and their other programs, communities are strengthened. The team at VA are smart and dedicated, and have a scalable model for improving the lives of people in small, remote communities throughout Haiti.
I would love to return to Haiti someday. Until that time, my mission is to help change the way people think about this beautiful country, and its resilient and proud people.
LEARN more about Voix et Actions and their mission to empower the Haitian population here.
SHARE this story with your networks; see menus at top of page and below this list.
DONATE directly to Voix et Actions, here.
SUBSCRIBE! Like what you see? Click here to subscribe to Seeds of Hope!