Amplifying Unheard Voices: Voice of Witness Turns 10 Years Old
Categorized as: Africa, Asia, Education, Grantee, Leadership, Middle East, Our Partners, Poverty Alleviation, Stories, Storytelling, U.S., Youth & Tagged as: Anniversary, Fundraiser, Human rights, Oral history, Story collection on June 20, 2015.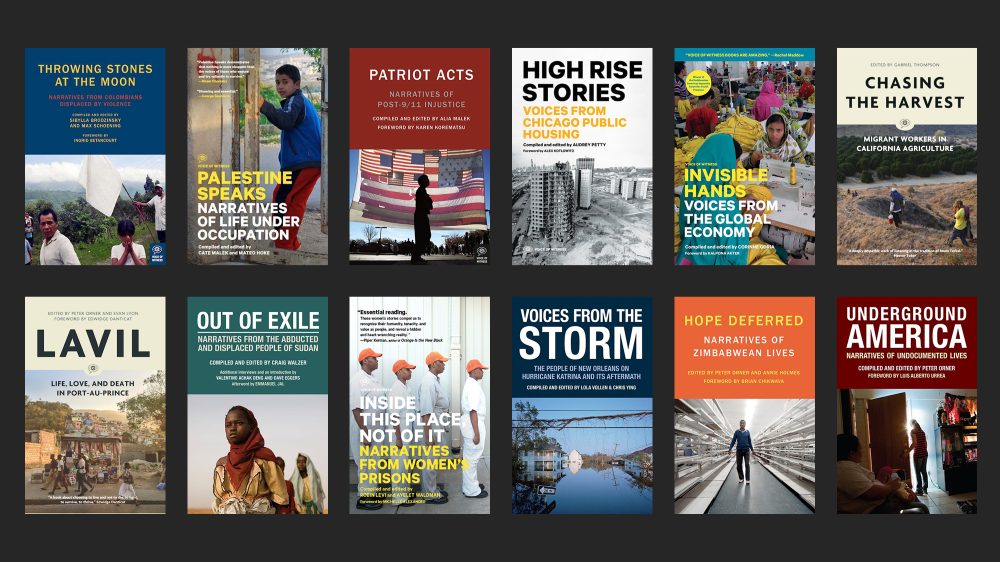 Voice of Witness celebrates ten years of impact by releasing a volume of narratives from over the years, edited by cofounder Dave Eggers.
Our foundation fervently believes in the power of strong storytelling. Last year, we were fortunate enough to begin supporting Voice of Witness work. Voice of Witness is dedicated to fostering a more nuanced, empathy-based understanding of contemporary human rights crises by amplifying the voices of men and women most closely affected by injustice, and by providing curricular and training support to educators and invested communities.
To mark a decade of inspiring storytelling, Voice of Witness co-founder Dave Eggers has edited narratives from their many volumes to create a compelling compilation titled The Voice of Witness Reader: 10 Years of Amplifying Unheard Voices.
From the book:
"For ten years, the nonprofit Voice of Witness has illuminated contemporary human rights crises through its remarkable oral history book series. Founded by Dave Eggers, Lola Vollen, and Mimi Lok, Voice of Witness has amplified the stories of hundreds of people impacted by some of the most crucial human rights crises of our time, including men and women living under oppressive regimes in Burma, Colombia, Sudan, and Zimbabwe; public housing residents and undocumented workers in the United States; and exploited workers around the globe. This selection of narratives from these remarkable men and women is many things: an astonishing record of human rights issues in the 21st century; a testament to the resilience and courage of the most marginalized among us; and an opportunity to better the understand the world we live in through human connection and a participatory vision of history."
Learn more about Voice of Witness' 10th anniversary Sustain the Story campaign by clicking here.
Order the The Voice of Witness Reader: 10 Years of Amplifying Unheard Voices by clicking here.
DONATE directly to Voice of Witness here.
SHARE this story on Facebook and Twitter; see menu at top and bottom of page.
SUBSCRIBE! Like what you see? Click here to subscribe to Seeds of Hope!