A Lot to Be Thankful For: Gardens for Health Celebrates Thanksgiving in Rwanda
Categorized as: Africa, Education, Grantee, Our Partners, Poverty Alleviation, Stories & Tagged as: Gardens for Health International, Health, Nutrition, Rwanda, Thanksgiving on November 22, 2014.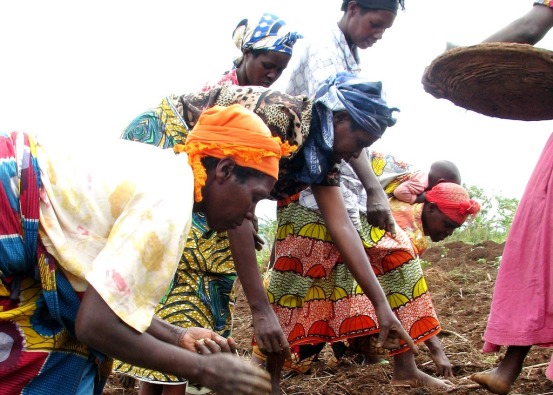 Editor's Note: This Thanksgiving as we celebrate friends, family, and food in the United States, we want to bring you to a different part of the world where the same holiday has significant meaning. Gardens for Health International (GHI), our grantee partner, implements longterm solutions to malnutrition in rural Rwanda. With 88% average attendance rate for health and agricultural trainings, after just one season in the program, around 71% of GHI families consume more self-produced, nourishing food. GHI Executive Director Jessie Cronan reflects on this year's special celebration, and a student-mom shares a poem she wrote ingratitude for life and health.
By Jessie Cronan of Gardens for Health International

This month, over 500 people gathered at the Gardens for Health farm in Rwanda for a very special Thanksgiving celebration. For the fifth year in a row, families enrolled in our program joined local officials, neighbors, and visitors for a day of dancing, singing, and, of course, eating.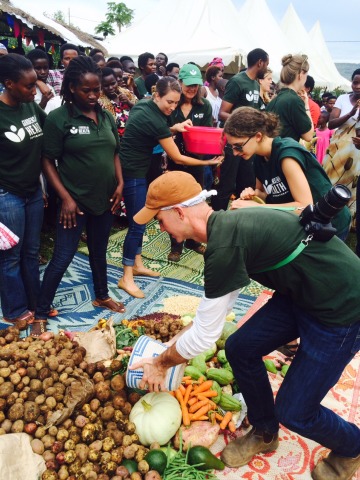 GHI staff members coordinate the celebration.
At Gardens for Health, we believe that growing and eating healthy food can, and must, be a part of the healthcare system. That is why we partner directly with government health centers to provide seeds, livestock, education, and support to vulnerable families whose children suffer from malnutrition. We measure our success in terms of changing household consumption patterns and lasting improvements in child health. We are acutely aware that some of the most important impacts of our program are the hardest to quantify, but at Gardens for Health's Thanksgiving celebration, you can see them in action.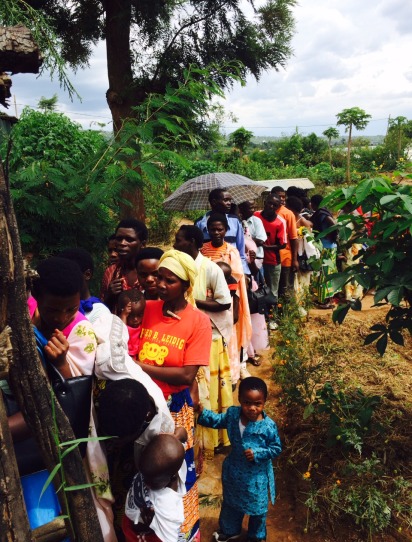 Families gather for the GHI Thanksgiving celebration. 
At its core, Gardens for Health's Thanksgiving is a celebration of the power of food to create community and foster better health. This past celebration, mothers and families from all 18 of our partner health centers came together to share food from their gardens and tell their stories of change and growth.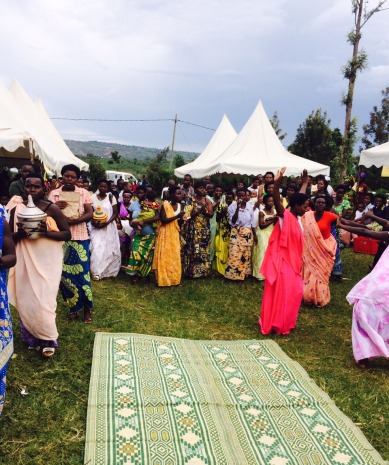 Mamas gather to dance, sing, and eat!
Below is a poem that Guandance, a graduate of our program, wrote and performed at Thanksgiving. While Guandance expresses her gratitude to Gardens for Health in the poem, we remain profoundly grateful to her, and to the thousands of mothers like her, whom we are proud to partner with.
THANKING GARDENS FOR HEALTH INTERNATIONAL
We thank you GHI
We thank you in a special way
We thank you for that love
It is a heritage from God
We eulogize you who is generous
We eulogize you our pride
What can we say? It is beyond our mind!
Malnutrition confronted us
Our hero GHI intervened
It gave hard working educators
We mothers learnt, worked and succeeded
And we fought malnutrition
What can we say? It is beyond our mind!
We now own unusual hygiene
We know a hoe and its importance
A clean plate painted with four colors
When children see it! They scream GHI!
We know how to clean water
Should I tell livestock we owe you?
What can we say? It is beyond our mind!
Children thank you, so we do mothers
We Rwandese praise you
You are the best, important in education
May poets sing your virtues
You are worth it GHI, our road partner
What can we say? It is beyond our mind!
Poem by Guandance Mpinganzima, translated by Lucie Kampinka
Photographs courtesy of Gardens for Health International. 
LEARN  more about Gardens for Health International's holistic healthcare approach to ending malnourishment through peer-led education and kitchen-garden inputs, here.
SHARE  this story with your networks; see menus at top of page and below this list.
DONATE  directly to provide more trainings and seedlings for hungry families in Rwanda, here.
SUBSCRIBE! Like what you see? Click here to subscribe to Seeds of Hope!