V-Day Rocks the World with Inclusive Tragicomedy about Girl Power
Categorized as: Stories on June 25, 2012.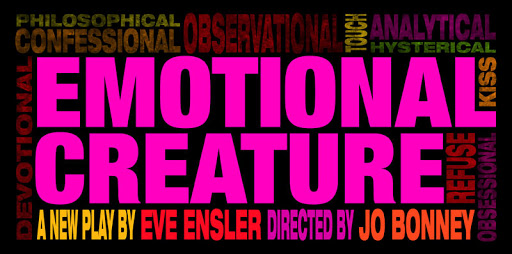 Photo courtesy of V-Day.
Editor's Note: This weekend V-Day opened "I Am an Emotional Creature" in Berkeley, CA and it's a sassy, shocking, clever, joyful collage of cultural and violent crimes against girls—and the power of whom we discover when they break free.
by Suzanne Skees
"I Am an Emotional Creature," a poem, a book, and a play by Eve Ensler, began in Johannesberg, South Africa "because we wanted to reach into the heart of the world," Ensler told a group of supporters after the show. "And then we played in Paris, where the song 'Falling' was written. That's where we picked up sadness and romance—in France," she laughed.
The ninety-minute play was written by Tony-award-winning Eve Ensler, creator of "The Vagina Monologues" and the 14-year-old grassroots movement to end violence called V-Day. Directed by Obie-award-winner Jo Bonney, the play features six American girls. True to the style of "The Vagina Monologues" which has been performed in over 140 countries by locals, "I Am an Emotional Creature" has been "birthed" as Director of Operations Tony Montenieri, calls it, by three casts so far on three continents. The brilliant Berkeley cast includes:
Ashley Bryant
Molly Carden
Emily S. Grosland
Joaquina Kalukango
Sade Namei
Olivia Oguma
They sing, dance, leap, laugh, sneer, chortle, and celebrate. They delve so far into character that they take the audience with them into scenes about Barbie dolls taking over the world, girls being sold into sexual slavery, girls daring to run away from genital mutilation, friends discussing body image, marriage, and abortion. The cast brings an intensity that makes their anger, insecurity, libido, giddiness, and power infectious. My friends and I felt a little dizzy, and perhaps spent, after the performance: It's that engaging.
I'd highly recommend this play, just as a work of art. That it celebrates half the human race–and the here and now of our gender, which is YOUNG women, unifies us with each other as hundreds of women, men, girls, and boys spring to our feet in a standing ovation at the end. And that "I Am an Emotional Creature" yokes youth together in discussion groups, online and in schools, and raises funds to end violence and empower all, makes it a pleasure to view, discuss, and support.
The play runs through July 15 in Berkeley and then will show off-Broadway in New York. To learn more about V-Day's work ending violence around the world, click here; the V-Girls movement can be found here.
The Skees Family Foundation is honored to partner with V-Day, now in our seventh year, through a co-created scholarship program called "V-Peace Scholarships" that sends survivors of violence to school to become empowered for a life of choice and peace. To become a part of the V-Peace Scholarship program, contact Purva Panday Cullman at [email protected], or click here.
SUBSCRIBE! Like what you see? Click here to subscribe to Seeds of Hope!