Keyra Believes "I Can Do Anything" as Summer Search Changes the Odds for Her and 2,000 Low-Income Students
Categorized as: Stories on July 10, 2012.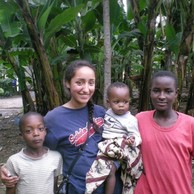 Photo courtesy of Summer Search
Editor's Note: This story, published by a local Silicon Valley news journal, shares the growing success of a student mentoring and adventure program we seed-funded in its startup years: Summer Search Silicon Valley.
by Melissa Wen
Seven miles in, and Keyra Galvan was on the ground.
She began running at 6 a.m., through thick summer air, lush green forest, sweet bird songs and narrow mountain trails that sloped down on both sides. Singing to pass the time, with flowers in her hands, she ran all the way to a sprained ankle on this hill, where dry orange dirt coated her knees and the sun beat down from a perfect blue sky. No one else was there to pick her up, so she did it herself. Then, with a few helping hands and six more miles, she jogged across the finish line.
"It was like a challenge," Galvan says, of the 13-mile run. "Like, if you're able to do that, then you're able to do pretty much anything."
Now, as a Santa Clara University sophomore and aspiring lawyer, Galvan has proven her own statement to be correct.  She admits, though, that she couldn't have done it by herself. Her story of resilience and success is one of the many fostered by Summer Search, an organization designed to help low-income students graduate college and become altruistic leaders.
"Summer Search is trying to provide opportunities and to build skills and create certain types of characteristics in our students that will enable them to not only finish high school, but to get into college, finish college and then become altruistic leaders by giving back," Summer Search Silicon Valley Executive Director Carlin Politzer says.
Founded in 1990 by adolescent counselor Linda Mornell, Summer Search now serves 2,000 at-risk students, 90% of which are first generation college attendees, from 7 sites in the country: Silicon Valley, San Francisco, North Bay, Seattle, Philadelphia, New York and Boston. After an extensive application process involving teacher nominations, interviews and essays, Summer Search selects a group of sophomores each year and equips them with college and financial-aid advising, personal mentoring, and scholarships to two summer programs, one wilderness trip and one international or academic enrichment program.
Like many of her 2,000 counterparts, Galvan started Summer Search with a phone call: to her new mentor, Irene Nyavor. Galvan initially dreaded the required weekly check-ins, which she described as awkward and full of silences. "I've always had a wall up…I don't like showing people my emotions," she says.
But Irene was relentless, pushing her to share. Gradually, Galvan reached out to Irene, crying on the phone sometimes, when she was alone with her sisters. Galvan's parents divorced when she was nine and she ended up living with her dad, who raised three daughters as a single parent. Irene, she says, became almost like a mother to her.
Galvan says she first began opening up to Irene after her first Summer Search trip, a wilderness expedition to North Carolina, where she spent a month rock climbing, white water canoeing, backpacking. In addition to the physical exertion, she had to endure living on dried cereal and powdered milk, and without showers.
"You reflect a lot about your own life. You learn how to not take things for granted," she says.
Her second to last day there, she ran the thirteen miles. In the reflection she was required to write afterward, she remembers writing a lot about the experience, in which she jogged six miles despite a sprained ankle.
"I had to just push through," Galvan says.
The end of the 13 miles brought celebration, relaxation, and the luxury of a real shower. But it wasn't the only challenge Galvan would have to push through. She called Irene multiple times a week as she struggled through junior year.
"I didn't know what the SATs were. I didn't even know how to get into college," she says.
According to the 2010 Bill and Melinda Gates Foundation, J.P. Morgan summit on U.S. education, only 71% of low-income students get a high school diploma or general education diploma, and only 41% start a two- or four-year college. Summer Search helped Galvan change those odds, by providing her with numerous resources to prepare for college, including SAT, interview, and financial aid workshops.
And so Galvan finished junior year, and tackled yet another challenge: her second Summer Search trip, this time to Tanzania. As per all Summer Search international trips, the experience had a community service element. Galvan volunteered at an orphanage for a while, and then worked on construction at Lerai primary school in Arusha. She went on to stay a tribe called the Hadza, where she adopted the tribe's way of life.
"The cool part about it is that you're living next to these animals," she says. "You just see the elephant drinking from the same pond that you're trying to get water from."
Throughout the trip she built relationships with the people she encountered, which included Africans, Summer Searchers from around the country, and a few international students. According to Politzer, Summer Search purposely tries to connect its students with others from a variety of places. Marie from Versailles, for example, slept under the same tarp as Galvan, talking to her like a best friend through her thick French accent.
"She's always like 'Come visit me I'll show you everywhere' and I'm like 'I wish!'" Galvan says.
In addition to writing a reflection after the trip, Galvan wrote a speech to present at the Silicon Valley Summer Search spring event, one of two events that Summer Search holds every year to celebrate its students. At the time Irene went on maternity leave, so Galvan had to seek help from other mentors.
"Everybody in the office is your mentor because they all want to help you out. They all want to see you succeed," she says.
The mentors, and Galvan, would get their wish. As her 18th birthday party came to a close, Galvan received a call from Santa Clara University, to tell her that they'd decided to give her $15,000, just what she needed to pay her tuition. She cried when she told her family.
"I worked my butt off. I applied to every scholarship I could," she says. "You just got to keep working hard. Like if you don't get it the first one, you go for the second one. If you don't get the second one you go for the third one."
Finally, Galvan's senior moment had arrived. At the spring event, where Summer Search celebrates its outgoing seniors, she acted as both master of ceremonies and a student speaker. In front of 500 people, she talked about her personal struggles, her experiences in Africa, the value of uncomfortable moments and the importance of connecting to others. The spotlight shone down on her like the North Carolina sun, but this time she stood up tall. The wall had gone down, and Keyra had emerged.
"So many people came up to me after I finished and they were like you know what, honestly, your speech touched me," Galvan says. "I was just really happy to hear that people were able to relate to my story."
Thus, Galvan moved on to become an alumna, and joined the more than 90% of Summer Search graduates every year that attend college. Her experience with Summer Search, however, hasn't ended. Each year Summer Search Silicon Valley holds several events involving alumni, to keep them connected. It also provides career and college help for students who have moved on to college and beyond.
"Our motto is once you're a summer searcher, you're always a summer searcher," says Summer Search Alumni Board member Danielle Bicknell.
Currently, Summer Search Silicon Valley serves 217 students, a number that it hopes to increase. The entirety of Summer Search plans to grow from 2,000 students to 3,500 in the next 5 years, with the ultimate goal of helping nearly 3,000 students obtain bachelor degrees and become altruistic leaders.
Galvan is growing along with Summer Search. An economics major with a minor in international business, she is considering going to law school and pursing a career in immigration, or at a non-profit.
"I like seeing people change and succeed, so I want to do something where I can help people just like Summer Search helped me," she says. Galvan continues to face challenges, and continues to use the lessons she's learned from Summer Search.
"People are going to knock you down," she says. "And if you know how to overcome that, you're golden.
For more information on Summer Search, click here to visit the national program and here to visit the Silicon Valley branch.
SUBSCRIBE! Like what you see? Click here to subscribe to Seeds of Hope!