U.S.: Steven Gets a Shot at His Goals
Categorized as: Stories on March 29, 2011.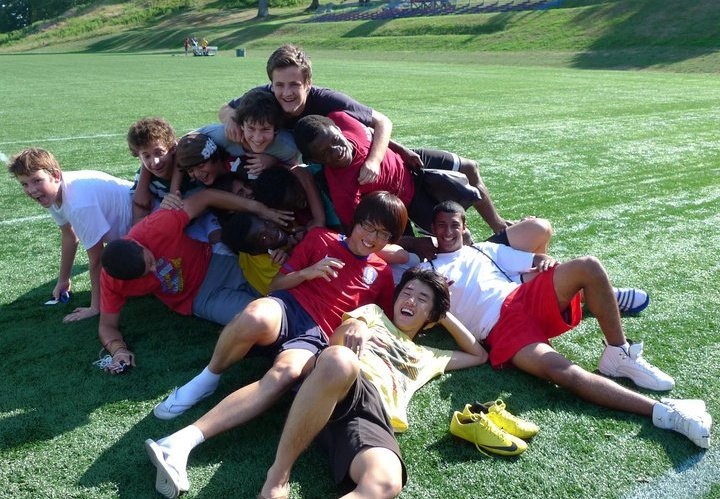 Steven (white tee, red shorts, on the right) in mush pile with soccer buddies.
High school senior Steven works full-time to help pay his family's rent—but this soccer captain has gotten into summer programs and the college of his choice.
partner:  Summer Search Silicon Valley in San José, California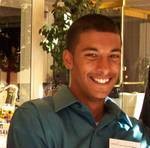 "I went beyond my limits."
19-year-old high school senior Steven works up to 30 hours a week at Jack in the Box.  That means he doesn't study like he should.  "I guess I'm a solid "B" student," Steven laughs, "But I really suck at writing and test-taking."
Every two weeks his whole paycheck goes into his mom's hands.  "Hey, if I can earn $600 a month, then that helps.  It can make the difference between my mom being able to pay the rent or get evicted.  I don't really have a choice."
The middle child of a big family from Hayward, east of San José, California, Steven ended up taking over where his dad left off.  Born of Punjabi descent to parents who emigrated from Figi, Steven was the third of five children.  His parents had an arranged marriage—Dad is now 55 and Mom just turned 40.
"My Mom just wanted to get married and have kids and have somebody take care of her," Steven says wryly.  "But my dad ended up in immigration jail 4 years ago, and now they are separated.  She has to do everything.  She works at a factory called Plastikom making medical parts—the graveyard shift—and another job too.  She comes home and cooks, and right now she's helping our Nani (his adopted grandma) who has a family member in the hospital.  I literally don't know how she does it."
Steven's early childhood had a carefree innocence to it.  "I had friends who shared the same characteristics as me.  We liked to play Pokemon cards, go skateboarding, rollerblading, bike, scooter, hang out at the skate park."  He giggles, remembering how they would play "hide and seek" everywhere, including the clothing racks and tire stacks of Walmart . . . until they got kicked out of the store.
"My mom had always given me a lot of freedom so I could go out with my friends anytime I wanted," Steven says.  "I could do what I wanted.  If I really wanted to be a pothead, I could have.  But I saw my older brother go down that path, and I didn't want to."
Middle school was idyllic, because Steven avoided the financial and family problems at home by spending weekends with two best friends who shared his ethnic background but had more stability.  "Man, they took me to Disneyland with them—not once but twice!—they took me to Las Vegas once.  They even bought me some Jordans."
As he began high school, however, the tension at home built as first his dad, then his oldest brother, landed in jail.  His second brother struggled with depression.  The Dean of Students at Leadership Public High School recommended Steven for the Summer Search program, and that's when he began to change.
With two members in jail and one incapacitated, Steven had to help Babita, his mom, survive.
"I have no idea why they picked me," Steven says, shaking his head in his typical, self-deprecating manner.   "But my first summer, I went backpacking in North Carolina with Outward Bound for 28 days.  The first 3 days, I hated it . . . but by the time we had to say goodbye, our group was all crying."
Steven gathered up all the round-eyed teens at the Asheville airport waiting nervously at the "Outward Bound" sign.  Everyone got a sandwich from the airport Subway and began to talk.  "We had so much in common," Steven says wistfully.  "We didn't talk that much about our families and problems back home.  It was kind of nice not to.  But everyone was so bonded.  We joked around a lot, talked about music—especially RAP and Hip Hop—and how much we wanted to visit each other.  They wanted to come to Cally, I wanted to go to New York and Florida and all the cool places they were from."
This was the first time Steven had flown on a plane, and his first time to leave home.  When he returned to California, 15 and entering his junior year in high school, Steven felt an unshakable responsibility to take care of his family.  With two members in jail and one incapacitated, he had to help Babita, his mom, survive.
Captain of the soccer team at school, Steven landed his job at Jack in the Box through a team member's mother, who also worked there.  Three years later, he nearly got promoted to shift supervisor—but then his boss heard that Steven is going to college this fall.  "So it sucks, because I'm still only making, like, $8 an hour," he shakes his head.  "But my mom is really happy because I'll be the first in family to go to a 4-year college."
"My mom is really happy because I'll be the first in family to go to a 4-year college."
Already accepted into his first-choice school, Steven plans to attend San José State College, with a major in nursing.  "People always say that they want to be this and they want to be that, but then they go to college and become something else.  Me, I am going to college primarily to get a well-paying job.  People will always be sick, so I will always have a job; and I can give back to the community."
For his second Summer Search adventure, the summer before senior year, Steven got on a plane like it was nothing, and flew to Massachusetts to attend a summer study session at a small boarding school near the Vermont border called Northfield Mount Hermon (NMH).  His family drama followed him to the airport—his arranged ride did not show up, Steven had insufficient funds to take the commuter rail, and he ended up accepting a ride from his older brother with a suspended license.  His mother, furious at the legal risk they were both taking, refused to ride in the car with them.
His family drama followed him to the airport.
However, what Steven found last summer were three good friends—James, Yahya, and Wallace—all from New England but whose families had immigrated from Liberia, Somalia, and Benin—who became like brothers to Steven.
"I met people from 22 states and 35 different countries," Steven recalls.  "I really enjoyed the diversity because I do not get to experience that much diversity back home.
"Oh my goodness, we had a blast," Steven laughs.  The studies were not that tough—"besides, I had already read The Great Gatsby which was on the reading list"—so they played a lot of soccer.  During the five-week course, Steven completed three hours of homework per night in addition to keeping up with summer assignments for his California high school.
"I went beyond my limits.  I would also wake up at six in the morning to train at the gym.  It was a struggle getting up, but I wanted to work on my conditioning for when I returned to play soccer back home."
"We were like brothers," Steven sighs.  "When it was time to leave I gave my cleats to Yahya and he gave me his cleats with his signature.  I gave my favorite soccer jerseys to Wallace and James, and they gave me my first pair of soccer shorts and a soccer bag.  I still have those things in the trunk of my car, right now!—they mean everything to me."
"I'm going to major in nursing.  It pays well.  People will always be sick, so I will always have a job; and I can give back to the community."
Now nearly finished with high school, Steven looks back to how he changed the past two summers.
"I have faced more obstacles and challenges at home since then.  My time at NMH is an experience I will forever cherish.  I felt I was myself, I lived my life, I took care of my academics.  My life at home is work, school, soccer, and more work and stress.  I was able to focus, and condition and ate great at NMH.  At home, I mostly eat fast food because my mom does not have energy to cook after long hours at work.  What I can take from my experience is that I am truly able to bring out my own personality.  I am a very positive person; I work hard in class and on the soccer field.  Thus, at NMH I experienced what it really feels like to live a life as an individual and not for others."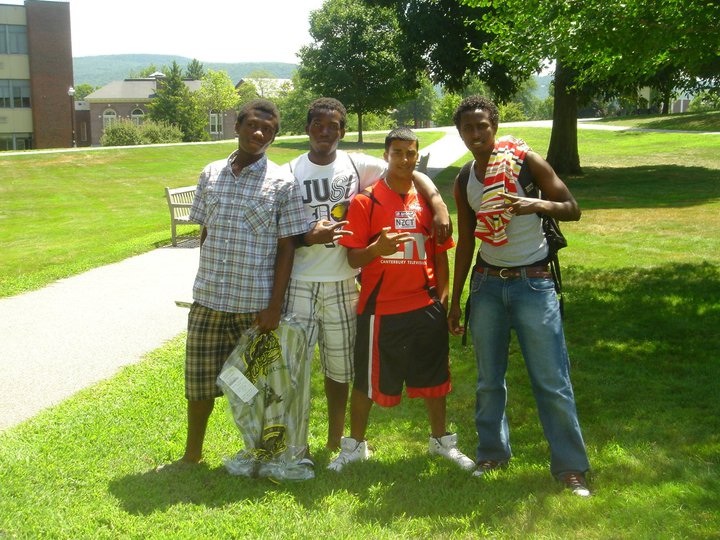 Steven (2nd from L) with the guys from summer school who became like brothers.
As he heads off to college, Steven hopes to get a grant to lodge on-campus, to avoid a long commute and help him focus on his medical studies. However, he worries that without his financial help, his mom and younger brother and sister could be evicted from their apartment.
"We had a house once, and I want my mom to have a house again, and not have to work.  I want my brother to be in college, and my sister to have everything she needed.  If she were in Summer Search, I would be her mentor."
For himself, Steven has wishes too:  "a decent house, marry a nice girl—not have a lot of kids though—maybe drive a hybrid car because of the tax break.  Just live comfortably; whatever I want I can get it for myself.
"Really, I give it all to Summer Search," he shakes his head.  "I think they are the reason I believe in myself.  They always think so highly of me, and I don't know why."
When he moves into the dorm at San Jose State this fall, Steven will bring with him a framed photograph of the "4 brothers" from NMH.  That will remind him that now, it's time to shoot for his own goals.
"[That summer], I experienced what it really feels like to live a life as an individual and not just for others."
Photos courtesy of Summer Search.
DONATE directly to Summer Search here.
SUBSCRIBE! Like what you see? Click here to subscribe to Seeds of Hope!