The Most Important Storytellers in the Country: Global Press Institute Covers the Earthquake in Nepal
Categorized as: Asia, Girls & women, Grantee, Job Creation, Our Partners, Poverty Alleviation, Stories, Storytelling & Tagged as: Cristi Hegranes, Disaster relief, Earthquake, Global Press Institute, Global Press Journal, Nepal on May 2, 2015.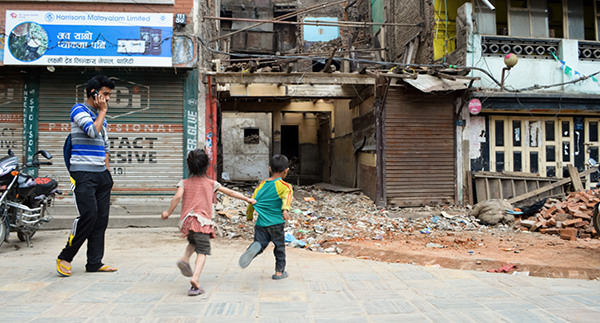 In the aftermath of the powerful earthquake in Nepal earlier this week, our grantee partner, Global Press Institute, brings valuable stories reported by its Nepalese female correspondents, further demonstrating the importance of the GPI model to educate, empower and employ local women to report on news in their communities.

 by Anchal Bibra for Skees Family Foundation | Cover photo (c) Global Press Journal
Earlier this week we heard from Cristi Hegranes, Founder and Executive Director of Global Press Institute, in response to concerns about reporters safety in Nepal. Cristi's thoughtful note highlights the importance of GPI's model, especially at a time of crisis when local, on-the-ground narratives are crucial to getting the whole picture.
Cristi writes:
"In response to your kind messages of concern, I wanted to shoot out a quick note to let everyone know that all members of our team in Nepal are safe. Our safety security protocols were implemented flawlessly in the worst disaster any GPI team has ever faced. 
Thanks to our robust network of partnerships on the ground, the GPI team had power, shelter and food within 24 hours of the quake. 
Of course, our news value is not in breaking environments, but we will be the voice of Nepal's reconstruction long after the mainstream media have gone away. Thanks to our syndication partnerships, GPJ [Global Press Journal] reporters are already providing reporting assistance to both NPR and BBC reporters, so we are working to bolster the quality of reporting other outlets are doing from Nepal during this difficult time. 
We will be offering our Nepal coverage for free for the remainder of the year in hopes of keeping Nepal on the front pages as they work to rebuild.
…
I am confident they [GPJ Nepal reporters] will become the most important storytellers in the country in the weeks and months to come."
Over the past few days we have seen amazing coverage by the GPJ Nepal team. Click on the links below to read compelling on-the-ground reports from Nepal:
Fear of Another Major Quake Haunts Nepal's Tent Towns as Supplies Run Low
Enduring Panic and Pain, Quake Survivors Voice Concern for Loved Ones and Fear of Trails to Come
Quake-shaken Nepalese Face Limited Aid, Aftershocks With Resilience, Music
As international aid rushes into the country and the world watches the aftermath unfold, it is even more critical to have local reporters to better inform understanding of the state of affairs in Nepal.
LEARN more about Global Press Institute here.
DONATE directly to Global Press Institute here.
SHARE this story on Facebook and Twitter; see menu at top and bottom of page.
SUBSCRIBE! Like what you see? Click here to subscribe to Seeds of Hope!