FEATURED GRANTEE: Dayton Christian Center Kitchen Remodel
Categorized as: Stories on March 6, 2011.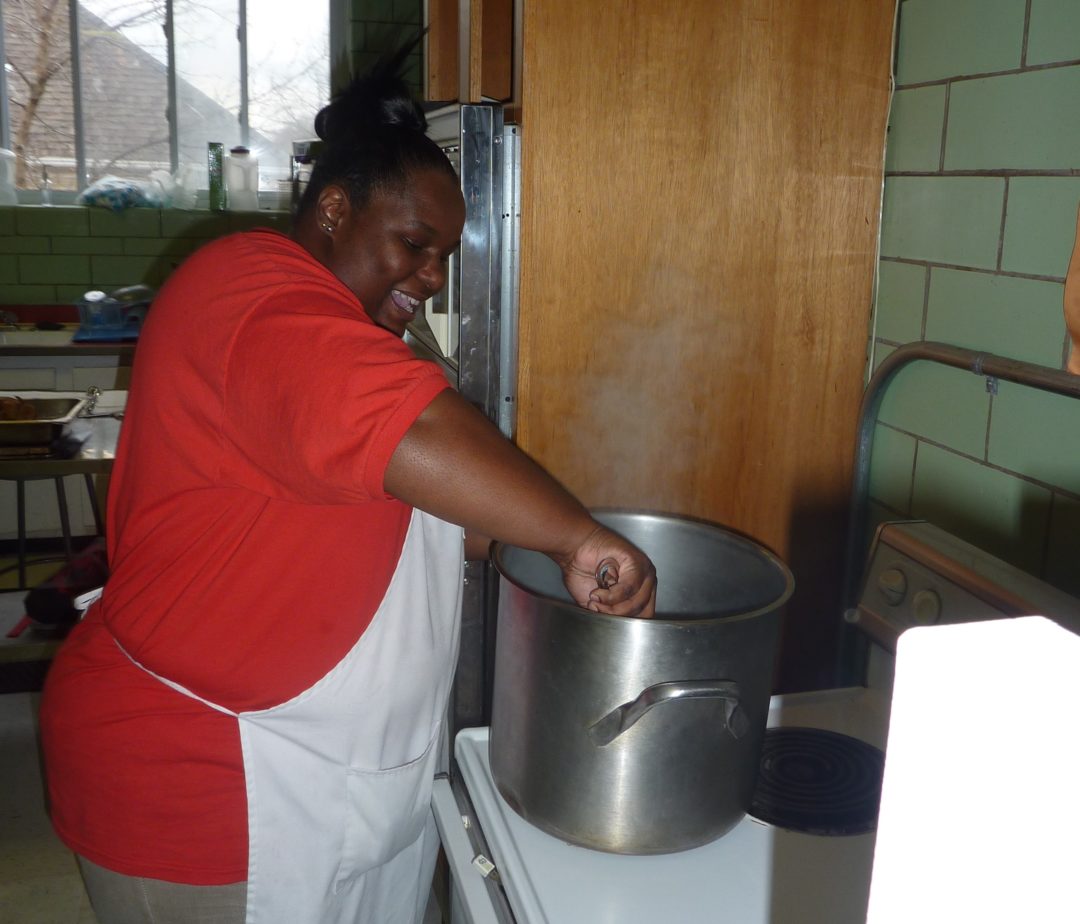 Building infrastructure to support education: Our kitchen remodel project provides nourishing food for children and cooking classes for their moms.
Mission:  The Dayton Christian Center (DXC), supported by National Ministries American Baptist Churches, is a year-round childcare center providing essential and supportive services to families seeking to better their lives.  They have "an unwavering commitment to serve the community" and reach out to "clients from all walks of life."
History: The Dayton Christian Center has cared for Dayton families since 1921, with community centers in two locations—East and West Dayton.  They are one of 212 similar programs serving children and families in need in the city area.  Receiving funding from county and state, foundations and individual donors, the Dayton Christian Center has always striven for a process of wholeness, trying both to teach and live out their faith while also maintaining high standards of integrity and accountability.
Impact:  Believing that "the single greatest need we see in the lives of people is the need for hope," Dayton Christian Center staff simply "walk alongside people and encourage them into their personal and family future," notes Tasha Johnson, Acting Executive Director.  On a pragmatic level, this means help with:
family dynamics
parenting skills
reentry into the community
stronger educational opportunities
better job possibilities
basic needs such as food and clothing
The East Dayton location, where the Skees Family Foundation has supported a kitchen remodel now in process, currently provides day care and meals for 50 preschool and 18 after-school children.
Programs:
Childcare:  year-round services for children ages 6 weeks to 12 years by professionally trained staff, combining a stimulating curriculum with a consistent, stable environment.
Community outreach:  Back to School party and barbeque with backpacks filled with school supplies, Christmas gift program for students and their siblings, and volunteering by staff in the local community.
Good-to-go backpack program: backpacks sent home on Fridays filled with kid-friendly, easy-open, nourishing food.
Kids Café:  in conjunction with ConAgra Foods and a program of Feeding America, DXC serves 10,000 to 12,000 free meals per year.
Volunteer income tax assistance (VITA):  through the IRS, help with tax prep for low- to moderate-income families.
Staff and board trainings: for social service and faith organizations in:
Conflict management
Setting up your own child care facility
Leadership and board development
Parenting and family management
Community development and revitalization
Christian counseling
Strategic planning
Our connection: People who live a long time in one place not only grow roots; they branch out in networks.  And that's what happened with the Skees Family and the Dayton Christian Center.  Hearing E.D. Tasha Johnson speak about childcare at their own church on Sunday, board directors Hugh and Jasmine Skees later thought about Tasha when they discovered a surplus of bread.  A local restaurant and grocery store were sending extras to the homeless shelter where Jasmine worked, and it was more than they needed.  Soon, Hugh was filling up the trunk of their car every Monday to drive bread products over to the Dayton Christian Center, to spread the dough, so to speak.
We saw the center struggle to provide daily meals for their preschool and after-school children as well as weekly community dinners.  We saw their dedication to the youngest, most vulnerable children and their families.  So when they launched an energetic campaign to procure donated equipment and raise remodeling funds to create a commercial kitchen in their building, we offered our support.  They called it "Extreme Makeover:  Kitchen Edition," and held a fundraiser with music and comedy. Our challenge grant of $6,000 was met by local families, the church, and one other foundation.  With another $11,000 in donated restaurant equipment, the project "broke pipes," meaning that the plumbing portion began, in December.
Nina the cook can't wait to get her ladle into a pot on a commercial stove.  Tasha plans to hold classes on nutritious cooking for the moms, and to add this program to their whole-child approach to school readiness and support.
DONATE directly to the Dayton Christian Center here.
SUBSCRIBE! Like what you see? Click here to subscribe to Seeds of Hope!