Beekeepers Earn Their Way out of Poverty in Ravaged Haiti
Categorized as: Caribbean, Education, Girls & women, Job Creation, Leadership, Poverty Alleviation, Stories & Tagged as: Beekeeping, Candles, Fair trade, Fonkoze, Gifts, Haiti unrest, Jewelry, Job creation, Kiva, Prosperity Catalyst, Suzanne Skees, Vincent Oviedo, Women's coop on June 22, 2019.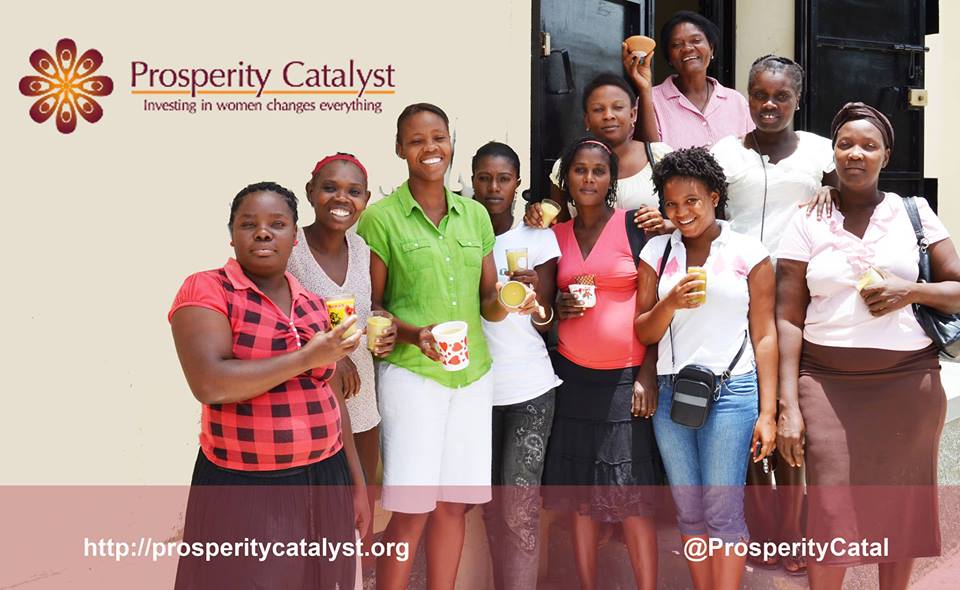 Candlemakers from Haiti. Photo courtesy of Prosperity Catalyst.
By Vincent Oviedo, a Skees Family Foundation (SFF) member and social worker/therapist, and Suzanne Skees, founder and board chair of SFF and editor of the MY JOB book series.
Coauthors' Note: Why Haiti? You might know a bit about the traumatic history of this nation's people and land; but you might not know that 80 percent of Haitians still live in extreme poverty, and less than 50 percent of its children attend school. It's the poorest country in the Western Hemisphere. Meanwhile, Haiti is also incredibly rich in art, culture, music, dancing, food; and it's the world's first black-led nation and independent Caribbean nation after a successful slave revolution in 1804.
When we visited Haiti, we felt blown away by people's resilience in the face of unendurable lack of resources and ingenuity in making a buck (a gourde) selling used shoes or goat's milk—whatever is at hand. Precisely during our visit, angry protests broke out against 40% increased fuel prices and corrupt government, on top of intergenerational poverty, centuries of oppression, and rampant unemployment.
Soon, the protests erupted into violent burning tires and hurled stones, road blockades and shootings, airport and U.S. Embassy closures, lootings and destruction of buildings and kidnapping of tourists.
Riots continue to this day. (See a quick, pragmatic rundown on how the riots built up and how it's related to Haitian politics and the U.S., here.) It's said that gang violence has overtaken the streets normal citizens used to call home.
Because we spent time in-country, person-to-person, with Haitians—at several education and job-creation programs that SFF supports as well as friends' homes and a vodou church—we understood the reason for the rage. We returned to our safe, comfortable American life, still lamenting the harm done to Haitians and tourists alike. We absolutely refute violence of any kind, but we wrung our hands in frustration trying to figure out how we might help.
And then we came back to the first principle of SFF: that all humans are created equal and deserve equal opportunity when it comes to building a life of prosperity and self-determination. We may not be able to solve deep political corruption, environmental deforestation and degradation, and intergenerational poverty, but we can help hire a handful of Haitians in a rural mountaintop that have no other job options.
Ironic that "Prosperity Catalyst" contains half our mission—prosperity (the other half is equality). When we visited this tiny, community-led group of entrepreneurs, high in the mountains of Haiti's West Department, we were struck by their work ethic and joy.
Why do they focus on jobs for women? Because over 90 percent of Haitian women have survived gender-based violence. Some of the beekeepers have their husbands and sons working for them, and one family has three generations working together. They produce organic honey and wax for candles. They even cultivate their own "bee garden" to nourish their beloved bees, who then pollinate crops for sale in the local market.
We chose Prosperity Catalyst for our annual Family Grant because we believe in "family helping families to end poverty worldwide." Their fair-trade products benefit the local environment and economy.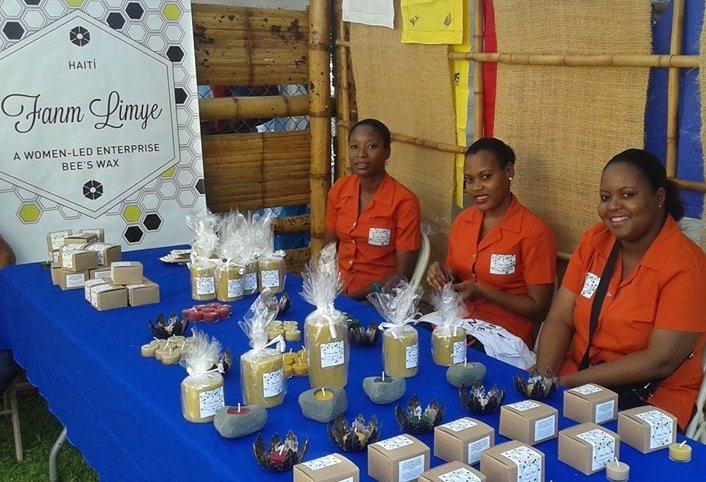 Fanm Limye candle sellers. 
Beekeeping Value Chain
Despite difficult working conditions due to ongoing civil unrest and fuel shortages, the Prosperity Catalyst team in Haiti hasn't slowed down in their work with artisans and beekeepers—on the contrary, they're expanding into an ecosystem of jobs and markets by and for the local community.
Executive Director Catherine Gibbons said, "Over the past year we have established eight new beekeeping demonstration sites, bringing the total to sixteen sites currently in operation, with more under development."
Haiti Director Thony Querette (whom we met) just returned from visiting our first group of trainees in Cape Haitian and ran into one woman who was trained years ago. Her business making candles for church goers is flourishing.
Furthermore, to date, they have trained 431 new beekeepers, 64 percent of whom are women.  To make bees happy and help fight deforestation, demonstration sites also act as plant nurseries for pollinating plants like citrus, mango, and moringa.
What Else Can a Beekeeper Learn?
Carpentry: Making Beehives
Prosperity Catalyst is also expanding their beekeeper's skillsets. For example, women who receive training and loan access through us purchase a wooden beehive made locally by a skilled carpenter.
Newly trained beehive carpenters.
Demand has increased so much that he is now training about a dozen women to make the hives. Like beekeeping, carpentry is a trade typically dominated by men, but women who have already broken barriers to become beekeepers saw the opportunity and sought out the skill.
The carpenter says the women are so eager to learn that he can barely keep up with them. Buying locally is a win-win because it also means that the loan funding the women receive through kiva.org donors and Fonkoze (our local micro-loan partner) stays in the local economy, and it is less expensive and more environmentally-friendly than importing them.
Sewing: Making Beekeeper Suits
Myrlande, a seamstress who makes beekeeper suits for the team. 
Then there's seamstress Myrlande, who lives in one of the toughest neighborhoods around Port-au-Prince. She completed one of the first artisan trainings. When the beekeeping project began to pick up, she was able to recognize the business opportunity and learned to make beekeeping suits and veils. She now employs five other women in her shop and uses formal business and banking practices.
The Buzz on Beekeepers' Salaries
Property Catalyst estimates a beekeeper in Haiti can make up to $137 per beehive each year. They start most beekeepers with two hives and split them annually.  "Beekeeping takes very little space and time, and is done on top of farming and other income-generating activities," says Thony.
This is an enormous return on investment in a country where an estimated 80 percent of the population lives in poverty and 25 percent live on less than $1.25 a day.
Every entrepreneur interviewed said the additional income from beekeeping can be life-changing . . . especially in the hands of women!
The star producer beekeeper, only 17 years old. 
Meet the Beekeepers
Meet the beekeepers in this very short video:
Learn more about the background of Prosperity Catalyst:
Photos and videos courtesy of Prosperity Catalyst and Suzanne Skees.
LEARN more about Haiti's current civil unrest here, and discover Prosperity Catalyst's creation of dignified jobs for women in Haiti and Iraq here.
SHARE this story with your networks; see menus at top of page and below this list.
SHOP their collection of elegant candles, jewelry, and gifts here—every purchase supports their artisans. The Haiti collection can be found here.
DONATE to Prosperity Catalyst here.
SUBSCRIBE! Like what you see? Click here to subscribe to Seeds of Hope!