The sunflower, a symbol of the sun and sometimes worshipped as such, originated in Central and South America. It combines strength and beauty, gives sustenance in oil and seeds, and can grow wild in enormous waves of gold. Rather than a single entity, it's comprised of 1,000-2,000 individual flowers in unison in interconnecting spirals. Capable of growing in scrubland and dry areas, the sunflower is one of the fastest growing flowers in the world and can reach heights of up to 20 feet. It always turns its face toward the sun.
Unity, resilience, nourishment, and vision—that's how we want to grow.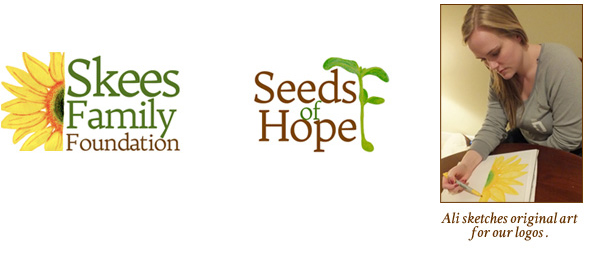 Our logo began in 2004: While we were setting up the foundation and filing for 501(c)3 status, 12-year-old Benjamin and his two brothers helped compose our mission statement: Self-help for youth and families to end poverty worldwide. Ben designed our first logo, a smiling sun, with Kinko's clip art. He wanted to show warmth and love for families in need.
The logo morphed into a clip-art sunflower in 2008. We'd just stumbled through the Great Recession, nearly closing our doors and deeply questioning whether we could make any difference for anyone . . . And we decided to expand, through collaborations and writing, rather than quit. The sunflower symbolized our resilience and determination to grow in barren places, against the odds.
In 2011, another family artist stepped forward to refine the look: Alexandra Rae Skees, then a 22-year-old senior in art history at Centre College in Kentucky, adapted a Georgia O'Keefe sunflower image, brightening the color and simplifying the image.—But our logo wasn't 100% our own until 2013, when Ali sketched two elegant, original line-art pieces for our website and blog logos.
Working with graphic designer Angela Aviles from Kentucky to California, Ali says, "Creating the logos not only gave me a great reason to create artwork, which I've missed a lot since graduating two years ago. It's also given me a wonderful, meaningful way to be involved in the foundation. The logos, to me, represent the opportunities for growth that the foundation allows for those in need, in our own neighborhoods and across the globe."