No Quick Fixes in Humanitarian Work: Firsthand Lessons from the Field
Categorized as: Grantee, Latin America, Leadership, Our Partners, Poverty Alleviation, Stories, Youth & Tagged as: "forgotten boys", Charity, Donations, Honduras, Hope 4 Honduran Children, International development, Karen Godt, Legacy, Lessons learned, Service travel on April 4, 2015.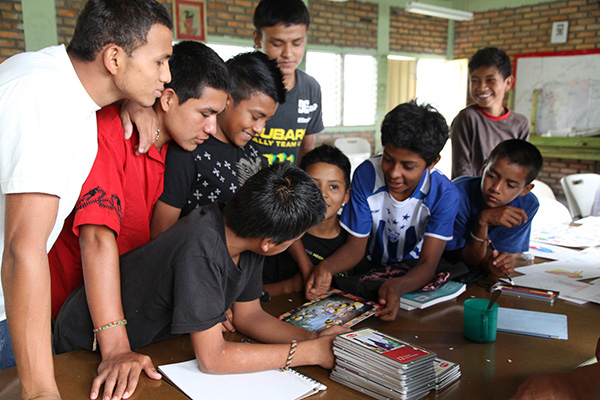 At times our heart is in the right place but our methods of changing the world are flawed. The founder of the Hope for Honduran Children Foundation shares her thoughts on how to strengthen humanitarian help abroad.

 By Karen Godt, Executive Director of Hope for Honduran Children 

Eleven years ago while serving on a medical brigade in the mountains of Honduras, my husband and I were introduced to 24 abandoned boys living in an old forgotten pig barn.  They were homeless, shoeless and had not eaten in four days. That was the very moment that our lives were forever changed.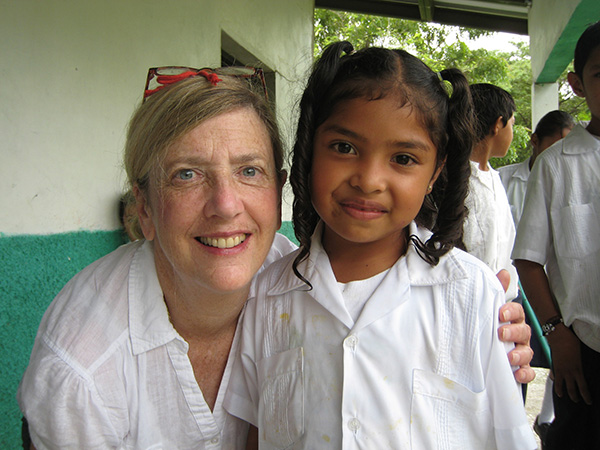 Karen with Gabriella, one of the students supported by the foundation. 
For anyone wanting to create change and leave a sustainable legacy in the developing world, there are many issues to consider before taking that life-changing plunge.  Humanitarian work requires endless flexibility, energy, tenacity, and the ability to endure a number of hurdles and false starts. As we reflect on these past 11 years we realize that The Hope for Honduran Children Foundation has successfully impacted the lives of over 350 children. But I also realize, that a guiding voice when we started would have prevented headache and heartache. My hope is that this "do good" vs. "feel good" checklist will help organizations and individuals who are looking to have a positive impact in the world.
Quick Fixes to Feel Good
Donating Used Goods: Your used flip-flops will not change someone's life, nor will any of those other items of used clothing stuffed on the floor in the back corner of your closet. But I still find trash bags of donated used clothing left on my doorstep almost every day. My favorite was a pair of camouflage fishnet stockings, although the faux fur coats and ski boots to take to a warm climate country were equally impressive. In addition to the inappropriateness of some items, when you consider the cost of getting these used and useless items to the developing country it becomes clear that while your intentions are good, the end impact is not meaningful. A more useful alternative would be to donate money to an organization working in the developing world and save used clothing items for a local shelter.
Service Trip Promises: On almost every humanitarian service trip there are those volunteers who make empty promises to the people they are serving. As friendships form, it is natural for volunteers to become emotionally attached and at the same time, stunned by the degree of neglect and deprivation. Volunteers want to find a quick fix and therefore, routinely, make promises on the spot. However, once volunteers are back home and involved with the stuff of our lives most of these promises are forgotten.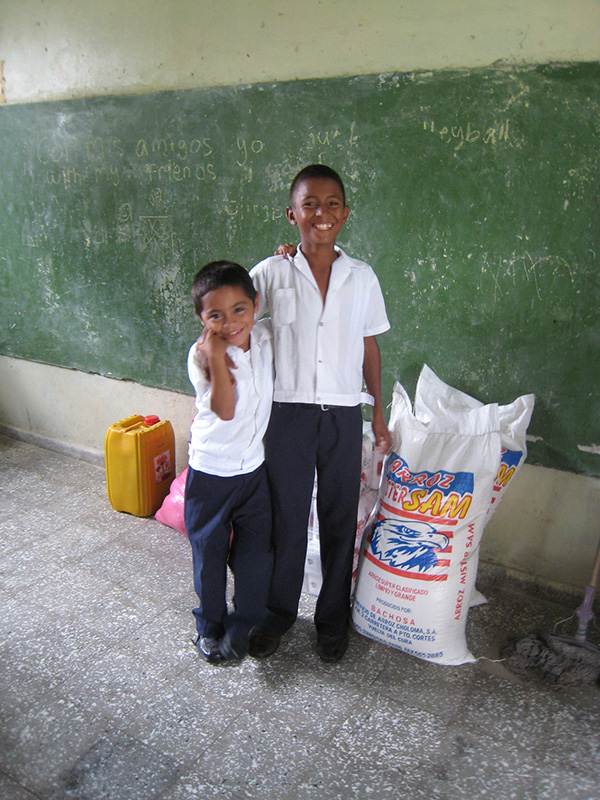 Two students welcome the food delivery. 
Give a Man a Fish: There are many in the developing world who believe that in the U.S. most people have unlimited resources.  And there are many well-meaning volunteers who reach into their pockets and press cash into the hands of those in need. Unfortunately, they have lost sight that "giving them the fish", or in this case a few dollars, is not a sustainable solution. Trying to solve one person's personal problem is a short-term solution. It is far better to align your contributions with the efforts of an organization with a compelling mission. More often than not, giving cash to certain individuals in a community over others can lead to jealousy, gossip, and corruption.
Invitations to the US: Countless underserved people are aching to cross the borders to enter the United States. We read about the enormous influx everyday. Unwittingly many volunteers will say "come see me sometime" but with no thought of the perilous journey and what they will do when the phone rings and the voice on the other end is saying, "I'm here in the US!"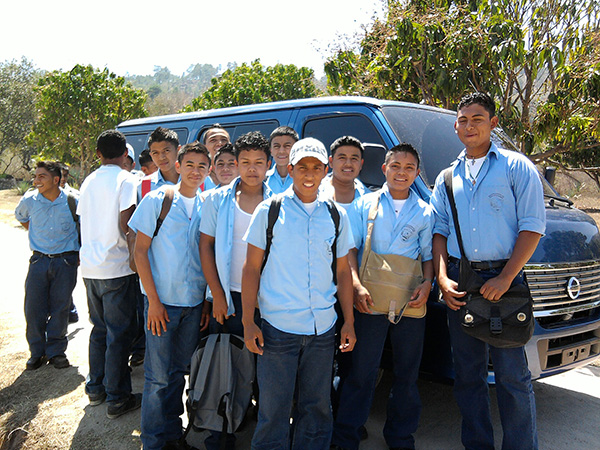 Students gather for transportation to school. 
Leaving A Sustainable Legacy
Do extensive and thorough research: Before you engage in any humanitarian endeavor it is important to clearly understand: 1) the culture of the people you intend to serve, 2) the root causes and affects of their poverty, and 3) their most critical needs.
Relationships are Important: Of utmost importance is a solid relationship with at least two or three people in the country where you are working. The relationship must be built on confidence and trust. This is far more difficult than one would imagine in the developing world where desperation can lead people to dark corners.  Ethical, transparent, frequent, and consistent communication is tantamount.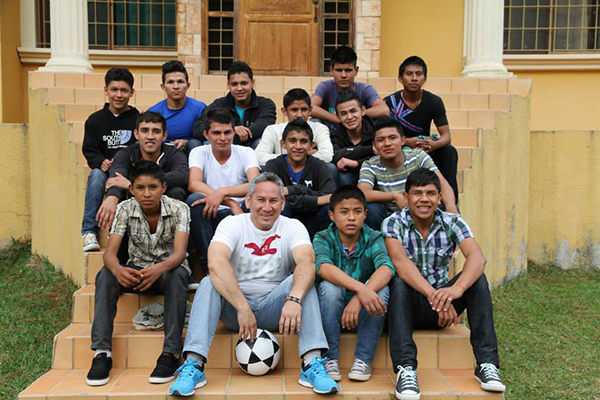 Casa Nova youth gather for a game of football. 
Lessons from the Field: It is so easy to be discouraged by those inevitable "false starts" but try to consider them as part of your education.  You learn from every bump in the road! Remain flexible, humble, and determined.
Think it Through: Before you undertake a major project, think it through. So many well-meaning people, groups, and foundations spend their time and treasure on donating and building something beyond the capabilities of the recipients. More often than not, the undeserved people in the developing world do not have the skills or the financial resources to maintain many of our North American projects. We have seen state of the art greenhouses go to ruin after one harvest of tomatoes, and a commercial bread bakery abandoned after just one week because no one in the community eats bread. This leads everyone to the same question: Why didn't donors research the needs and capabilities of the community before undertaking a major, costly endeavor?
Stay Focused: It is important to stay focused on one specific mission. Think big, but move cautiously. There will always be a limit to what you can truly achieve, so focus…and make it matter.
All photos provided by Hope for Honduran Children Foundation. 
LEARN more about the Hope for Honduran Children Foundation here.
SHARE this story on Facebook and Twitter; see menu at top and bottom of page.
DONATE to Hope for Honduras Children Foundation's mission of providing a meaningful difference in the lives of Honduran children in extreme poverty by clicking here.
SUBSCRIBE! Like what you see? Click here to subscribe to Seeds of Hope!