Lambs-Head Stew: The Local Treat That Got This Widowed Mom off the Street
Categorized as: Stories on February 8, 2014.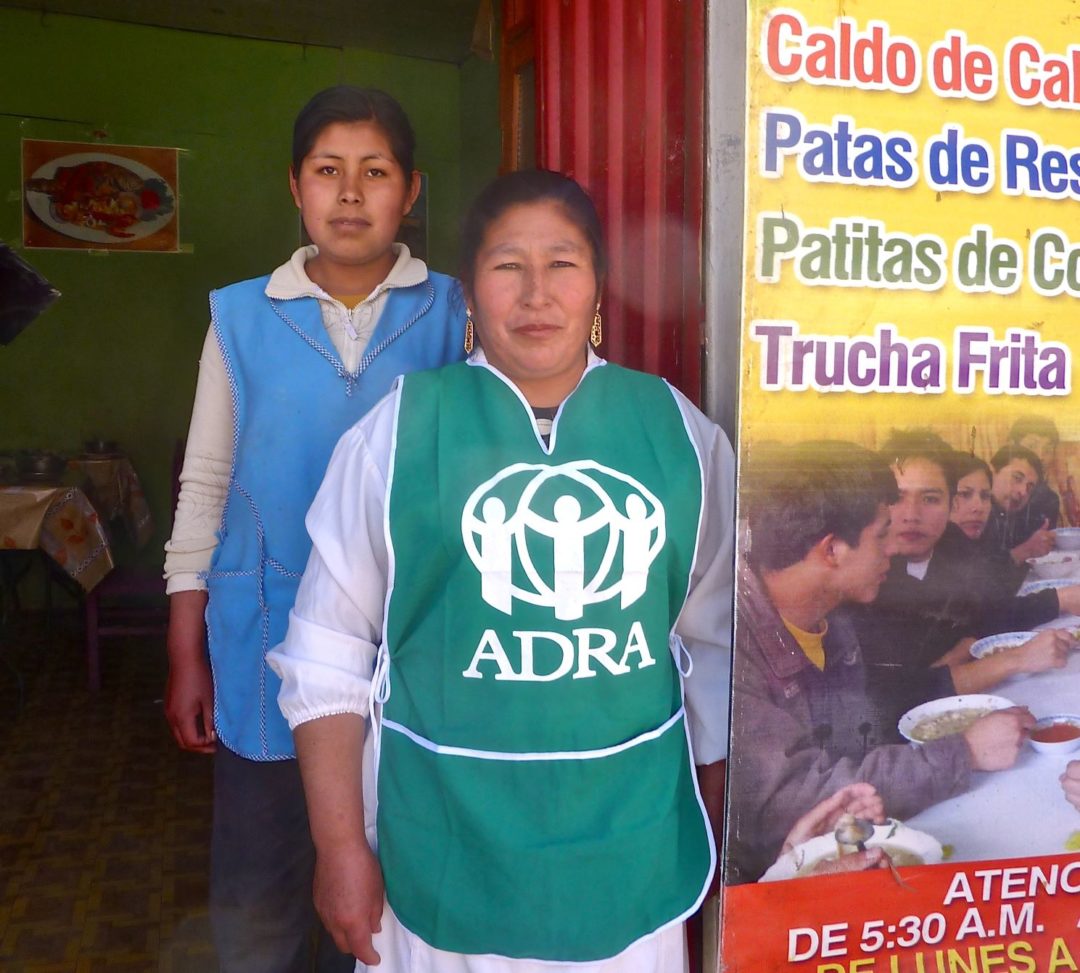 Eulalia and her employee-niece Gabi in front of their restaurant, Caldo's Café. Photograph by Jim Cline for Freedom from Hunger.
Editor's Note: The women featured are clients of our longest-term partner, Freedom from Hunger, a nonprofit that specializes in bringing a trio of financial services (credit, savings, and insurance), informal education, and healthcare services to 5.7 million of the world's poorest women in rural and periurban environments. Traveling with Freedom from Hunger, I've met hundreds of their hardworking clients in several countries, yet I still can get surprised by the creativity employed in not just eking out a living, but shaping a self-determined life. 
One moment changed Eulalia's life: Her husband died of a heart attack at age 34. She had to deal with her grief as well as become the sole breadwinner and a single parent for her three kids. Seven years later, she's moved her food-selling business from a street cart into a restaurant of her own: Her specialty is a Peruvian delicacy: lamb's-head stew. Part 5 of our 5-part series from Peru.
By Suzanne Skees
Juliaca, Peru: If you travel to Peru and find yourself in the "windy city" of Juliaca, 12,549 feet above sea level in the Andes Mountains, you can stop by Caldo's Café for a local treat. Customers come from near and far to nibble on Eulalia's lamb's-head stew (caldo de cabeza), a traditional Andean delicacy that she still simmers fresh each morning. Cooking and serving, running the cash register and keeping inventory stocked, Eulalia Martinez Quispe runs her seven-table café from 6:00a.m. till 9:00p.m.. At 44, she doesn't take this work for granted—it's been a long road from selling food off a street cart to owning her own restaurant.
"I am [both] the mother and the father of my children, so I need to work many hours," she lifts her hands open as she speaks. Two children, ages seven and seventeen, still live with her; her oldest son, 24, is married and has a daughter of his own.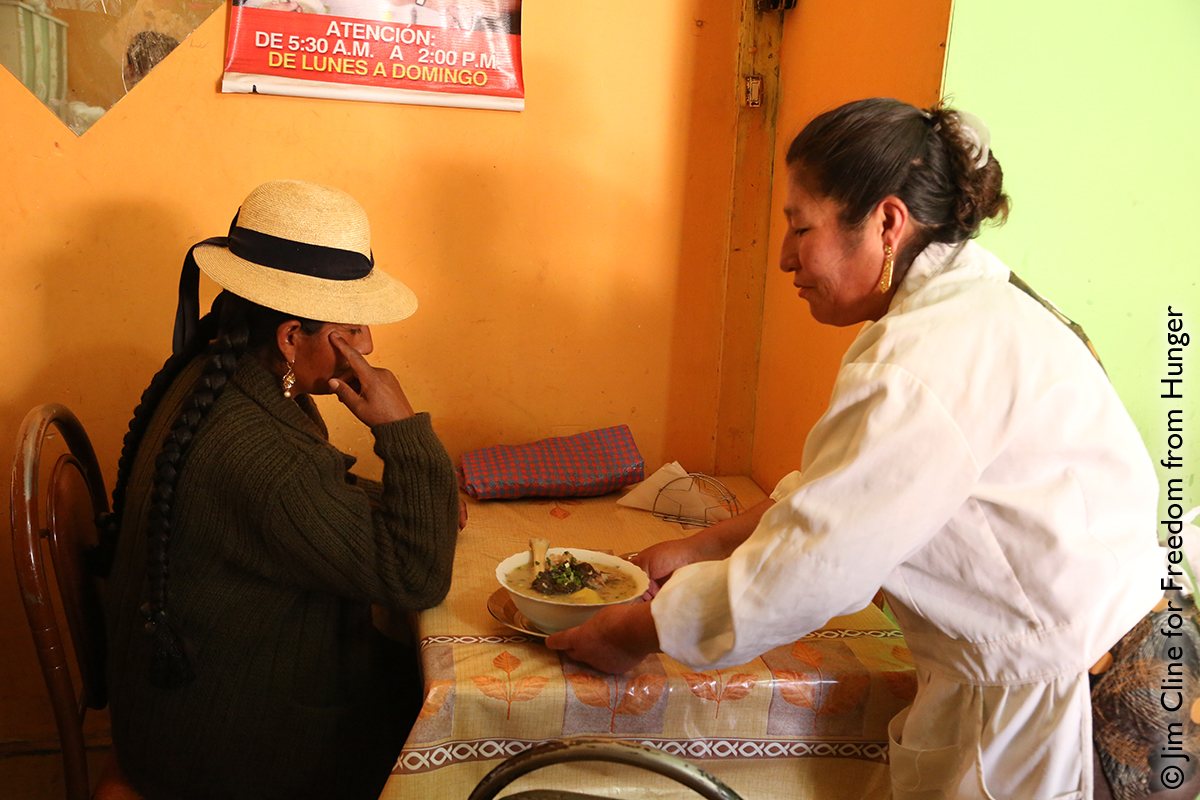 Eulalia (R) serves her speciality to one of her regulars. 
Bright sunlight fills the café as regulars hide behind newspapers or lean back in their chairs to watch the Peruvian soap opera on the television bracketed to the wall. It's lunchtime, and Caldo's fills every table. Eulalia and her employee, who also happens to be her niece, 24-year-old Gabi, sashay their way through narrow spaces in-between, delivering plates full of trout, potatoes, and that fragrant lamb. Gabi has nearly completed college at the technological institute in accounting. They've been a big help to one another, as Gabi's been able to earn money working here in the mornings while she attends classes in the afternoons. But when she graduates, she expects to jump from $25/week waiting tables to $100/week in her field.
As for Eulalia, every promotion and raise she's received has been made, as a microentrepreneur, by her own two hands. Twenty years ago when she was a young mother of three, she cooked food at home and sold it on the street. Ten years ago, she joined a credit group to rent her own space. She uses her current loan to stock up on rice, dehydrated potatoes, and other ingredients. She's also been able to refinish the floor and add new tables and chairs to the café. Currently, she makes $75-100/day. She says, "Some people are afraid of risk, but I'm not. [Each cycle] I ask for a bigger loan, but it's a calculated risk."
Usually, Eulalia closes the café for a few hours during siesta to purchase inventory and maybe take a bit of a rest herself, before returning to serve api, a hot beverage made of corn flour, to passersby heading home from work in the evening hours. However, once a month she posts the "Cerrado" sign and walks across town to meet with the 34 members of her "Amauta" ("Leader") credit group. It's a family affair, as her 20-year-old daughter-in-law, Juliana—also a member of the group—joins her and between the two of them, they hold grand-baby Karla, age one-and-a-half, on their laps.
"I've already lived through the hardest part" of life, Eulalia shakes her head, "when my husband died. He was fat, and he had a heart attack. He died seven years ago, at age 34." Now she has access to private health insurance through her credit group, and she gladly invests $40/month—which covers the entire family. "Every month, I go for a checkup," she tells her friends, because she doesn't want to take any chances with her own health.
Since becoming both a widow and single mother in one moment—choices she never would have made—Eulalia has felt the strain of worrying about her children and working many long hours. She says she would never have endured these years without the support of her group.
"We like to be together," Eulalia comments. "The field officer comes and makes us sing and dance. We are all really close in this group." Each monthly meeting includes a class. This month, it's women's empowerment; next, they'll study "My Health First" and "Increase Your Business."
"We come here to de-stress ourselves, because it's really fun," Eulalia says. As you can see, the field agent makes us dance and sing. We've also learned to be on time, be responsible, be kind to our clients."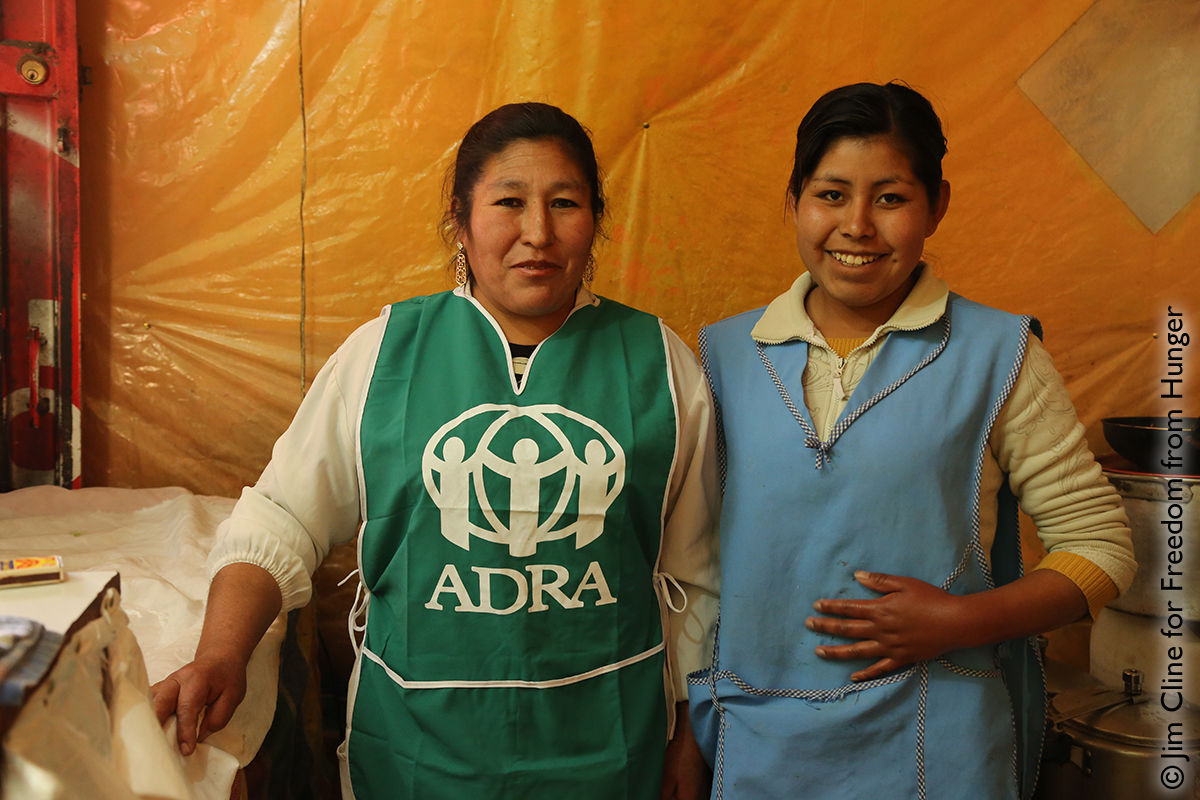 Eulalia with 24-year-old niece Gabi, who's also her #1 employee.
Tonight, they'll celebrate three members' birthdays that fall within the month. It's Eulalia's job to coordinate these fiestas de cumpleaños, and she hasn't forgotten to bring a large marble cake and liter bottles of soda, plenty to go around the room. The volume in the group president's living room rises as the women chatter and laugh, and sleepy Karla begins to fuss. Eulalia and Juliana step outside with little Karla. A cool breeze lifts their hair, and they breathe out as they step across the street into a small city park where Karla can toddle freely. Behind the roof of the small adobe home they've just left, the equatorial sun vanishes, leaving just a streak of purple in its wake.
"My dream is to rent a larger restaurant, but lots of people work for me instead of me having to do everything!" Eulalia laughs. Then her face darkens, just for a moment, as she thinks back to the circumstances that got her here.
"I want always to be with my children," she says to Juliana, "and for them to work hard and be professionals. I always teach my kids not to take life for granted, because I could die at any moment. They have to work hard."
Eulalia believes that their city is a place of opportunity, where anyone who works hard can get ahead. "Here in Juliaca, you could sell stones if you wanted to," she jokes, but she is not really joking. Residents do sell stones from nearby Lake Titicaca to tourists: lake rocks that supposedly bring blessings and money. Eulalia thinks it's a grand sales scheme . . . but she's bought a few lake rocks herself, just for luck.
(Cover photograph (c) Jim Cline for Freedom from Hunger; story photographs by Jim Cline and Suzanne Skees.)
LEARN more about Freedom from Hunger's approach to ending poverty and injustice in Peru through access to education, healthcare, and enterprise here.
SHARE this story with your friends and family with your networks; see menu above.
DONATE to end poverty through self-help here.
SUBSCRIBE! Like what you see? Click here to subscribe to Seeds of Hope!