I want a very different life for my granddaughter.
Categorized as: Stories on June 15, 2013.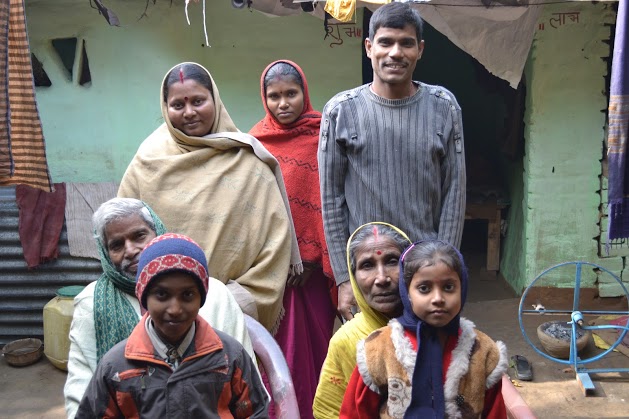 Editor's Note: Bindu Das, a weaver in northeast India, isn't sure exactly how old he is . . . but he's old enough to have seen a lot of danger for and disrespect of women that he hopes his little Neha will not have to endure. He's working to build a different outcome for his community in Bihar.
By Suzanne Skees with Sriram Gutta
Bindu Das does not know his exact age, but he says he's "somewhere in my 60s" and plenty old enough to "worry about my granddaughter having to grow up here like this." When we first stop by the semi-pucca (semi-permanent, made of brick, cloth, and thatch) house where Bindu lives with his wife, two sons and daughters-in-law, and two grandchildren—Bindu refuses to look up from his loom to speak with us.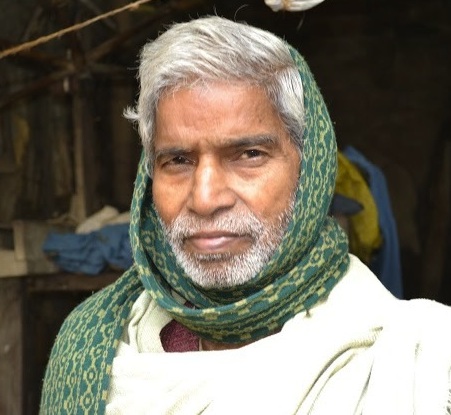 Bindu is well respected in his village for his determination to build a better future for the community.
"So sorry, we can come back later," offers Sachi Shenoy, Executive Director. He grunts as he sends the shuttle back and forth through his loom as fast as he can. "I'm just busy filling an order," he mutters. "But I have opinions." So he begins to talk, and the more time we spend with Bindu, the more we see that this stoical man, highly respected in his neighborhood, has a strong commitment to his community.
"Greater income can buy us dignity."
"Many government officials have come by," says Bindu. "They ask about the conditions, but then they never do anything about it."
All his life, Bindu says, their village has needed its own school and healthcare center. The family eats only twice a day, with leftovers from last night's dinner comprising breakfast the next morning. Whenever possible, they enjoy the roti breads, leafy vegetables, potatoes, and rice that Bindu prefers. He and his sons have worked hard all their lives: Bindu as a weaver, his elder son as a shopkeeper in Bhagalpur, and his younger son as a day laborer. They make only $100 per month combined, but Bindu's very proud to say that it is enough to send his 13-year-old grandson and 8-year-old granddaughter to government schools.
"I worry about my granddaughter having to grow up like this. It's just not safe for women."
"We don't even have a proper toilet," Bindu waves his weathered hand out back behind the house toward the river the village residents use for bathing. "This is especially a problem for women," Bindu protests. He looks across the small room to his wife and daughters-in-law, and then his eyes settle on his granddaughter, Neha. "It's just not safe for women. They're vulnerable, and there is no dignity."
Beside community toilets, Bindu hopes for a good school, a hospital and health clinic in the Champanagar village. For his own family he wants to work more and remodel his home into a solid pucca house, eat more variety of vegetables and legumes, and purchase a bicycle.
Bindu's always had mixed feelings about his weaving: He's proud of his skills, but for many years he could not depend on it for his livelihood. Eco Kargha now pays Bindu $77/month steady salary, an improvement over the unpredictable $65 he used to make combining weaving with other odd jobs.
"Before I worked for Eco Kargha, I had to go to the market to sell my goods, and most often I did not get a fair price."
He's hoping this new company will stick around long enough to help him continue weaving for years—"I will need to see that kind of assurance before I would persuade my kids or grandkids to take up the profession," he says. He points across the small, dark room to reveal a dusty, folded-up loom that's been kept in the corner because he hasn't wanted to encourage his kids to learn. "If weaving can be a good [reliable] livelihood, I absolutely want them to learn the craft. It's a source of pride only if it can provide for the family."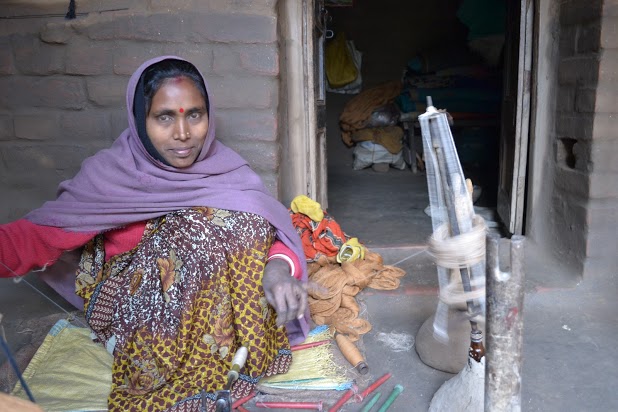 Bindu's neighbor coils thread that the weavers will spin on their looms.
"You see," Bindu says as he pushes back from his loom and lets little Neha climb onto his lap, "Greater income can buy us dignity. It means officials may take seriously our requests for schools to be built here, for better healthcare, and access to [clean] water." As of now, he feels that he and his neighbors don't have any voice at all.
But his tiny granddaughter does. She looks up into his bearded face as if to ask permission to be included in this conversation. Bindu's expression softens and he tells us that Neha has been learning English in school. To prove it, he asks her to sing. In a shy voice, Neha begins to sing "Twinkle, twinkle, little star," for her grandfather and his colleagues. Bindu beams. "I am very proud of both my grandkids," he says. "I hope conditions will be different for Neha when she grows up."
He throws his head back and chuckles. "I hope she will work in a big city someday."
Photographs courtesy of Sriram Gutta.
LEARN how Upaya Social Ventures changes outcomes for ultra-poor families through dignified jobs with steady salaries, here.
SHARE this story with your networks; see menu at top of page.
DONATE directly to Upaya here.
SUBSCRIBE! Like what you see? Click here to subscribe to Seeds of Hope!