Finding Hope Against a Landscape of Dire Peruvian Poverty
Categorized as: Stories on September 24, 2012.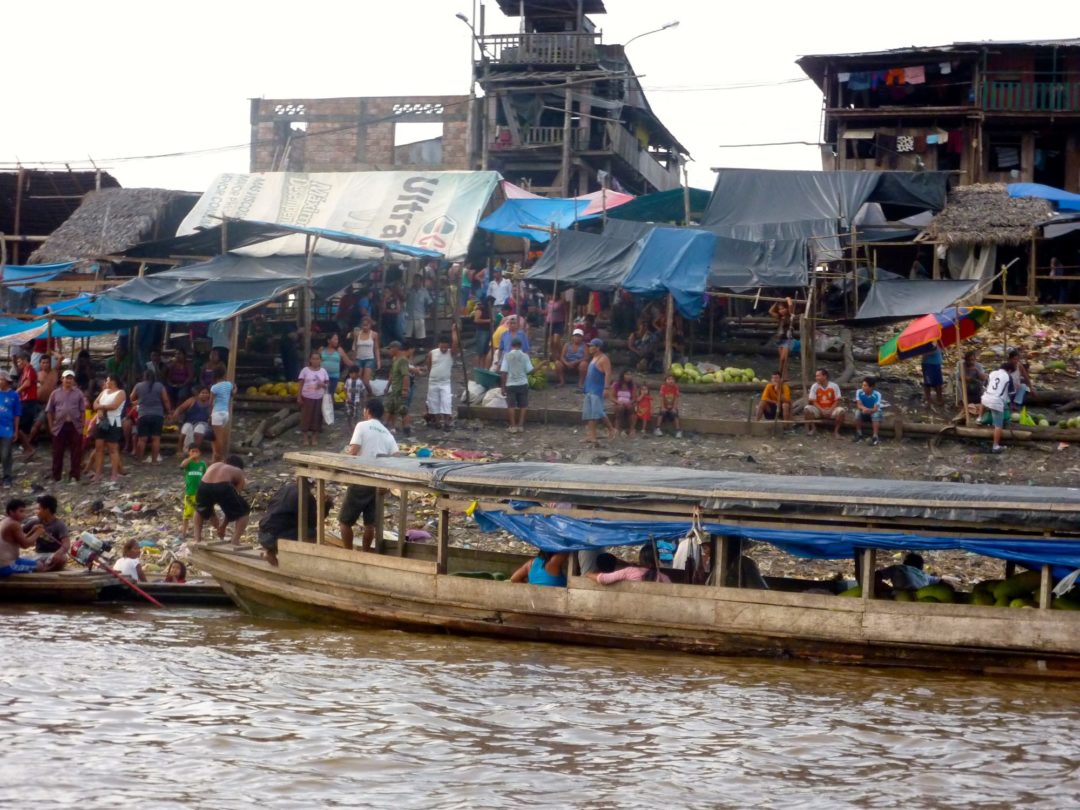 This is no Venice: shacks slide down toward the Amazon River in this east-side slum of Iquitos, Peru, a rainforest community of 65,000 facing crime, drugs, trafficking, domestic abuse, poverty, unemployment, 30% literacy, annual flooding, and lack of jobs, clean water, hygiene, and healthcare. What our team witnessed and why our partners can't wait to begin work here.
by Suzanne Skees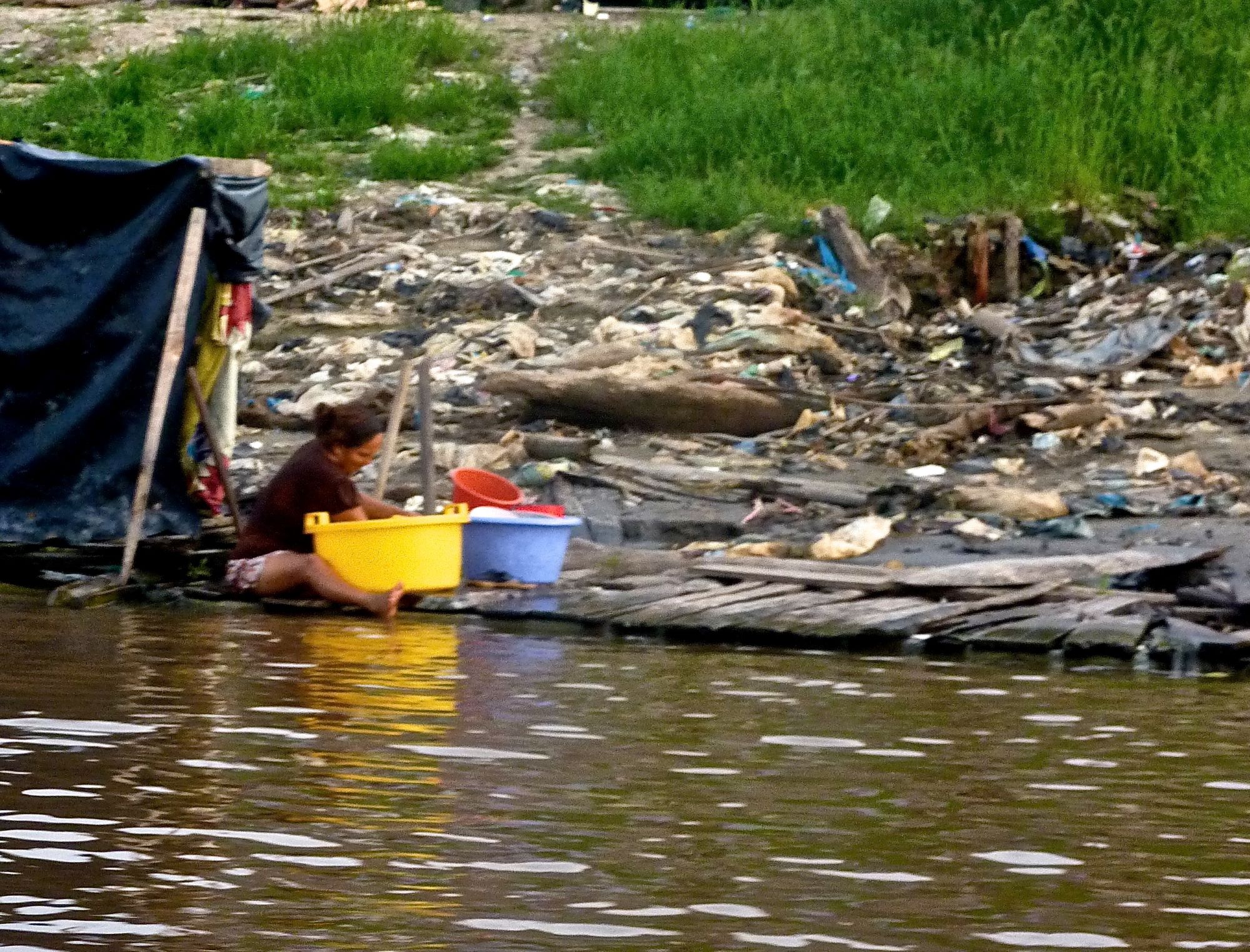 Belén resident washing laundry (R) right next to this plastic-tarp Amazon River latrine (L).
Iquitos, Peru: Murky brown water swirls past a woman on the Amazon River as she hunches over to wash out the family laundry, back-to-back with a plastic-tarp outhouse perched over the same water in which she washes clothes.
Poverty here in Peru has improved somewhat in recent years, as measured by the Peruvian government, to 30% of the population in 2012, although that rate soars to 61% in rural areas.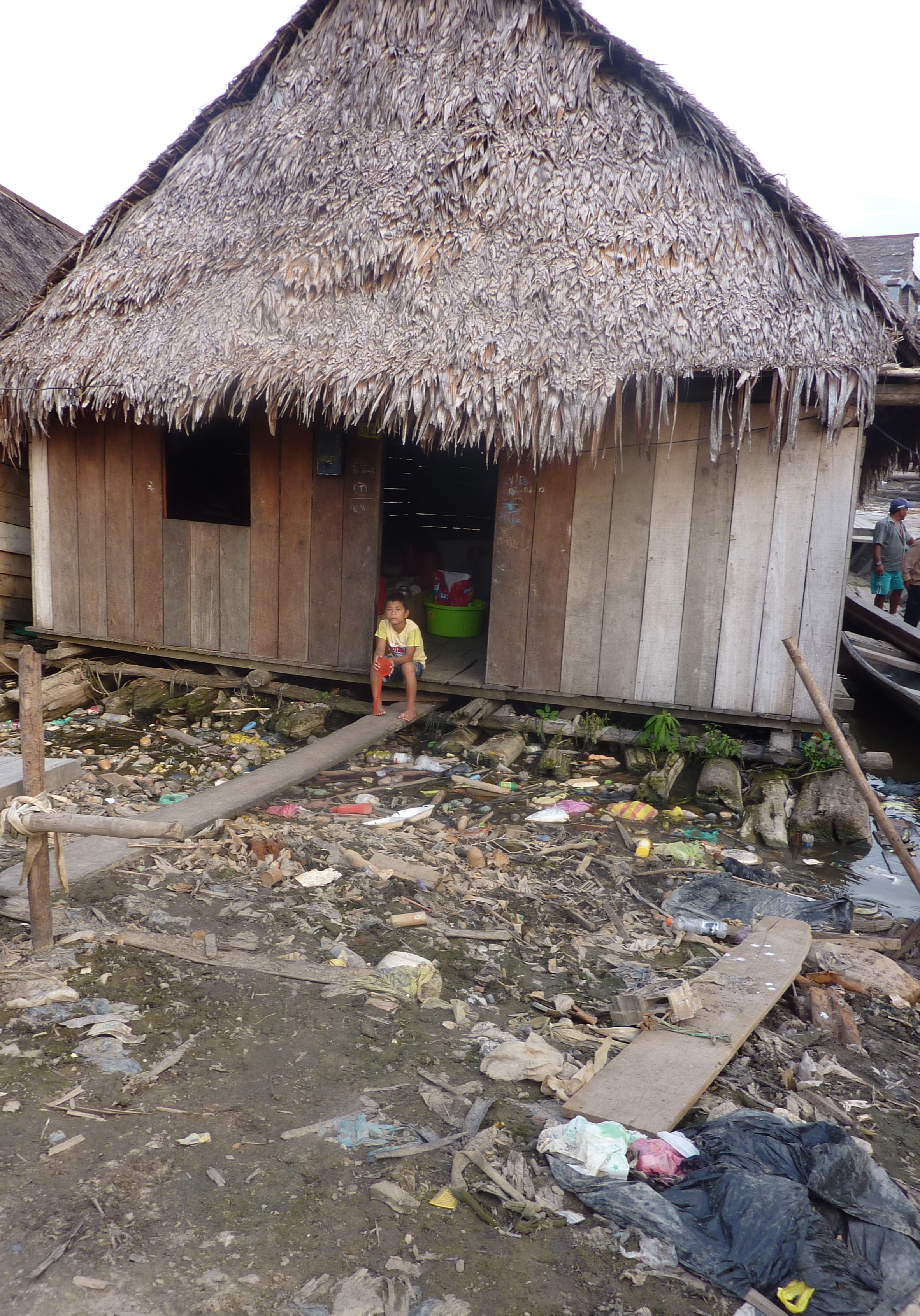 Boy at the front door of the house he shares with several families.
Belén, called "the Venice of Peru" by tour operators, shows the resilience of mestizo (mixed Andean and Spanish-descent) culture as residents build shacks from scrap wood leftover from a defunct lumber mill. They build their houses up on stilts or onto bases of floating balsa logs. Seven months each year, from February to July, floods swell the Amazon here 3-5 meters, lifting many homes and preventing any access to Belén except by canoe.
"Belén is considered a very dangerous region in which to work," notes Luis Garcia Bedregal, native Peruvian and program manager for Freedom from Hunger, our U.S.-based partner who adds adult education, savings, and healthcare to in-country partners' microfinance programs. "Here you find poverty, drugs, prostitution, and sexual exploitation of children. Family violence and sexual abuse begin at home . . . . Sometimes, children will sell themselves for a cell phone," he shakes his head and looks down. "We hope to begin working here as soon as possible."
Already reaching over 80,000 clients through thirteen local partners in several regions of Peru, Luis and his coworker, technical advisor Andrea Del Granado Mena, wish to meet the multi-tiered (social, economic, enterprise, health, and environmental) needs of Belén with steady training of clients in skills, business, and financial management, self-esteem and gender relations, along with both training in and access to preventive and curative healthcare. One of Freedom from Hunger's strategies for mutual respect and efficiency is to work with local partners who really know the culture and needs of their own barrio. In this case, they also need to find someone with enough courage to try.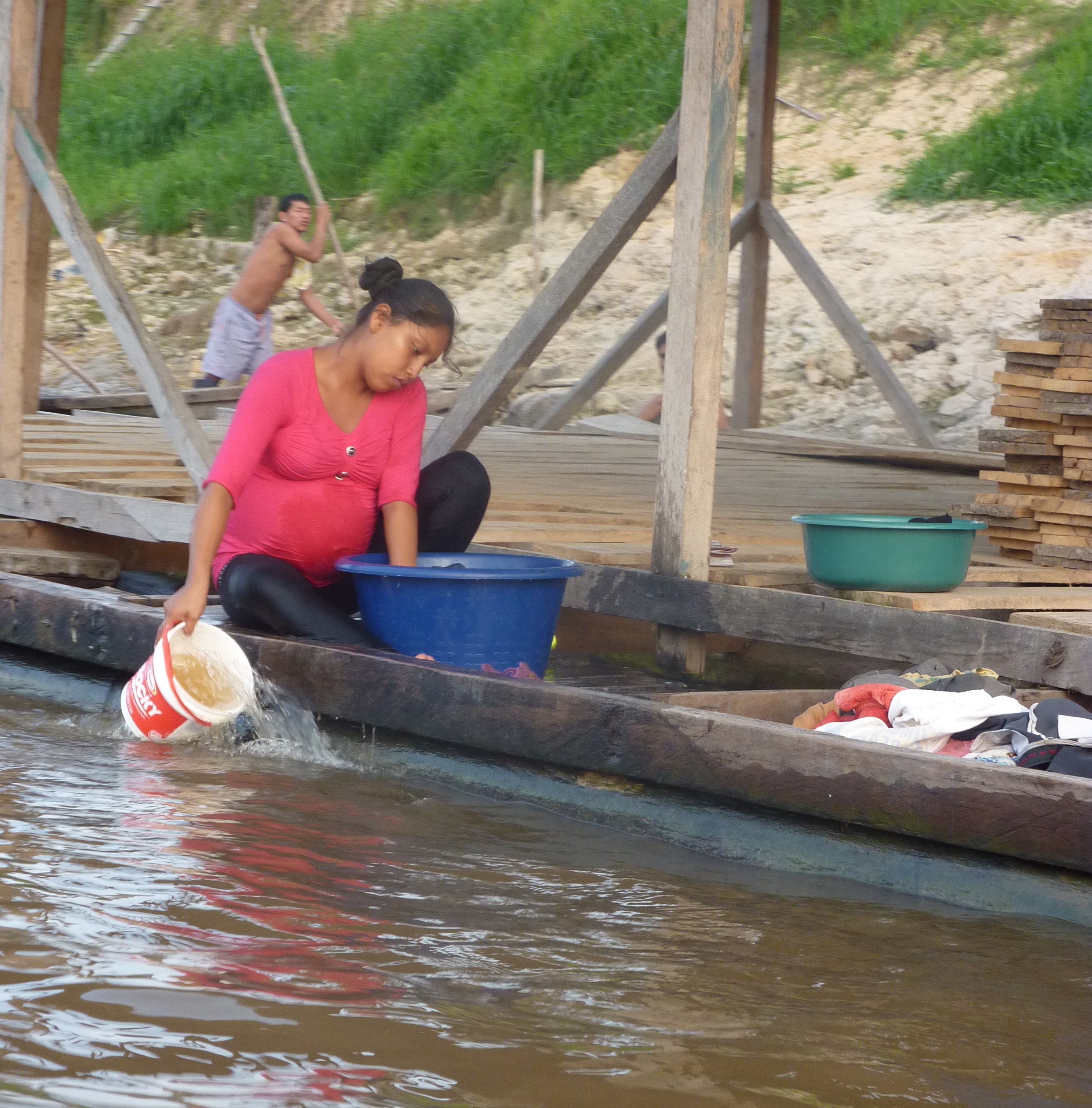 Everyday chores on a contaminated river.
"We'd planned to work with another nonprofit organization and that fell through, so we're hoping this partnership works out," Luis tells me as we drive around visiting partners in Iquitos this week. As the sun sets around 6 p.m. (when "buenos tardes" becomes "buenos noches") in this country just south of the equator, we stop by the seven-employee office of ADP (Association for Dignity in Peru). We receive a warm welcome from ADP's executive director, who not only experiences the poverty of this rainforest community daily, she's even more determined than Luis to put an end to it.
"We're already working in the highlands of Belén," says Dora Ramirez Davila, who cofounded ADP in 2008 along with Netherlands-based president Winneke Kornet and her friend Marian de Ruyter, "but these are not the most dangerous areas. We want to bring self-empowerment through education to the women here, and the training, education, and savings programs of Freedom from Hunger are critical to that. We are just awaiting permits from the municipality. We've filed for police escorts for our field agents as they come and go from the region with loan and savings money."
A nurse by training, Dora has worked for decades with indigenous rural women. She began in graduate school by teaching workshops in self-esteem and gender, and soon observed, "It's just talk. People hear it but nothing happens." Convinced the best way to effect social change combines access to jobs and financial services with training (and women managing their own money, able to make decisions about their children and investments), Dora helped develop ADP's community banking model (Fondo Rotiatorio) in 2009, then in 2011 brought in Freedom from Hunger's education and savings programs. Based in California and serving 4.4 million poor women in 20 countries, Freedom from Hunger provides market research, financial planning, education modules, and staff training for its local partners. "We want to work in Belén," notes Luis, "because they are really really poor there, and no other microfinance organization is working there."
 Playtime in Belén.
A few other organizations have tried, however. The Peruvian Ministry of Health has worked with Engineers Without Borders on water-purification and composting toilet initiatives, not yet fully implemented. The nonprofit Gesundheit! Institute, led by famous American doctor Patch Adams, visits Belén annually and brings together 140 volunteers and 30 collaborating organizations (including LAN Peru airlines and the Wawa Wasi program of the Peruvian Ministry of Women) to donate school and healthcare supplies, paint houses, run educational workshops and clown performances (their specialty), and build a community center here.
A graphic photo essay of Belén called "Water-Borne Poverty" reveals systemic problems that have so far stymied well-intentioned development efforts, in this case by People of Peru Project and Mercy Corps. American Paul Opp shows a graphic view of poverty in Iquitos and Belén in this video.
These efforts, one by one, could add up to impact if the tenacious people who form the backbone of such organizations provide the push needed to keep outreach efforts going year after year. As we say here at Skees Family Foundation, every hour and dollar matter; our intention matters. Little by little we can work together to bring hope to such places as Belén.
"These clients are dealing with such deep problems on so many levels: poverty, health, sanitation, and abuse," Dora smiles sadly. "If they can meet each day with such courage, it gives me hope just to be around them. On those days in the office when I find myself losing hope, I ask my field agents, 'Who's tired and needs a break?' Then I get out into the community, spend time with our clients, and get my batteries recharged."
LEARN more about Freedom from Hunger's approach to ending poverty and injustice in Peru through access to education, healthcare, and enterprise here.
SHARE this story with your friends and family with your networks; see menu above.
DONATE to end poverty through self-help here.
(all photos by Suzanne Skees)
SUBSCRIBE! Like what you see? Click here to subscribe to Seeds of Hope!