Why Do We Fund Girls and Women?
Categorized as: Stories on September 19, 2011.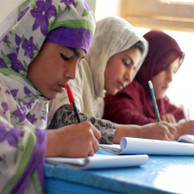 We're often asked why so many of our educational and microfinance programs invest more heavily in women than men . . .
. . . after all, we love the exuberant energy of boys and the gentle strength of men. In our family of 30 members across 3 generations, we do have a few more females (17) than males (13). However, the reason for targeting females in our efforts to end poverty, both here in the U.S. where 46.2 million people live in poverty, and in the world, where 1.4 billion ultrapoor survive on less than $1.25/day, has everything to do with strategy.
This interview by Fareed Zakaria with Zainab Salbi (Women for Women International), Cheryl Wudunn (Half the Sky), and Nicholas Kristof (New York Times) really sums it up.
SUBSCRIBE! Like what you see? Click here to subscribe to Seeds of Hope!