What it Means to be a Girl in Malawi: Lessenia's Story
Categorized as: Africa, Education, Girls & women, Grantee, Leadership, Stories, Youth & Tagged as: Age Africa, Empowerment, Gender issues, Lessenia Chikho, Malawi on December 6, 2014.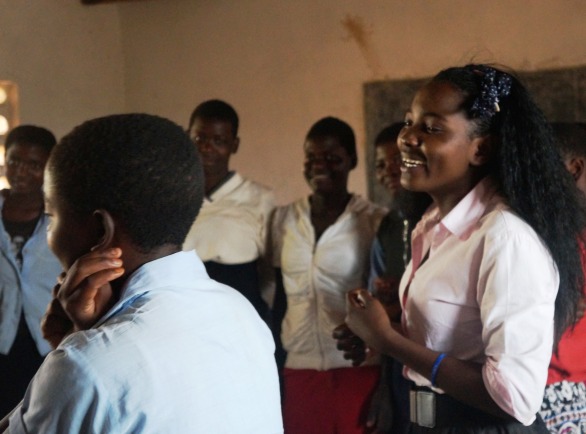 Editor's note: A young woman who made it through school and into college for economics, shares her view on the gender power imbalance that prevails from birth in Malawi. This piece, by AGE Africa alumna Lessenia Chikho, who's now studying economics at the University of Malawi, Chancellor College, is her first published piece.
By Lessenia Chikho for AGE Africa 

NOT Celebrating the Birth of a Child
The birth of a child brings joy and happiness to the world, but in Malawi the celebration varies based on gender. In Malawi, revealing the gender of a newborn child elicits different responses from the local village. If the born child is a boy, the village becomes noisy with ululations accompanied by joyful singing. If the child is a girl, the ululations are muted, not impressing at all.
Instead of celebrating the birth, people spend time giving sarcastic remarks that usually bring great disappointment and feelings of regret to the parents of the new baby girl. Sometimes families even divorce because of the misunderstandings. I witnessed this first hand when my sister had a baby girl and pressure from her husband's relatives following the birth led ultimately led to their divorce.
These unwarm welcome remarks mark the beginning of a life of hardships for a girl in Malawi. A boy is treated as something very precious because people feel that a boy is born with extraordinary powers and is destined to become a leader.
The "Fate" of a Baby Girl
Girls, however, are not always given a chance to go to school. Instead of being encouraged to work hard in school, as girls we are urged to work hard in household chores and in the fields so we turn out as hardworking housewives. Parents always assign us a bunch of tasks to do which makes us unable to go far with education, contributing to the high illiteracy rate among women and perpetuating the belief that sending us to school is a waste of resources. To be clear, we are looked upon as nothing but inferior individuals born to serve males.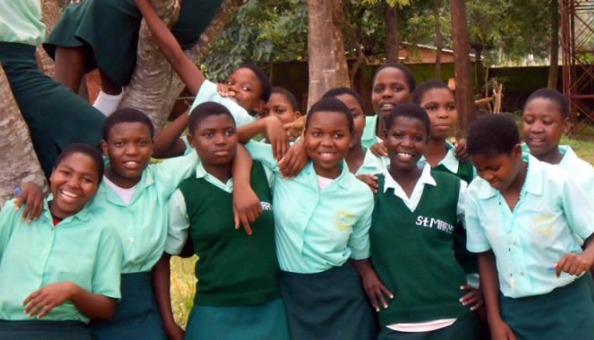 A group of AGE Africa students who are breaking tradition by studying, working, and leading their own future. 
Girls are also not encouraged to pursue an education because upon marriage it is assumed that a young woman will be living with her husband who will be in control. Not being able to voice our views also widens the gender gap which persists in Malawi.
Girls Who Get a Chance To Learn
Even when some girls are granted the chance to continue their education, they encounter drawbacks. Most of the time we are underrated by elders, rather than being encouraged. Some girls are even forced to drop out of school and get married. My friend, a very smart person, was lucky enough to receive school fees and basic necessities from an NGO. She had so much going for her but all that changed abruptly. Her grandparents convinced her parents that she should be forced to marry a rich man in the village. Her parents decided his wealth would solve all their problems.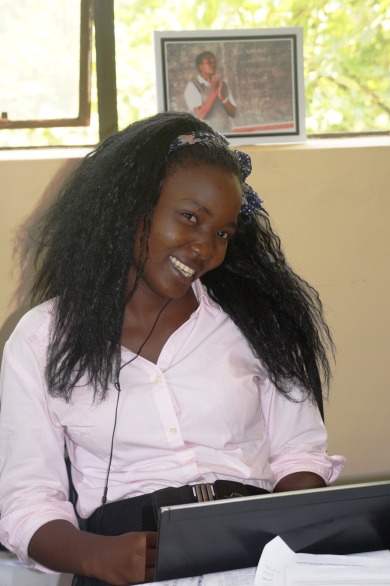 Lessenia in her classroom in Malawi.
I have seen a lot of girls, including my female cousins, being forced to drop out of school and get married. It is as if they are selling the girls because a promising marriage also ensures that parents receive money from men who come looking for a wife. Some parents even stop paying tuition fees for girls because they think it is not a good investment.
My Mother Made the Difference for Me
I am lucky that my mother had the passion and courage to educate me. My mother encouraged me to finish my education despite the pressure we received from my male relatives, which was frighteningly normal.
The pervasive notion that girls are unsuccessful is very fallacious because some girls, when supported, are successful, even more successful than some of the boys who are considered superstars. I am one of these girls. I have succeeded in life after being granted the opportunity by Advancing Girls Education in Africa (AGE Africa), which provided me with all the necessities for my education. As I write this, I am in college studying social science and surpassing boys who were given the full access to educational opportunities. I am not inferior, girls are not inferior, we just lack the necessary resources to succeed.
I am now helping my fellow girls attain education by acting as a role model and a mentor. My sister is now in her final year of secondary school, and I have been helping to finance her education. I am concerning myself with the empowerment of girls in Malawi. I am making a change.
Lessenia to the Minister of Education: "I Will One Day Have Your Job"
Lessenia is a recent graduate of AGE Africa, having attended St. Michaels Girls' Secondary School. She was very excited to have been selected for that school, but had many difficulties attending. Lessenia comes from a family of 7 children who are being raised by a single mother after her father died in a truck accident. Though her mother runs a small business, her family is very poor because after her father's death his relatives came and squandered everything they had.
When her father died, he left the family with a lot of debt prompting Lessenia's male family and community members to encourage her to go to community day school or drop out entirely in favor of marriage. Lessenia's mother refused and sold their family home to cover the cost of her first two years of education. It still wasn't enough.  Now, after finishing secondary through her AGE Africa scholarship, Lessenia has become very successful and continues to aim high!  She's currently in her first year at University of Malawi, Chancellor College where she studies economics.  At a recent event with the Ministry of Education, she told the attending Minister of Finance that she would one day have his job.
All photos courtesy of AGE Africa.
LEARN more about AGE Africa's three pronged approach click here.
SHARE this story with your networks; see menus at top of page and below this list.
DONATE directly to AGE Africa's mission to provide life-changing opportunities to women in Malawi, here.
SUBSCRIBE! Like what you see? Click here to subscribe to Seeds of Hope!