We Just Need Dependable Income
Categorized as: Stories on September 1, 2013.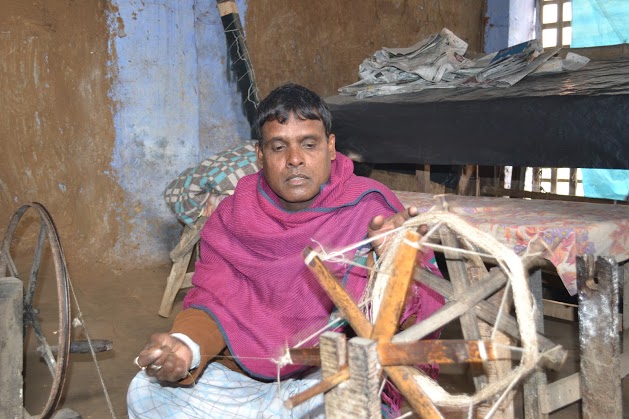 Editor's Note: Sanjeev, like many breadwinners around the world, cares for three generations of family in his home. Now that he doesn't have to chase after middle-men and their payments, he's thrilled to be more busy than ever making a good living with his ancient craft.
By Suzanne Skees with Sriram Gutta                                                                              
Sanjeev Kumar Das strikes one as a contented man; he makes no complaints about or apologies for the poverty of his condition. In his late thirties, Sanjeev carries a lot of obligation on his slight shoulders: He supports his wife Rekha, his father, and his two sons, ages 12 and 16. Used to be, he could get only six months of weaving work each year, and regularly had to pull his sons out of school so they could work as laborers for neighboring weavers. Together, the three could bring in only around $550 per year to support the family of five. For this reason, they subsist on mostly government-provided rice, cooking twice per day and sharing any leftovers from dinner for breakfast.
Sanjeev recently was hired by our local partner Eco Kargha (ecofriendly weaving), a social enterprise supported by Upaya Social Ventures, a "pioneer captial" investor in and mentor for social-mission companies that create jobs for ultra-poor families in India.
Prior to launch, Eco Kargha's research chronicled the very poor conditions in the neighborhoods where Sanjeev and other artisans lived. "Drains were overflowing, houses were in dilapidated conditions, and nobody earned enough to provide meals for family on a year-round basis," reports Eco Khargha founder Dr. Ravi Chandra. "We were moved by the conditions of the artisans," he says. Eco Kargha's mission is to provide skills training, employment, and prosperity to these weavers and their families.
Now that Eco Kargha has employed Sanjeev, he's receiving year-round work with projects and payments brought right to his door. His wife can often be found twisting thread and spinning bobbins to make even-textured thread with which to weave. When the materials are ready, Sanjeev runs the loom to weave the threads together.
Before Eco Kharga created a direct connection from artisans to commercial markets, Bihar weavers took a lot of flack. More affluent buyers shuddered at the bad omens lurking in the silk twisted by dirty low-caste hands; they feared the silk would create skin infections. Weavers had to go out on their own and forge relationships with middlemen to sell their textiles. None knew if they would receive payment in a week, a month, or many months later. When they did manage to sell a piece or two, there was no "cash on carry"—only a smirking promise of future payment for the goods already in customers' possessions. Ravi tells the story of one weaver forced to run around town in search of the thieving middleman, eventually finding the man hiding at his uncle's house to avoid paying the artisan for his work.
"They have immediate payments. The system is transparent."
On the other hand, Eco Kargha staff are known to show up on time with payments ready. If they say they'll be there on Friday, they'll be there on Friday. They roll in on scooters and bicycles, accept neatly folded stacks of scarves and sarees from the weavers, and promptly hand over the cash payments for the goods. Eco Kargha's mission is to get more of the profits directly into weavers' hands. Their clients feel grateful for steady work that's simple and reliable.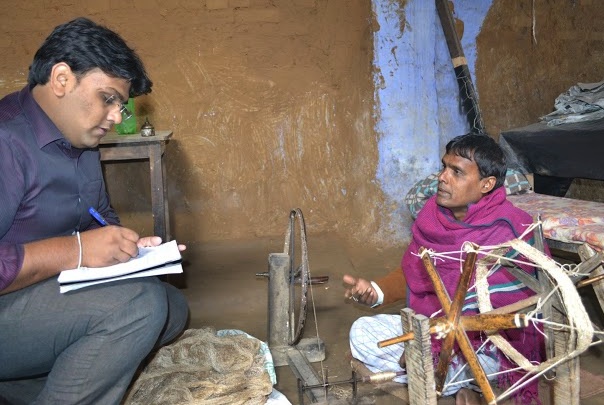 Sriram Gutta, director of business development for Upaya, checks in with Sanjeev on how it's going with Eco Kargha. 
When the Upaya team visits Sanjeev on a cold winter morning, he smiles as he brushes his thick bangs away from his eyes. All the while he talks with us, his fingers fly across the rickety loom he inherited from his great-grandfather, from which he coaxes the most elegant silk stoles and sarees. Now that he has good steady work, he will socialize with us only over the top of the clacking loom.
"It's great if we can make weaving our main livelihood. We need something more dependable for our income," he says emphatically. Sanjeev exudes enthusiasm, and you get the feeling he just approaches all his life in the same way. "I am very happy with this association," Sanjeev tells us. "Kargha has immediate payment, and their system is transparent."
"It's great if we can make weaving our main livelihood. We need something more dependable for our income."
The most difficult time in his life has now ended, according to Sanjeev. A shadow falls over his face when he recalls the 1989 Bhagalpur riots. "The community was united before this time, and I didn't expect that things would become so hostile. Everyone was frightened." He won't talk about what happened, but it is obvious the memory still changes his demeanor completely when he thinks about it. "It took five years for things to become normal," he says sadly.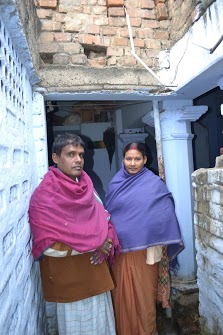 Sanjeev and his wife in front of their home in Lodhipur village. 
Feeding his family the same two meals a day—and pulling his kids out of school to help do it, has been hard on Sanjeev. Now he hopes quickly to earn enough to send his sons back to school. We hear that Sanjeev always completes his work on time, is well liked in the weaving community, and is on-track to be promoted this year. If he can get more and more work from Eco Kargha, he'll invest in a motorbike, television, and refrigerator—all aspirational purchases for this naturally optimistic man.
Photographs courtesy of Sriram Gutta and Joystna Taparia.
LEARN how Upaya Social Ventures changes outcomes for ultra-poor families through dignified jobs with steady salaries, here.
SHARE this story with your networks; see menu at top of page.
DONATE directly to your choice of Upaya-mentored industries (e.g., weaving, dairy farming, or domestic services), here.
SUBSCRIBE! Like what you see? Click here to subscribe to Seeds of Hope!