Visionary of the Month: Aaron Bukenya, Founder and Executive Director of BESO Foundation
Categorized as: Africa, Education, Girls & women, Grantee, Job Creation, Leadership, Our Partners, Poverty Alleviation, Stories & Tagged as: BESO, Job skills, Uganda on April 29, 2017.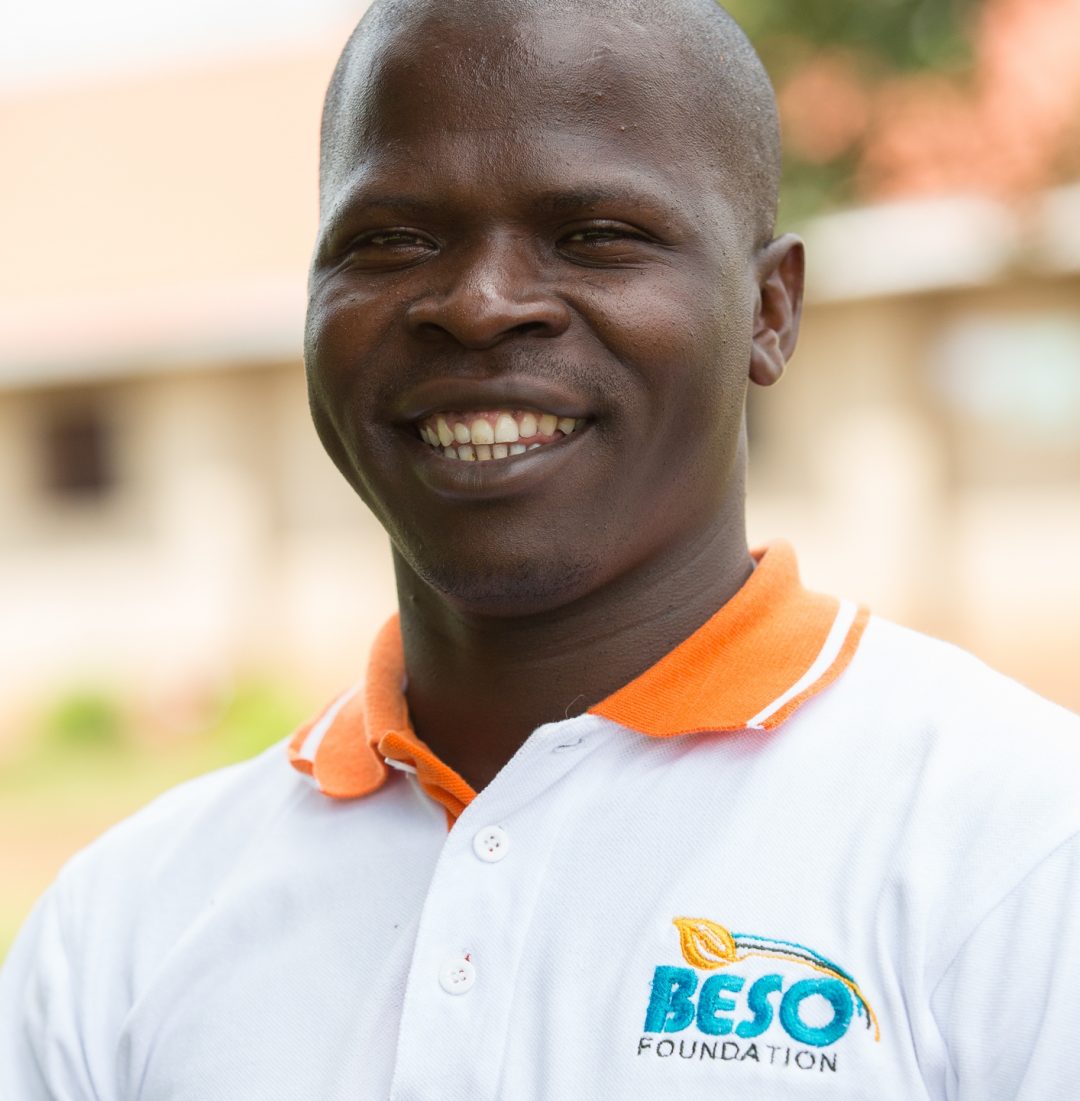 Aaron Bukenya, Founder and Executive Director of Beso Foundation
BESO is a nonprofit that works tirelessly to provide access to quality education, health services, and economic empowerment for women and children in rural Uganda. In each step they take, they use their five core values of responsibility, compassion, desire to learn, transparency, and big dreaming. 
So far, they have helped over 850 children access education and have implemented agriculture and business training initiatives for over 500 rural women. The organization helps to establish cooperatives and savings accounts, which support employment and economic development.
This story was originally published by Hearts on Fire.
It Takes a Village Boy
If you could flash back in time to the small Ugandan village of Wanteete, you might see a gaggle of children on their daily trek, five miles from home, to school.
No one seems to stand out in the crowd, until they reach the classroom. That's where Aaron Bukenya rises head and shoulders academically above the other students. Aaron's parents were subsistence farmers who didn't have much money or education, but they did have a vision for their smartest son.
Alice Ozite teaching Kindergarten Class at St. Mark School
"When I performed so well in my primary exams—I was the best student in 120 children—my parents wanted me to continue my education," Aaron recalls. They sold all of their cows and crops to send just one of their six children to a better school."
So began Aaron's journey from the rural village to the big city—Kampala, Uganda's capital, where Aaron lived with his uncle and received an education from high school through university that opened his eyes and his heart.
Students, Robina and Cheru, enjoying their free school lunches
"During my studies, I always travelled back home for holidays and gradually noticed the drastic gap between myself and my peers that I had left behind in the village. It was not because I was more clever than they were but that they simply had no opportunities or access to quality educational resources."
That realization helped shape Aaron's plans for his future after college graduation. He could make a very comfortable living as a teacher and social worker in Kampala.  But after working in city schools for a few years, Aaron found himself itching to do more.
"Success in building personal wealth no longer seemed important to me. I decided to focus on making a difference in rural communities through access to a good education."
In 2008, armed with his education and experience as a teacher, Aaron became a salesman for his promising new idea. He was able to persuade schools in Kampala to offer half scholarships to 350 students from several rural villages, including his home village of Wanteete.
Students at the St. Mark School
"I realized that I was making a difference in children's lives with a small penny. At that point, the concept of starting a community–based organization gradually took shape."
Two years later, Aaron invested his entire savings of $2,500 to formally institute his fledgling organization, the Bugerere Education Support Organization (BESO Foundation).
Based in his home village, BESO is a grassroots, non-profit organization with a family-centered approach, serving disadvantaged children and women in rural areas of Uganda by providing access to quality education, health services and economic empowerment.
Due to the human toll taken by factors such as civil war and HIV,  90% of women living in rural areas of Uganda are the sole support of their families. That's why BESO places children and small-scale women farmers first. Since its founding, BESO has provided 2,600 children access to quality education and implemented agriculture and business training initiatives to over 2,400 rural women farmers in Bugerere County.
As a result families are better able to keep children in school, ensure food security, increase incomes and achieve higher standards of living.
Two of Bugerere County's farmers
"My personal mission is to contribute to a world where people live with dignity and equal opportunities," says Aaron. Everyone needs that opportunity irrespective of their culture, family and geographical background."
To that end, in 2011, BESO joined with 80 mothers from Aaron's village to start the first school in Wanteete. Today, the St. Mark School educates hundreds of local students who no longer have to walk five miles every day to get to school.
Aaron shares a saying that sums up his conviction and his vision for enhancing the lives of others.
"If your plan is for one year, plant rice. If your plan is for ten years, plant trees. And if your plan is for 100 years, educate children."
Thanks to his work with BESO, he adds, "the future is bright and the best is yet to come."
Aaron holds a BA in Education and certificates in Project Planning and Management, as well as Development Studies.
Prior to founding BESO, he headed the Physics and Mathematics Department at Kingstone High School in Kampala.
Aaron was named a 2016 Cordes Fellow and a 2017 Segal Family Foundation African Visionary Fellow.
Photographs from original post on Hearts on Fire.
LEARN more about BESO's work to improve the lives of women and children in Uganda here.
SHARE this story on Facebook and Twitter; see menu at top and bottom of page.
DONATE directly to BESO here.
SUBSCRIBE! Like what you see? Click here to subscribe to Seeds of Hope!
SUBSCRIBE! Like what you see? Click here to subscribe to Seeds of Hope!