"The People's Chef" launches affordable, nutritious cooking classes for low-income families
Categorized as: Stories on March 11, 2013.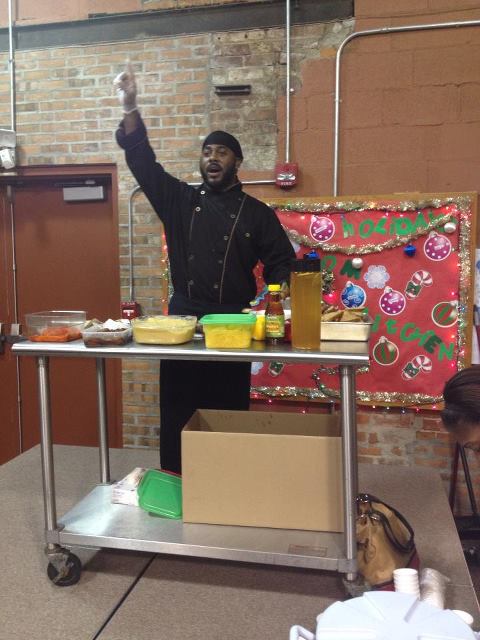 "Breaking bread is so symbolic, all around the world. We're going to have fun in this class and offer one new choice each day."—Chef Anthony Head, "The People's Chef"
This story was also published by the Huffington Post; click here to jump to the HP version.
By Suzanne Skees
Dayton, OH: One in four children in the U.S. lives in poverty and they "don't know where their next meal is coming from," according to Save the Children. Improper nutrition can cause developmental delays, obesity, and health problems that will plague kids for the rest of their lives, says First Lady Michelle Obama, who launched the Let's Move campaign to improve the health of America's children.—But the kids in Dayton won't go hungry or undernourished, if local Chef Anthony Tyrone Head has anything to say about it. Beginning in March, the Dayton Christian Center will run a four-week series on affordable, nutritious cooking for their childcare facility's parents. Playing on Anthony's name, they're calling it the "Head Start" class.

The Dayton Christian Center offers affordable, nutritious cooking classes for parents whose children attend their daycare and afterschool programs. 
"I want to make it fun," says Anthony, who will begin the course with shopping. "The most important lesson I learned in culinary school was HOW to shop," he says. "It's not that we don't know how to eat; we don't know how to shop. It takes 30 minutes to shop, come home, and cook a good meal. That's the same amount of time it takes to drive to McDonald's and back—and a restaurant charges three times whatever you can cook at home." He calls himself "The People's Chef" because "I am of the people, for the people," he nods his head diagonally so emphatically that his Dreadlocks fly.
Students will receive such cooking tools as measuring cups and spoons, a digital scale, and a chef's knife. "We'll study portions; how to read labels and make different choices while shopping; how to braise, broil, sauté—how to cook even if you just have one burner."
Chef Head's notes.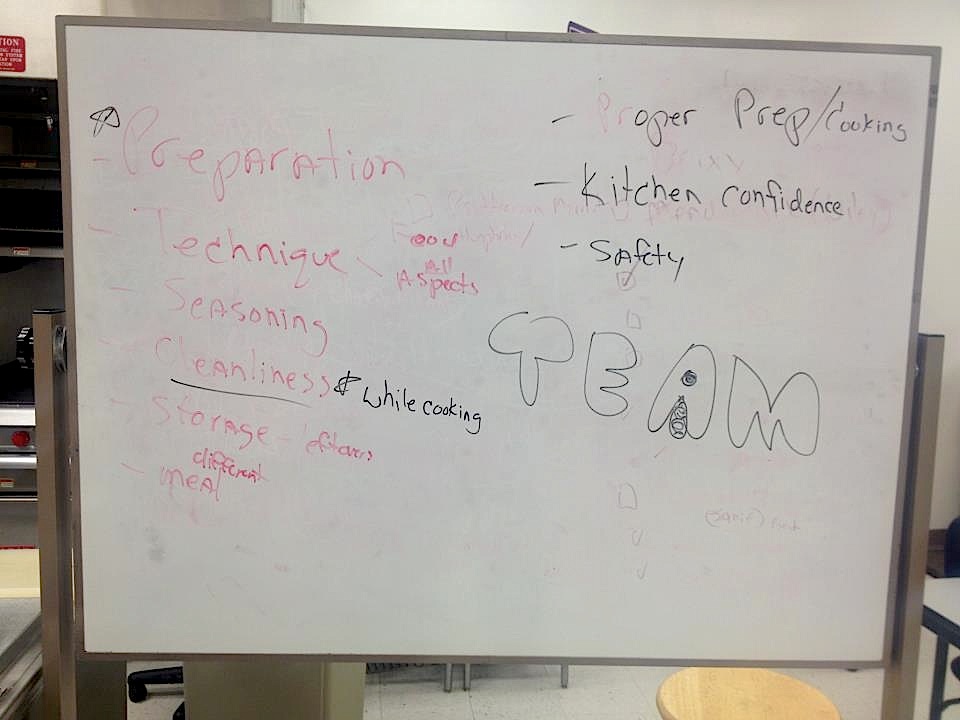 Anthony's wife Rashida, a student nurse in family practice and women's health, cooks at home alongside Anthony and their young son and daughter. The kids' favorite foods?—spinach, cucumbers, and "carrots with ranch." To Anthony, whenever you cook for your family or anyone else, "a plate that you serve is a love letter" to the recipient.
Anthony, who also teaches adult nutrition and cooking classes at the Miami Valley Career Technology Center, says, "My personal mission is teaching real people in adult education. There are two basic human impulses, right?" he chuckles. "Eating and making babies . . . The chemistry of food is meant to bring us together. What we're doing here is just the beginning."
Now applying to medical school, Anthony plans to combine food and health in the future by opening his own clinic, where he'll see patients and teach ongoing, seasonally-themed cooking courses. "For example, when flu season comes around, let's make some nice tomato bisque, chock full of vitamins A and C," he says.
He credits his passion for nutrition with his painful past: As a child, he lost two sets of parents. "They didn't have to die," he says, looking down at his hands clasped in his lap. When Anthony was two, his mother died of an aneurism; later, his father of heart failure. He and his brother were placed with foster parents and when Anthony was in college, his foster mother died of a heart attack and his foster father died of complications from diabetes.
Not only has Anthony known the foster-care system, he's also been through some times in his past that were dark enough to land him deep in prayer. Retreating from the world for a period, he did a lot of thinking and Bible study. Anthony says, "I felt like Jonah, the reluctant prophet, in the belly of the whale."
When he emerged, Anthony knew he wanted to save lives in his community, through food. His Head Start classes will end in four short weeks, fleeting as the food they'll cook and eat together. "Food goes away," Anthony muses, "but if I make you feel like you've been cared for, that lasts. That's what we're going to do in four weeks: Build trust."
The Dayton Christian Center will provide free childcare for families of Head Start cooking class students. The center serves about 70 children ages 0-17 with prorated or free childcare, hot meals and snacks, and "Good To Go" food packs for weekends. They also provide community outreach and tax-return assistance to families in need.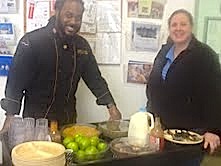 Chef Anthony Head with Tasha Johnson, executive director of the Dayton Christian Center.
"We are thrilled with the opportunity to change children's lives through simple practices that support their health," says Tasha Johnson, executive director.
The Head Start pilot class will run in three sessions, spring through fall.
Photos courtesy of Chef Head and the Dayton Christian Center.
LEARN more about the work of the Dayton Christian Center's programs that serve low-income families, here.
SHARE this story with your networks; see menu at top of page.
DONATE directly to hungry children and their families here.
SUBSCRIBE! Like what you see? Click here to subscribe to Seeds of Hope!