The Karimu Kids: From Class Under a Tree to Their Very Own School: Part 1 of 4
Categorized as: Stories on September 8, 2013.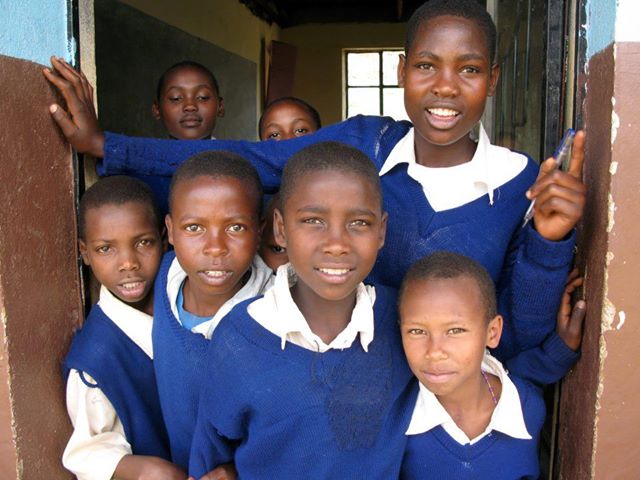 Editor's Note: Part 1 in our series from Karimu International Help Foundation in Tanzania introduces you to the dedicated teachers and eager students—including future pilot Andrea and wealthy politician Pascalina—at Ufani Primary School.
by Suzanne Skees
How Two Small Communities, from the U.S. and Africa, Became Friends Who Build Education, Health, and Prosperity
Bacho, Tanzania: Two teachers from California traveled to Africa to fulfill a lifelong dream to see the stunning landscapes and safari animals here . . . but it was the people of Tanzania who captured their hearts. As part of a cultural tour, they spent five days in a village called Bacho and by the end of their visit, they promised to raise funds back in the U.S. to help build a school. One million tourists flock to Tanzania each year; but these two became more than tourists: Returning to California to work as adminstrators at Idyllwild Arts Academy, Marianne and Don now spend each academic year raising funds among longterm friends, on their website, and through special events. Every summer break, they bring collected funds and elbow grease back to Tanzania. 100% of proceeds go into the hands of Bacho residents, who drive which projects need most critical attention right now: lunches for undernourished schoolchildren, a hygienic latrine for girls and boys, jobs for HIV-positive women.
Six years later, their nonprofit organization, Karimu International Help Foundation, still returns every summer to help lift this community out of extreme poverty.* I wrote about their unusual style of partnership here, and cofounder Dr. Don Stoll writes extensively about their work and friendship here. As students around the world go back to school this month, we begin a series on the kids of Karimu; and with each installment, we'll reveal some of the holistic projects Karimu has launched to ensure that their students have a shot at a lot more than education.
Karimu has raised and donated about $300,000 to their "Whole Village" and has brought 160 volunteers to work, two weeks at a time, for six consecutive summers: That translates to nearly 10,000 volunteer hours during the summer, along with countless more hours given by Marianne and Don.
*Residents of Bacho survive on an average of $1/day, according to a regional survey by Livingstone Tanzania Trust (see attached PDF): That's less than the World Bank's benchmark for ultra poverty at $1.25/day.
"African villagers are more than poor people who crave better schools and healthcare, and clean water and bigger harvests. Their dreams for the future give life to the present." —Don Stoll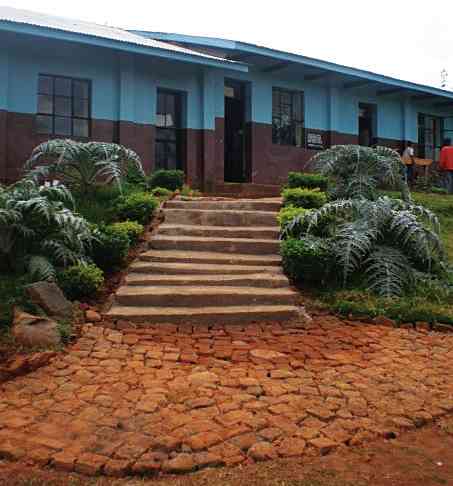 Karimu volunteers and Bacho villagers worked side-by-side to build the new Ufani Primary School.
Whom You'll Find Inside the New School Walls
"These students remind us," says Karimu cofounder Don Stoll, "that African villagers are more than poor people who crave better schools and healthcare, and clean water and bigger harvests. Their dreams for the future give life to the present—and point eagerly toward the future. It's our friendship with them and their families that brings Karimu back, year after year."
Ufani Primary School students don't take education for granted. They used to hold classes sitting on the ground under a tree. Now they have a cinderblock building with glass-pane windows and brightly painted walls. They have a few books and chalkboards. Better yet, they have some of the most dedicated teachers in all of Tanzania: Mr. Daniel, Mr. Melchiory, Mr. Edward, Ms. Bertha, and the other Ufani teachers work hard to ensure that every graduating student qualifies for state-funded secondary (high) school. Ufani Primary School serves about 350 students, in a sprawling village of about 5,000 residents.
"Karimu means generous, in Swahili. It also means willing, which I hope we are."—cofounder Marianne Kent-Stoll.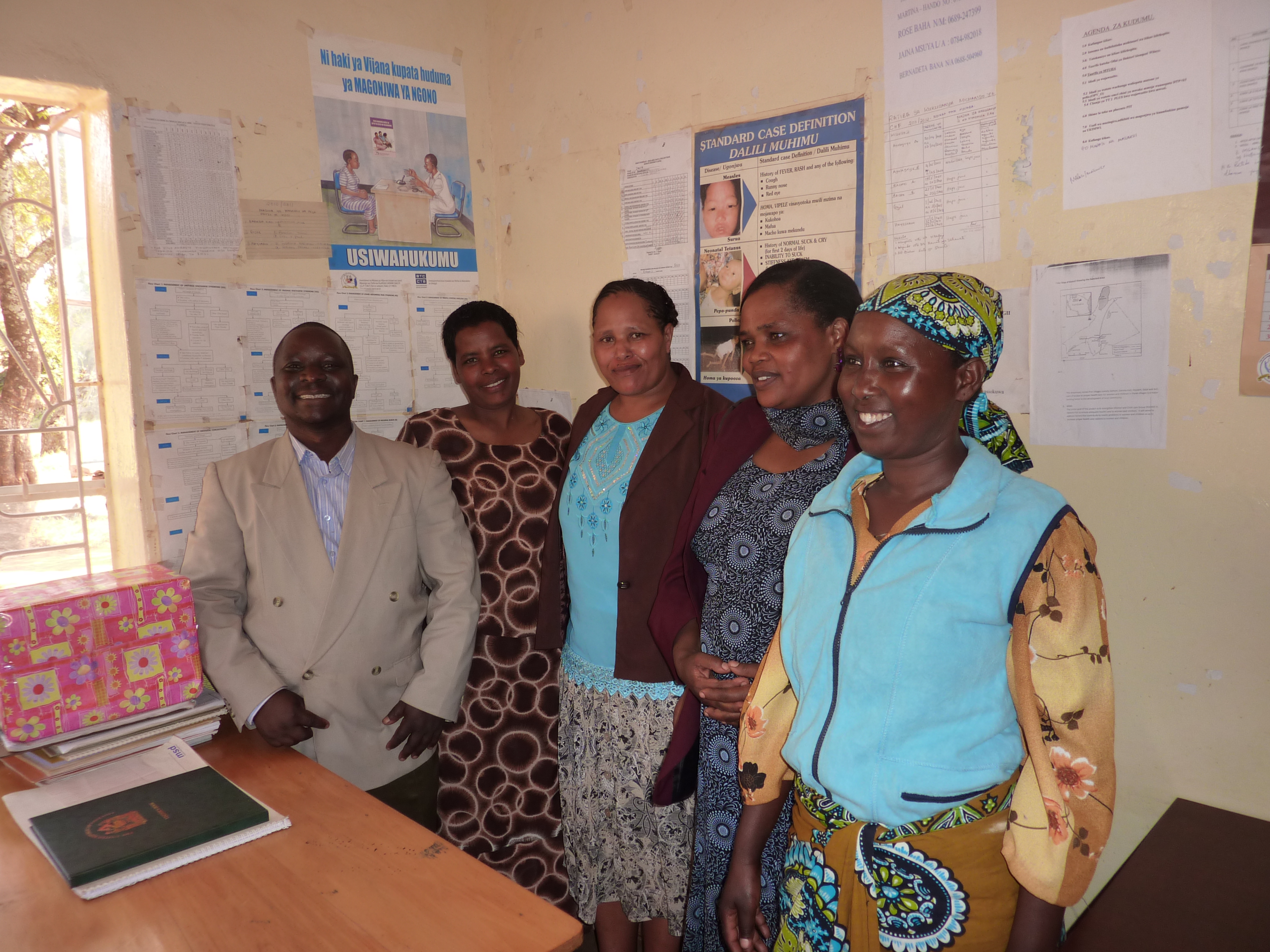 Ufani School's teachers work hard to prepare every one of their students for secondary school.
Edita really likes reading, and Joy Elena revels in writing. Eliudi says his favorite subject is science, while Patricia has a penchant for mathematics. Second-grader Biffa sighs, "Everything is my favorite." And these kids mean it. Many of them are the first in family to be able to attend school at all. When we ask, "Who intends to go to college?" nearly every hand shoots straight up into the air. A few would like to end up as chairman of their village.
Hontensia already can see a future in which all girls and boys can study hard, work hard, and build the life they choose to create.
And it's not just college they envision: Far from electricity, television, and the Internet, these young people dream of how they and their world will change in ten years, by the time they earn those diplomas. "The world will be an easy life" with a college degree and a good job, says John, a 7th-grader. "We will have a strong economy," predicts Nicomedi, a confident smile on his face. "We will have electricity in the village, and a health clinic," envisions Hontensia. Along with Pascalina, also going into 8th grade, she already can see a future in which all girls and boys can study hard, work hard, and build the life they choose to create.
Profile of Andrea Fabiano—age 16, form 8: "I'm going to be a pilot"
Many students, by the time they reach 8th grade, develop a certain phobia of math. Not Andrea Fabiano. He will take his high-school qualifying exams this fall with a specialization in mathematics, his favorite subject. "This is also my most challenging subject!" he admits. He easily earns an "A" in geography. He also likes English, Swahili, history, civics, and science.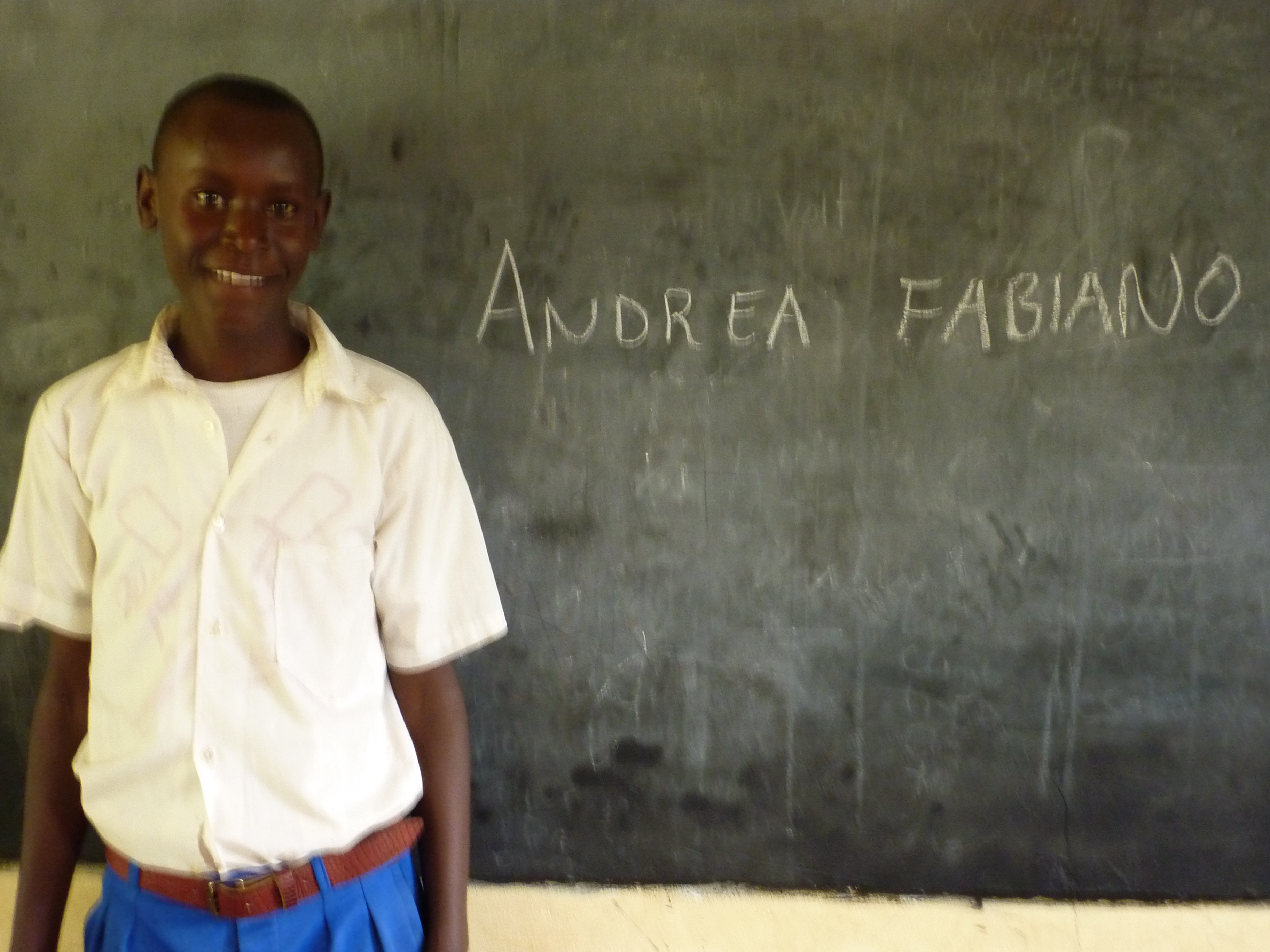 The eldest of five boys, Andrea lives in a three-room house with his brothers, mother, and father. They have a pit latrine and no electricity—a typical home for Bacho families. They eat two meals per day, cooked over an open wood fire. One of Andrea's assigned chores is to walk down to the stream to collect water each day. "It's an easy walk," he smiles. He also cultivates vegetables on their small family farm.  However, "What's most difficult right now is controlling our grazing animals," he says. "The cows, goats, and cats at home—they have a mind of their own!" Andrea laughs.
Any spare time gets spent playing soccer or hanging out with his five "best" friends.
When he's done with chores, Andrea says, "studying makes me happy." He sees the sharp contrast between his parents' lives and his own in the chance to obtain a higher education. "I don't expect a lot of changes in this village in ten years, by the time I'm 26," he smiles wryly, "but I have dreams for my own future. I'm going to be a teacher, or a pilot."
Profile of Pascalina Petra—age 14, form 7: "I'm going to Parliament to do something about all this poverty. And, I'm going to be rich."
Just 14 years old, Pascalina Petro feels the weight of the world on her shoulders—and she's going straight to the Tanzanian National Assembly to do something about it. "Our biggest problem is poverty," she reflects. Her stormy eyes flash as she talks. "I will study civics and then become a member of Parliament." She feels she faces no obstacles as a girl, and sure enough, of 357 currently elected and appointed members serving 5-year terms, about one third are women, as is their speaker, the Honorable Anne Makinda. The Tanzanian constitution dictates at least 20% women in the house, with numbers growing progressively over time.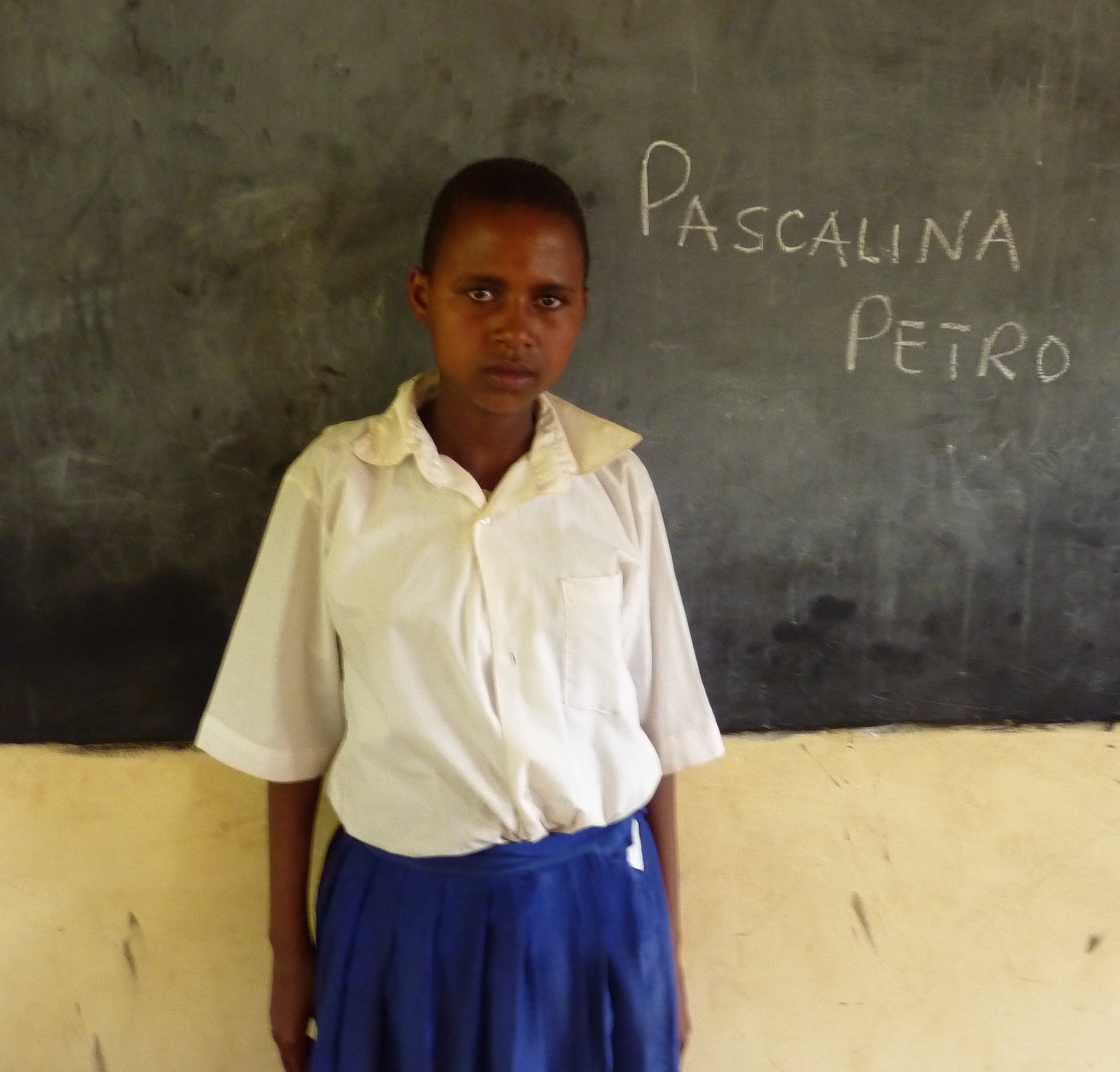 Pascalina gets high marks in science, and her other favorite subject is political science. She struggles with geography.
Living in a three-room home in a family of six, Pascalina learned early on how to be responsible. "My father ran away when I was seven," she says. "And my mother has tuberculosis." She helps her mom and siblings byworking in the family garden and preparing meals. "What I really want to study next is cookery," she sighs, "but they don't have that at my school yet."
Even coming from a home filled with hunger, adversity and illness, in a village without roads, electricity, or plumbing, however, Pascalina finds time to be a kid, sometimes. "I made a netball out of scraps of clothes!" she announces brightly, showing the size with her cupped hands. Netball, or what we call volleyball, is her favorite game. She has two best friends with whom she plays and studies. Like many teenagers the world over, it's when she's with her friends that Pascalina feels happiest.
"In 10 years, I will be a rich person," she predicts.
Ufani School Now
Karimu volunteers began by building a four-stall school latrine with $500 seed money left by Marianne and Don at the end of their first visit, to prevent the Tanzanian government from shutting down Ufani school completely (see film, below). They returned to build the clean blue school building you see above, with windows and doors and sturdy desks. "No matter what weather or earthquakes come," said one mom, "this building is not coming down." Through the six years since, volunteers from the U.S. and Bacho have added to this primary school:
new classrooms
two teachers' offices
three houses for teachers and their families
annex building for new kindergarten project
teacher development programs
textbooks and classroom materials
clean water
garden project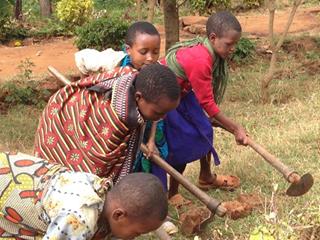 Ufani students hoe the land in their new school garden.
This summer, Karimu volunteers worked alongside Bacho students to till the land behind Ufani school and plant a school garden. Soon, nourishing fruits and vegetables fresh from the garden, along with maize fresh from neighborhood farms, will feed the students. They also plan to sell their surplus produce to earn proceeds for their school. They want to take on more projects that will transform Ufani Primary School into a thriving, self-sustaining institution of learning.
In just a few years, the dreams Ufani students had of learning their favorite subjects and matriculating to secondary school, have materialized into reality. Now they dream beyond Bacho, to what they want to be when they grow up. They'll have more options than the subsistence farming they've seen their parents toil on their whole lives. The last three summertime Karimu visits have brought to Bacho a group of California State Long Beach theatre students, who work with the Karimu kids to cocreate dramatic presentations about their lives and dreams. The end-of-summer "dream plays" have become a highlight of this longterm U.S.-African kinship.
"One of the teachers looked us right in the eye and said, 'We need your money, but we need you more.' How do you say no to that?"—Marianne Kent-Stoll, cofounder of Karimu
Travel back to Tanzania with Karimu for the story of their partnership with the villagers that began with Ufani School, and has evolved into much more. Click here or watch the embedded video below:
Read Part 2 here.
Read Part 3 here.
Read Part 4 here.
Cover Photo courtesy of Karimu and Carmela Llamoso. Story photographs by Suzanne Skees. Video "Until We Meet Again" by award-winning documentary filmmaker Peggy Seltz.
LEARN more about the work of Karimu International Help Foundation here.
SHARE this story with your networks; see menu at top and bottom of page.
DONATE directly to Karimu's hands-on work in Africa here.
SUBSCRIBE! Like what you see? Click here to subscribe to Seeds of Hope!