The Dirt on Seed-Funding Social Change
Categorized as: Stories on May 17, 2014.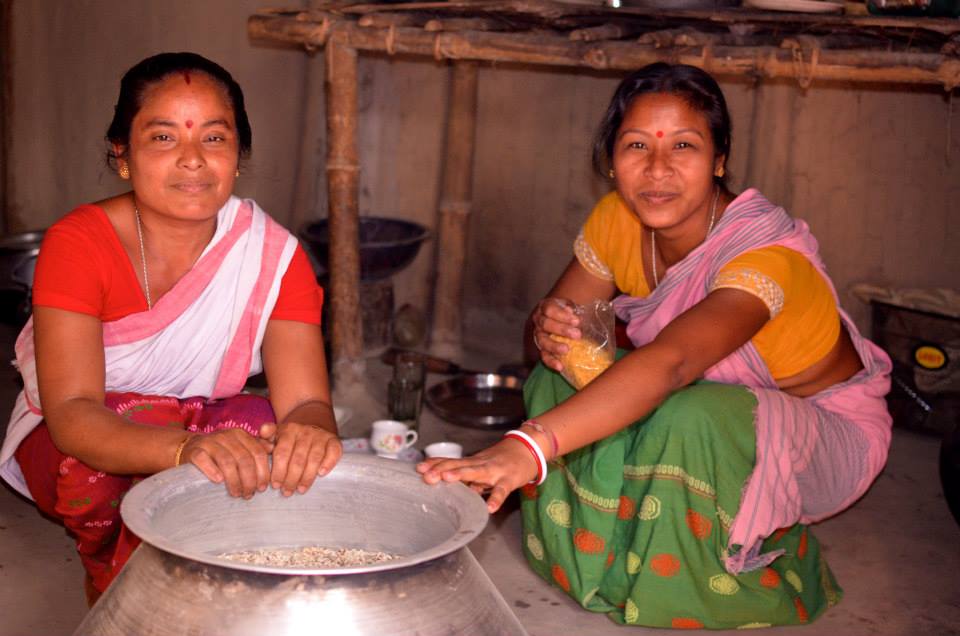 The Rabha Aunties in Mirze Town.
Editor's Note: Skees Family Foundation intends to help end poverty worldwide. How? By investing in the smartest leaders of the most innovative programs that provide a self-help path to a life of choice and prosperity. Director Suzanne Skees explains in this piece for Stanford Social Innovation Review.

This piece originally appeared in the Stanford Social Innovation Review. Click here to read the original version.
By Suzanne Skees
As philanthropists, I think our deepest duty is to gamble on people, through untried solutions that just might overturn ancient societal inequities.
Indira Gandhi International Airport, Delhi, India: Our tired team of six had spent a week spinning strategy in Bangalore and touring factories across Assam, and were stuck mid-trip, facing a delay on our fourth flight of the day. We'd visited two social enterprises and had several more to go. There had been no dog-and-pony shows: Our partners are too small to fool anyone. Rather, we'd witnessed managerial struggles, abject poverty, and founder fatigue. It was not all coming up lotuses.
I was in India to represent the Skees Family Foundation (SFF) and work with our partner, Upaya Social Ventures. Despite Upaya being a young organization—often deemed "too risky" by large institutional funders—we have become close compatriots in the fight to end poverty. Cofounders Sachi Shenoy and Steve Schwartz brought methodical ultra-poverty research and broad international-development experience to the launch of Upaya in 2011. We at SFF knew their integrity from having worked together before, so we reviewed their new jobs-creation model with interest and decided to support them—three years running. For us both, it's been a challenging process of proving a new development model with a long-term vision of sustainable self-help, in an impatient funding world. Slowly and steadily, however, Upaya has constructed a portfolio of innovative enterprises founded by smart young locals who know both their local communities and niche industries inside-out.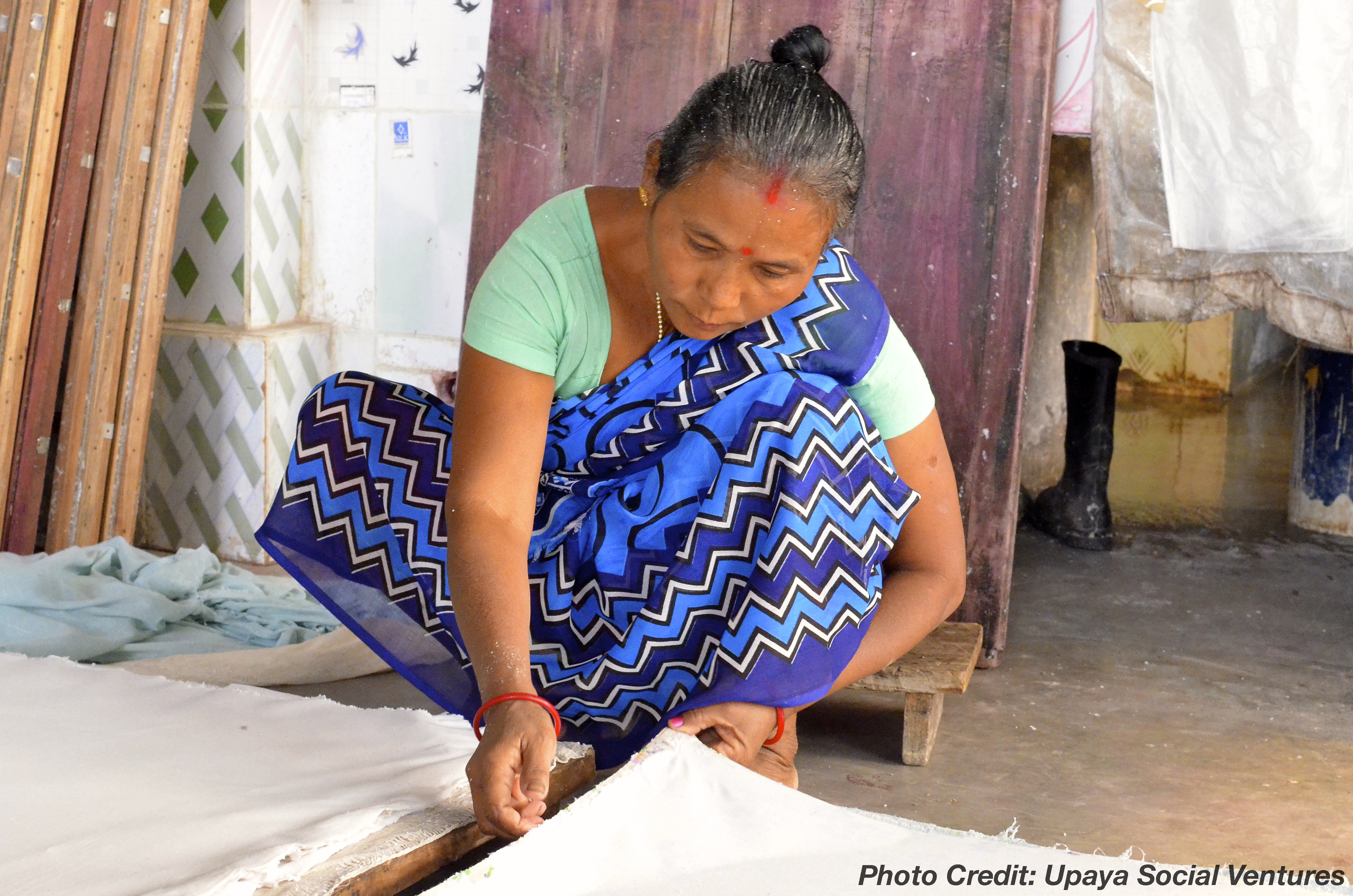 An ElRhino employee kneels to check a freshly pressed batch of damp paper.
Upaya provides financial assistance and business development to startups that have a social mission to provide new job skills and a reliable income for the poorest of the poor, while also reaching financial viability within one to two years. The organization decided to pilot its jobs-creation program in India, the country with the highest number of ultra-poor—where nearly 400 million people live on less than $1.25/day. It's created a cadre of businesses seeking both social and financial returns and supporting 1,158 jobs for families, in four states across India. If Upaya can prove that dignified, reliable jobs provide the most sustainable progress out of poverty and that businesses can advance social missions without sacrificing financial gains, it would be easy to replicate the Upaya model in other countries; and it could reset guidelines for business models across all industries.
Both our organizations agree that while logic models, strategic plans, budgets, and metrics give us hope back home, our best vantage point for scrutinizing investments is to get right out in the field with them.  We believe that it's critical to get down and dirty in the field, to check the progress of our intentions. Because SFF was the first institutional funder of Upaya (we're happy to report that the Gates Foundation has also recently contracted with Upaya to collaborate on a project), we felt an obligation to our family and board, as well as follow-on funders, to see first-hand what was working and what wasn't.
How do we know what's working? Among other things, we look at the number of jobs created per dollar spent and the earning potential over a lifetime of those gainfully employed. We pull up a chair and pull out a notebook and ask our partners: What are your challenges? Goals? Dreams? We discover valuable manufacturing and marketing inputs from entrepreneurs' feedback, and real-time gains for and limitations of their employees.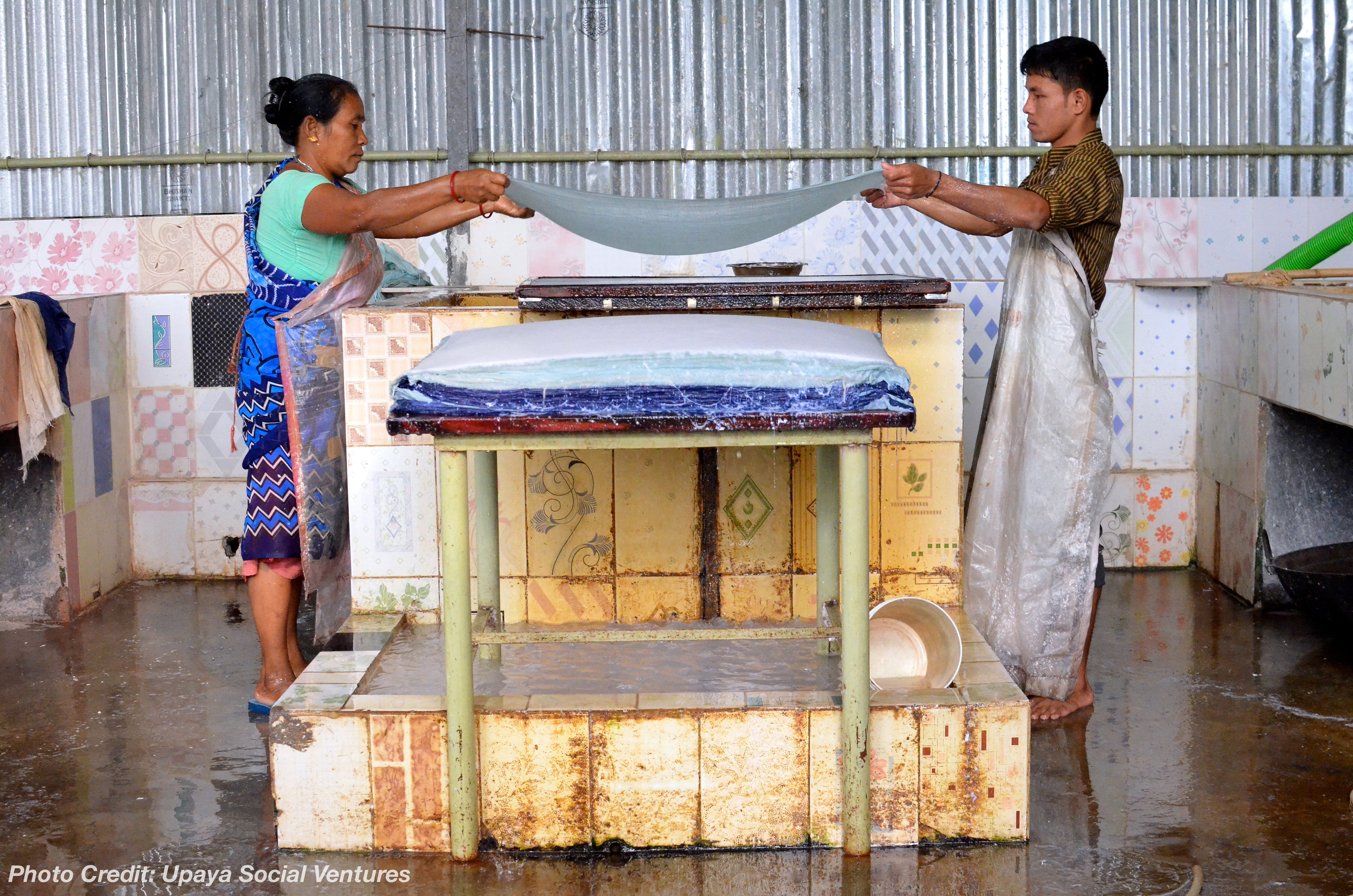 Two ElRhino employees lift wet paper out of a vat.
Our conversations with Upaya help hone business strategies for its hardworking entrepreneurs and help both of us discern who the employees are as human beings—how they get discouraged when they make a mistake or feel ownership when they complete a big order. Units, sales, and net profits may seem easier to quantify than human impact, but we care deeply about both.
We visited two local jobs-creation partners: Tamul Plates is a small factory where a husband and wife work side-by-side, building a company that turns organic waste from areca nut palm trees into disposable dinnerware. Their mission is to hire local youth, women, and the rural poor. But they also have to manage very real business concerns: developing custom machinery, sourcing raw materials, and balancing expenses against payroll. At another factory, Elrhino, a father and daughter blend paper pulp from elephant and rhino dung, as well as natural local resources such as recycled paper and cotton, banana trees, and pineapple leaves. They employ fifteen locals, including unemployed youth and women escaping domestic abuse. They export elegant household paper goods across India and as far away as Paris.
Our visit reminded me that if we look at social problems through a different lens—not how to soothe, clean, or relieve, but how to create ecosystems that support people building their own solutions, then all we have to do is fertilize that seed-funding with moral support and advocacy, and ask the same questions we ask SFF's clients: "How's it going?" and "What do you need?"
Answers to these questions aren't always what we want to hear or share: An 18-year-old is really good at manufacturing but never learned to read, a 25-year-old widow cannot fathom how to feed her six orphans, or second-round managers of an enterprise have lost sight of their social mission. If this work were easy, my own family would be on the ground in India, getting it done. Instead, we rely on Upaya to create organizational incentives for meeting social, financial, and in some cases, environmental milestones. We also appreciate the candor of Upaya's staff in year-round meetings and the risks they embrace in site-visit exposure—because together, we've seen both successes and failures in the field.
We took a high-risk gamble when we invested in Upaya, but we helped enable it to skillfully transfer equity and business development to small enterprises in India. As philanthropists, I think it's our deepest duty to gamble on people, through untried solutions that just might overturn ancient societal inequities. So, four hours later when our next intra-India flight finally boarded, I tugged my bag on board and headed toward the arid fields of Uttar Pradesh, to visit the next local partner on our list.
Photographs courtesy of Upaya Social Ventures.
LEARN how Upaya Social Ventures changes outcomes for ultra-poor families through dignified jobs with steady salaries, here.
SHARE this story with your networks; see menu at top of page.
DONATE directly to your choice of Upaya-mentored industries (e.g., weaving, dairy farming, or domestic services), here.
SUBSCRIBE! Like what you see? Click here to subscribe to Seeds of Hope!