Resiliency in the Face of…Well, Quite A Bit
Categorized as: Education, Girls & women, Grantee, Job Creation, Latin America, Leadership, Our Partners, Poverty Alleviation, Stories, Youth on October 5, 2019. Related Grantee: CREA Nicaragua.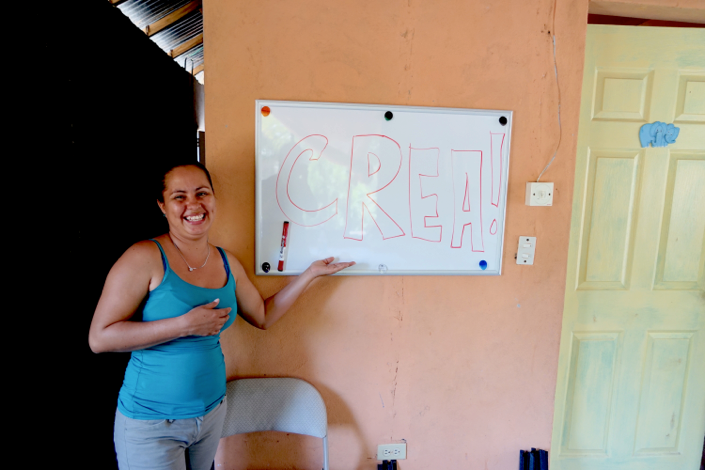 Pahola, CREA's Administrator, at our first office in Limón 1, Nicaragua
Editor's Note: CREA Nicaragua became part of the Skees Family in 2019. We were so impressed by their resiliency and flexibility through multiple hardships, especially being such a young organization. The work they are doing is incredible, and we are so happy we have the opportunity to work with them and share them with our lovely readers!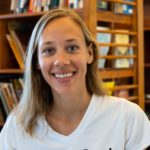 By Corrie Burdett, Executive Director of CREA (Nicaraguan Education Resource Center)
I've had the opportunity of serving as CREA's Executive Director since 2016 when we first opened our doors. It was actually more like we asked permission to enter–in those earlier days we were renting a small room out of a local Nicaraguan's family home to house the organization's administration as well as serve as the home base for our Academic Success Initiative. We rented a separate room in a separate home to operate the Youth Development Initiative.
CREA formed as the result of two organizations merging together in order to serve a wider audience. Today, CREA works with children under the age of one to mothers and grandmothers.
The initial staff of 7 employees included 6 local Nicaraguans who had been a part of the two organizations that formed CREA. This meant that two organizational cultures were coming together in order to form a new one unique to CREA. This brought tension but it also brought an opportunity that continues to this day to innovate, create, and cultivate programs and an organization that embodies CREA's vision of Minds Wide Open and aligns with the mission of inspiring rural Nicaraguans through literacy and education.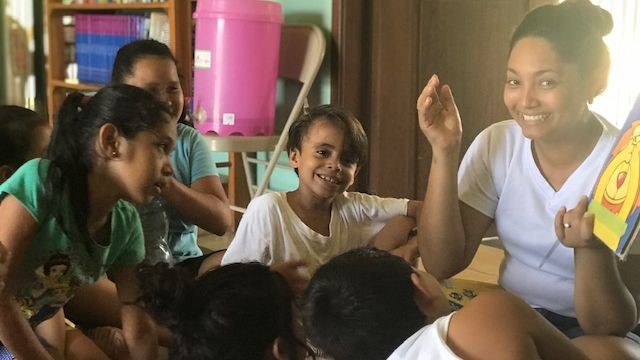 CREA's Library Coordinator, Darlin, works with a group of participants as part of the CREA Reading Clubs Programs of the Library Services Initiative.
Crucial to transition and CREA's growth has been its dedicated Board of Directors. With their key support, CREA was able to move into its own home of a Library and Education Resource Center in July of 2017. To have all staff members under one roof and programming starting up was a dream come true for Board, staff, community partners, and local community members.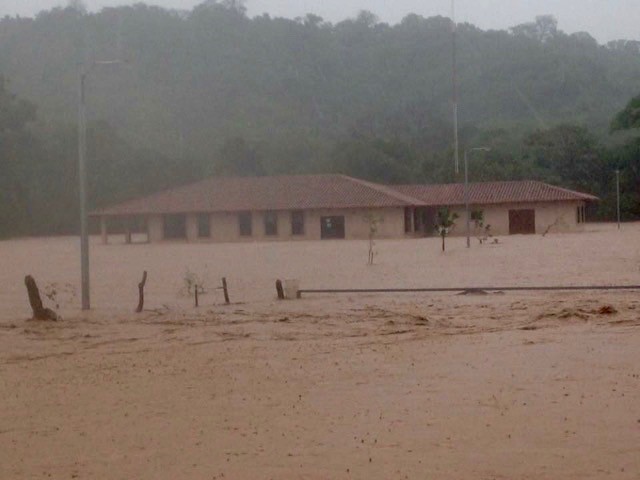 Tropical Storm Nate caused flash flooding, which devastated the local communities.
Not three months after the opening of the CREA Center, southwestern Nicaraguan was flooded due to Tropical Storm Nate that hit in October of 2017. Flooding devastated the local communities, with some homes and water wells completely destroyed. Miraculously, no lives were lost. CREA's new home was impacted with floodwaters reaching between 3-4 feet. This meant that all computers were lost, thousands of books, especially childrens' books, were destroyed.  The building was thick in mud. The community, and CREA's staff, rallied. Within ten days, CREA was clean and opened once again to serve as a refuge for children and youth experiencing trauma in their homes due to the flooding. The Youth Development room of the building was converted to host donated supplies and be the launch site for getting clothes, food, and water to families that needed it most.
As CREA and the local communities were regaining a sense of normalcy, Nicaragua delved into social and political unrest in April of 2018. Thankfully, CREA was removed from the main cities of Managua, Masaya, Granada, and Leon, where there were widespread protests and violence. As a non-political organization, the main effects of the 2018 uprising have been to the local economy that depended on tourism, which in turn has affected the populations that we work with on a daily basis.
To say that the past 3+ years at CREA has been challenging would be an understatement. At times, this work is grueling and it is hard. But, it is also necessary. To date, CREA has directly impacted 2,113 children, youth, and adults through our Library Services, Academic Success, and Youth Development Initiatives. With a team of now 18, including 17 local Nicaraguans and myself, lives are changing.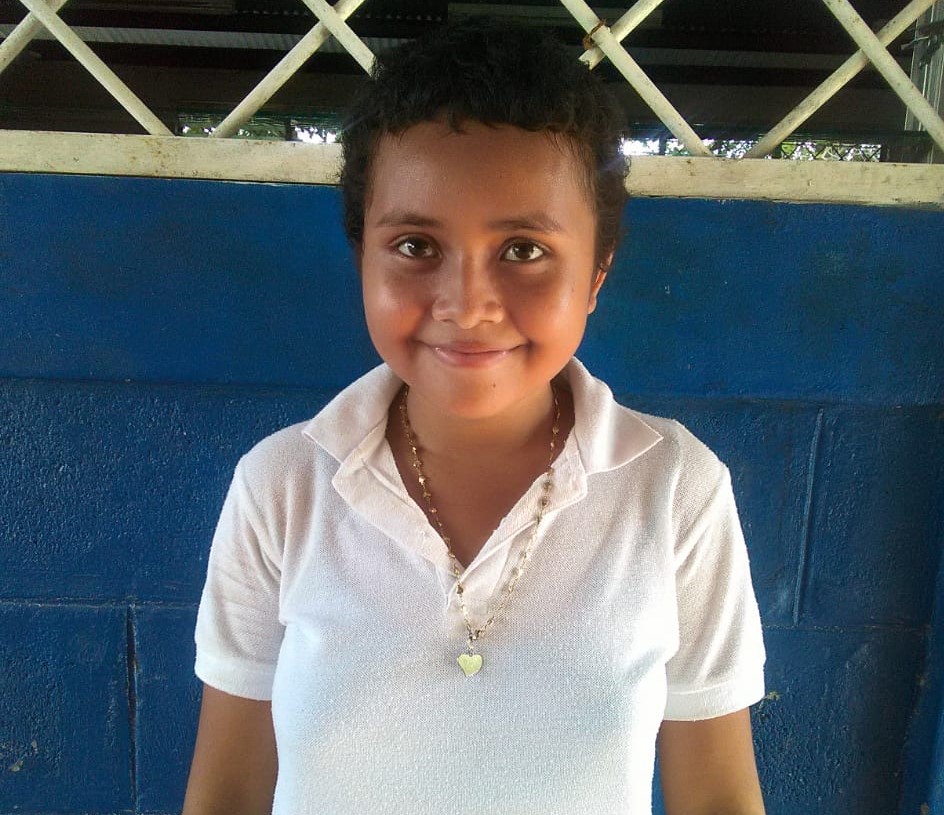 A picture of Rosicela at school. 
This is shown the story of Rocisela. She is 13 years old and she began to come to CREA last year in the mornings before heading to school. She came to us with a desire and determination to learn to read as her classmates made fun of her in school. Her older family members were not able to help her, as they are unable to read themselves. They make their living by making bread and walking down the main road to sell it. Today, Rocisela is reading and writing. She continues to come to CREA as she grows in her learning. She is also able to understand in school.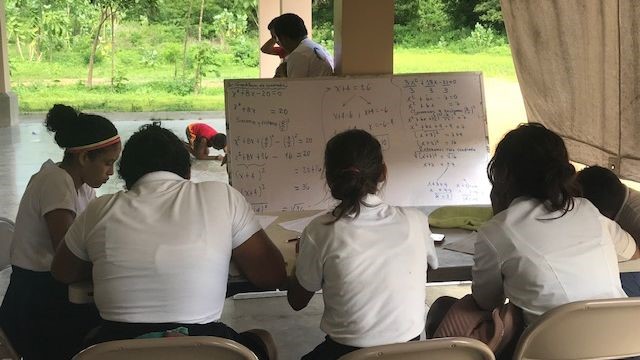 Four Adolescent girls receive math support at CREA as part of the Academic Success Initiative's Academic Enrichment at CREA Program.
Rocisela's success, along with the other 2,112 children, youth, and adults that access CREA programming, is possibly because of the resiliency of CREA. But how do you create a resilient organization?
This question comes to mind often as we have faced challenges that are sometimes internal and sometimes external. Critical to CREA's resiliency is the dedicated Board of Directors who is committed to the organization and whose leadership provides opportunity for growth. CREA's Board of Directors has also grown over the past 3+ years, and is looking to continue to expand in the near future in order to ensure sustainability and add diverse voices that help create an even more resilient organization amid various challenges.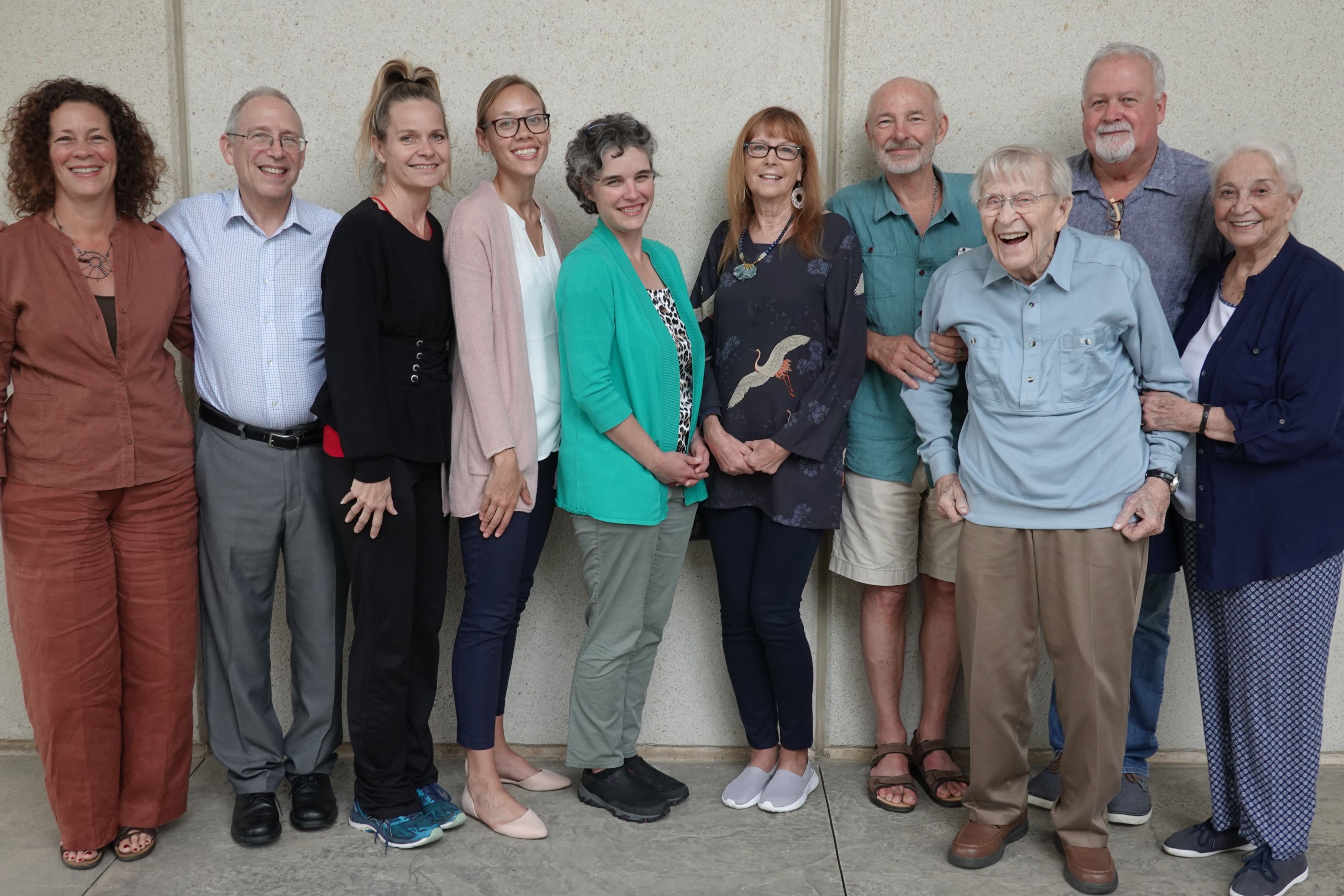 CREA's Board of Directors along with Advisory Council Members and the organization's executive director after a planning meeting in 2018.
Key to resiliency, and especially the challenges CREA has faced, has been an incredibly dedicated and loyal staff. CREA's staff has grown since 2016, yet there a commitment to the work that we do a daily basis from each person. CREA is more than a job; it is a way to help serve their own communities.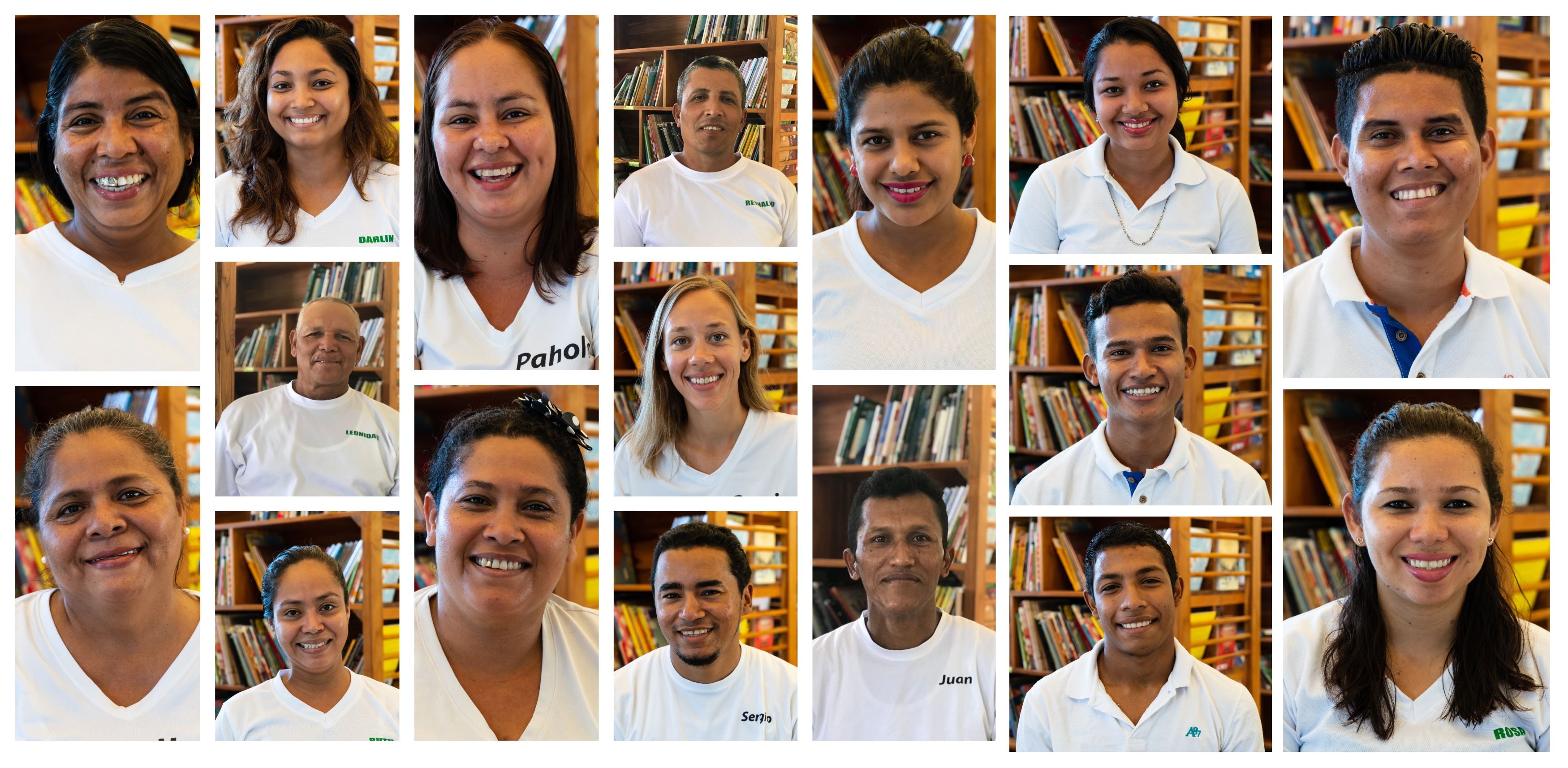 CREA's staff of 17 is comprised of its Executive Director, originally from the United States, and 16 local Nicaraguans representing many of the communities that CREA serves.
One way CREA cultivates high staff retention is through its investments in its personnel. While this line item on the budget is not always easy to fund, it is critical to the strength and resiliency of the organization. Providing funds for professional development allows staff members to not only grow in their capacity but also pursue their personal and professional goals of higher education. Investing in team building on a monthly basis provides the opportunity develop a cohesive staff that pauses to reflect as a collective whole. An annual retreat allows the full team to dream into the future, set priorities, and nurture professional relationships.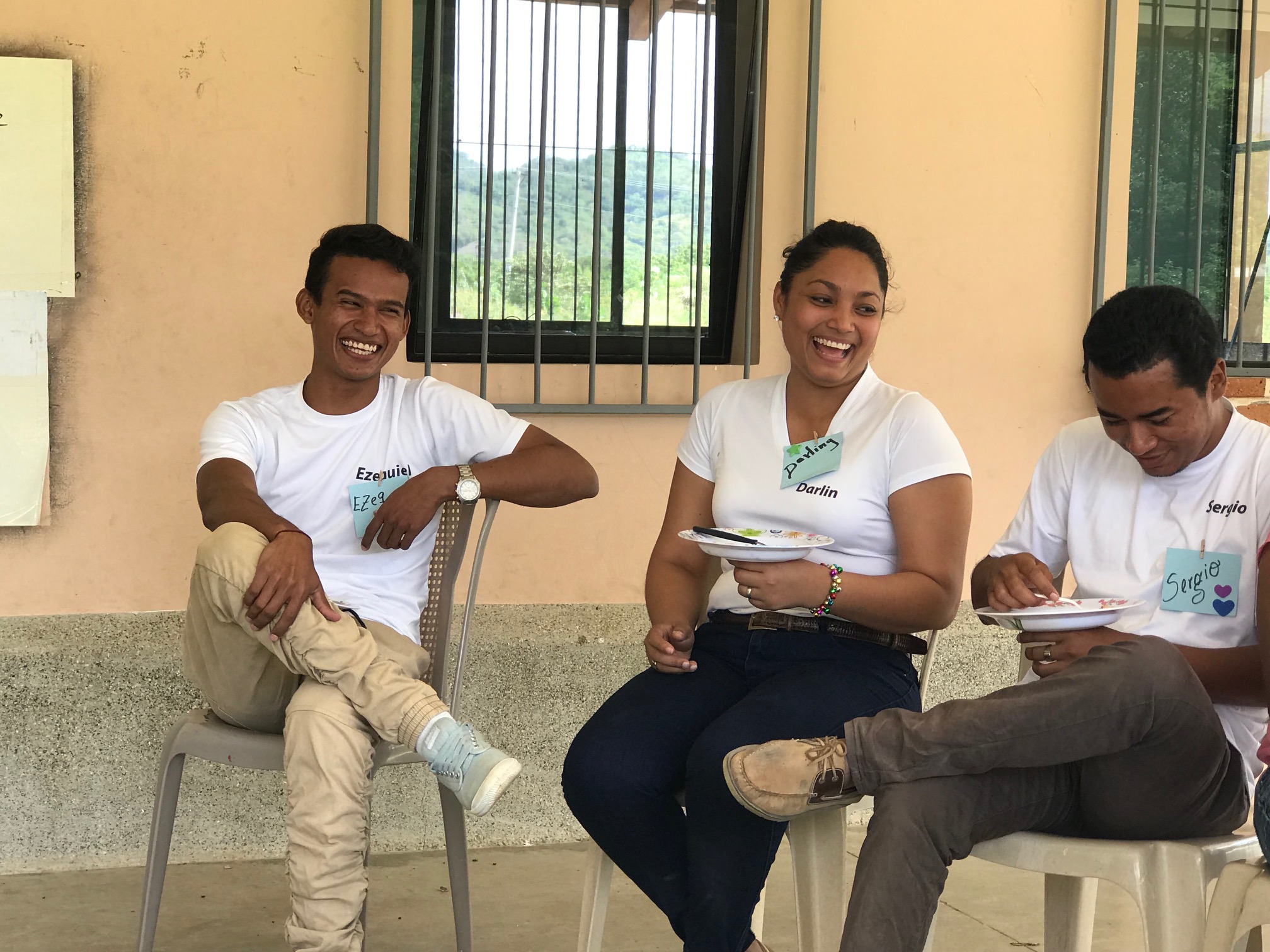 Some of the CREA staff at one of their annual retreats.
The ability for CREA to address the internal and external challenges that we have faced over the years lies in the strength and resiliency of our team, and the deep commitment we have to inspiring through literacy and education in rural Nicaragua.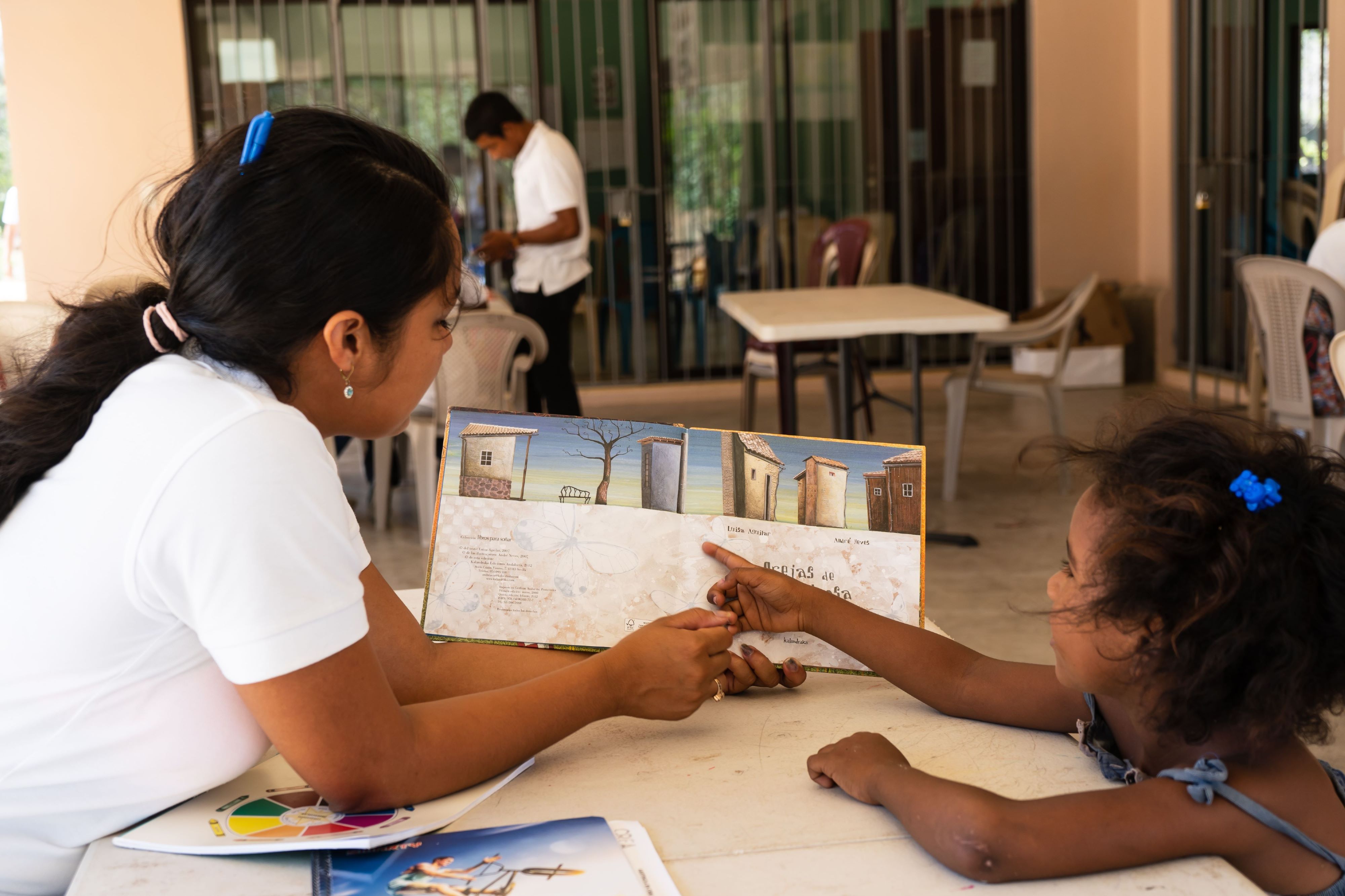 Education Facilitator, Laura, reading with a young, regular participant at CREA.
All photos were provided by CREA Nicaragua.
LEARN more about CREA Nicaragua here.
SHARE this story with your networks; see menu at top and bottom of page.
DONATE directly to help support CREA Nicaragua here.
SUBSCRIBE! Like what you see? Click here to subscribe to Seeds of Hope!