Making Sense of What's Senseless
Categorized as: Stories on April 18, 2013.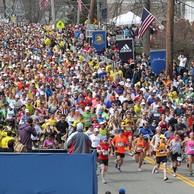 A psychiatrist/professor puts the Boston Marathon into the almost-sacred cultural context many of us natives, visitors, and Boston-transplants know well, and asks, will heartbreak ever feel the same again?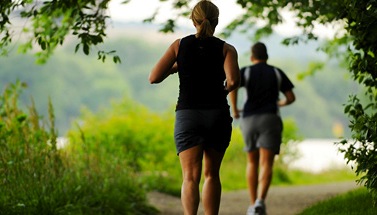 Boston's Heartbreak and the Search for Meaning
This piece first appeared in the Harvard Business School Blog.
Up until two days ago, heartbreak at the Boston marathon was confined to a hill in Newton. It was heartbreak of a glorious kind, a half-mile ascent 20 miles into the course where fatigue transforms effort into epic.
For runners, 'heartbreak hill' is a legendary stretch of asphalt, an Olympus for the best among the rest of us, who never made the Olympics but remain devoted to the open road.
The hill is a challenge and a privilege. You need to earn your chance to suffer through it. (Qualifying to run the Boston marathon is a major athletic accomplishment in itself.)
Out there, effort shatters the fictional divide between mind and body and strips off pretenses, leaving you alone with your self yet deeply connected with fellow runners and people come to cheer friends and strangers alike.
"It nearly killed me," racers will say afterwards, meaning it made them feel alive.
If only all heartbreak could be like that. Chosen, planned for, limited, communal, revealing, full of meaning. With infinite potential, once past, to become a cherished memory that enriches its owner's unique story.
Oh so different from that other kind.
The kind we never choose or expect but are forced to endure. The kind whose memory we'd rather do without but keeps us trapped in a perpetual present until we make at least some sense of it. The heartbreak of trauma. The kind that suddenly clogs the coronaries of a city on a festive Monday afternoon leaving it gasping for meaning, in pain and fear.
I was online when the explosions happened. In the first video I saw, runners were crossing the finish line. The clock timed them at just over 4 hours. The time it took my wife to run the London marathon, I thought. A second after the detonation, many were running the other way, towards the blast site to help — perhaps at the risk of their own lives. I wondered if I would have such courage. Both thoughts were more bearable expressions, I suspect, of a simpler feeling.
This could be us.
We spent a year in Boston recently. It was a city I had always liked, but it was running through it that let me fall in love. I often ran on my own, but I was never alone. Whenever I went out, whatever the weather, there was always another runner out there — if not a crowd of them. The spirit of the marathon, welcoming runners' convivial solitude, lingered year-round on the banks of the Charles.
If pure meritocracy does not exist in the real world, the marathon is at least a close approximation. You need little fortune, facilities and gear to run far, fast. The rest is talent, focus and hard work. It is more than a hopeful existential metaphor, a marathon. More than a celebration. It is a strenuous affirmation of human determination, endurance and community.
The talk of senseless tragedy will soon give way to the cobbling together of reasons. As if such barbaric gestures are ever anything but the absence, the hatred, of reason — and of love.
We'll mourn the victims in public and private ways, and celebrate the heroes. Debates about appropriate responses will mark the return of familiar politics. We'll praise or condemn leaders' reactions and draw lessons for corporate crises.
Some may call those responses rehearsed, even futile. They are anything but. We'll do all that and more because we need to. We need it to begin restoring faith that tragedy and death are not always maybe just an inch away, hidden from sight only by good fortune and the fabric of illusions.
It is our willingness to seek the glorious heartbreak of challenging our limits that makes us stronger. It is our ability to work through the heartbreak of trauma that makes us more resilient. Both take courage and make us who we are.
On our last day in the city, we entered the 10K race organized by the Boston Athletic Association, the same group that puts on the Boston marathon. It was, in comparison, a small event with its 6,000 runners. The course ran parallel to the marathon's last miles, two blocks north. It was a glorious morning, the best possible goodbye.
The children asked their babysitter to take them to watch. I can still see them cheering from the roadside a hundred yards or so from the finish line, hear them giggle emptying water bottles on my head as I sat on the pavement recovering.
We watched Jennifer finish and took pictures and played and stretched and feasted on free snacks. Without having to think even for a moment how big and tenuous a blessing it is to be together, safe.
More blog posts by Gianpiero Petriglieri
More on: Managing uncertainty, Morale, Personal effectiveness
Gianpiero Petriglieri is Associate Professor of Organisational Behaviour at INSEAD, where he directs the Management Acceleration Programme, the school's flagship executive programme for emerging leaders. He also has a Medical Doctorate and a specialization in psychiatry. You can find him on Twitter
Photos courtesy of National Geographic and the author.
LEARN more about the investigation of the Boston Marathon bombings here.
SHARE this story with your networks; see menu.
DONATE directly to victims and their familes. View options here.
SUBSCRIBE! Like what you see? Click here to subscribe to Seeds of Hope!