Happy Graduation to Our Family and the World
Categorized as: Stories on May 24, 2012.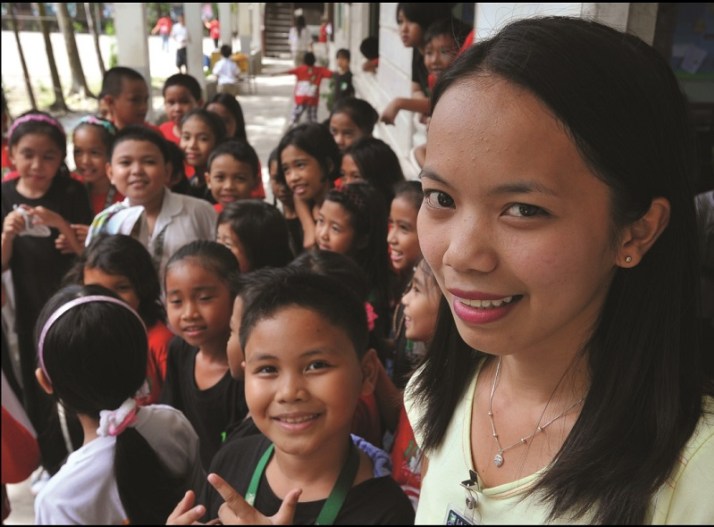 Janice Macalisang – an amazing, inspiring Vittana student in the Philippines. Photo courtesy of Vittana.
Editor's Note: It's graduation season and we're happily celebrating two college grads in our family, Brienne and Elisabeth. We're even more excited that through our new social-impact investment in Vittana, we'll help give thousands more kids a shot at school, too.
Our family grew up with hand-me-down clothes, meatless dinners, and frugal vacations. We didn't suffer at all, but we did absorb a deep sense of appreciation for the chance to get ahead. My brothers bicycled their paper routes and we sisters babysat the neighborhood kids for cash. We all worked a string of minimum-wage jobs and earned, borrowed, and finagled our way through college.
My father, Hugh, grew up with no heat or plumbing on a farm in Kentucky. He was the only one of nine children to complete college; later, he worked his way through a master's in chemical engineering while working full-time and caring for our family.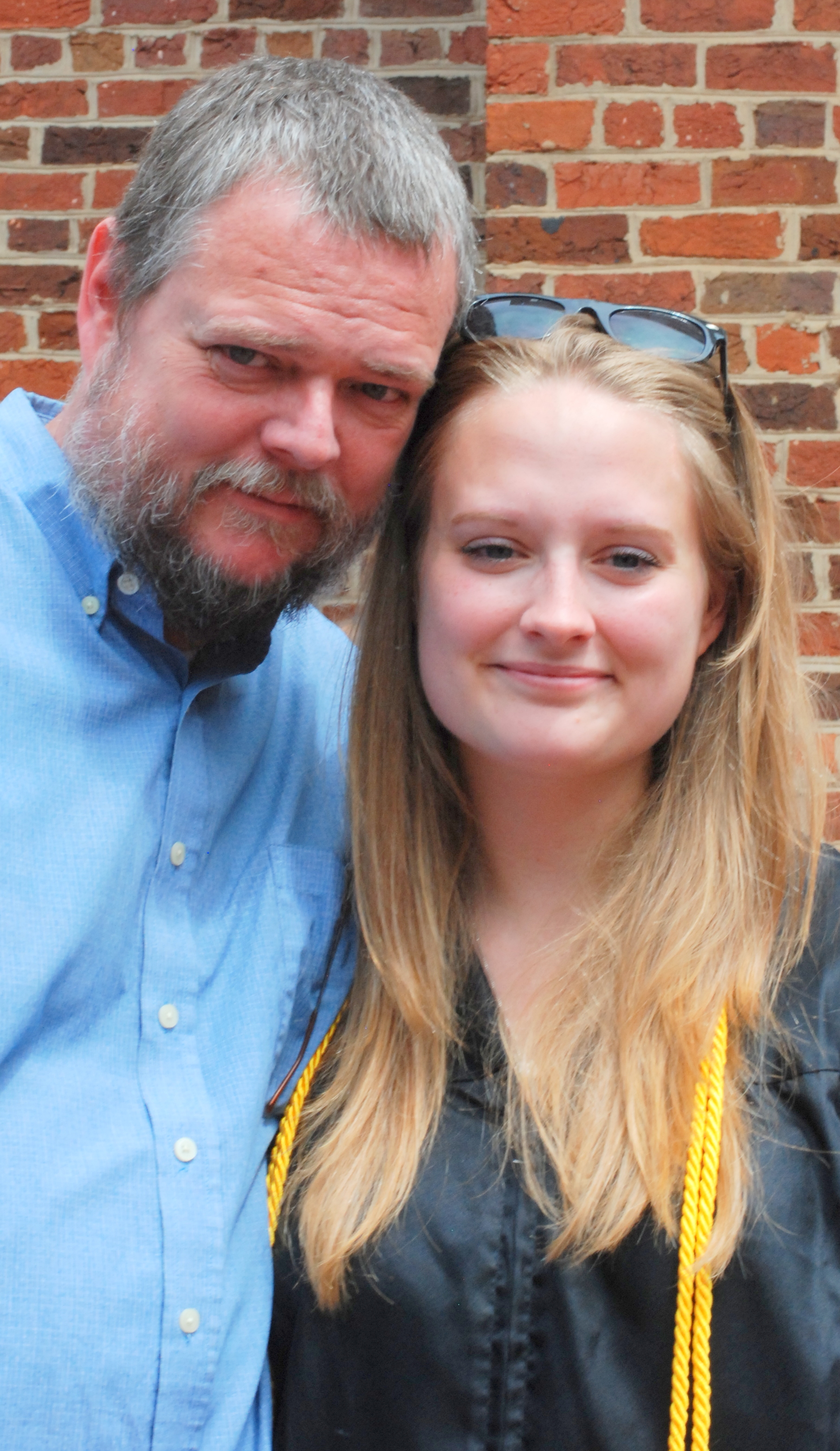 Brienne with her dad as she graduates from Guilford College in Greensboro, NC.
Now, our sons and daughters find themselves confronting the challenge of college in a far more complex, expensive world. This month, we're celebrating the graduations of two smart girls who sailed through college in four years: Brienne Skees from Guilford College, and Elisabeth Deogracias from New York University. They're beautiful, bilingual, global, hip, and aware.
And they're not as unique as we might like to think.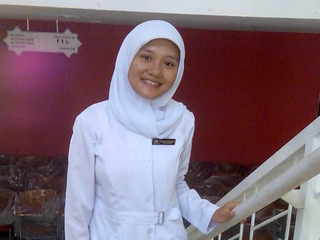 Endah Sarwendah, nursing student in Indonesia, plans to improve healthcare on a national level. Photo courtesy of Vittana.
Endah Sarwendah, a 21-year-old student in Indonesia, needs to borrow only $436 to complete her nursing program. Like other students supported by Vittana, our newest education partner, Endah "doesn't want a handout, but a hand up." She actually prefers a loan to a grant. Yet, in her country as in many developing economies, there is no such thing as a college loan program.
Until now. Vittana builds loan programs for tertiary students in 12 countries: Bolivia, Ghana, Honduras, Indonesia, Jordan, Mongolia, Nicaragua, Paraguay, Peru, the Philippines, Rwanda, and Vietnam. They fundraise for each student on their vibrant website. Since their launch in 2009, Vittana has partnered with 22 microfinance and financial organizations to tailor-make programs for each particular geography. Their expertise in vetting and monitoring in-country organizations, proving the validity of student loans (99.8% repayment rate by students, with graduates' incomes jumping an average of 291%) has attracted such cofunders as Kiva, which now posts students through programs Vittana has created.
However, crowdfunding via their website is not getting Vittana to their goal of serving 1 million students by 2015, fast enough. So, they've just partnered with longstanding debt-guarantor MicroCredit Enterprises, to raise a debt fund among social-impact investors that will allow them to re-loan to local organizations at a far faster scale, build out more programs, and repay us at low-interest (2% in two years).
Like Vittana, we at Skees Family Foundation have long felt the frustration of our tiny grants-budget. We've studied numerous options and decided to leverage a portion of our corpus directly toward our mission.
In other words, we'll move money from stocks, bonds, and other conventional investments, into tools that end poverty via education, enterprise, health, infrastructure, and peace. Our board is backing Vittana because we believe in their model, their leadership, and the reliability of their debt fund. We'll gladly take a bit less in financial return, for the payoff of helping thousands more students achieve their dreams.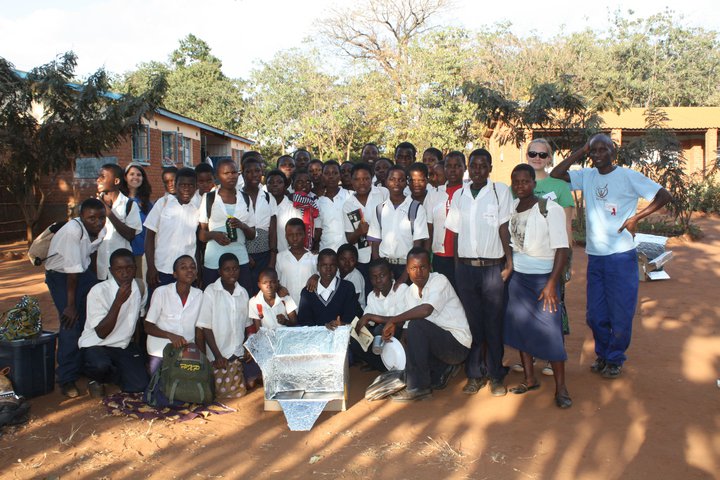 Brienne Skees (second from R) with her class in Malawi.
The two graduates in our family happen to be the same age as Endah. 21-year-old Brienne volunteered last summer with World Camp, teaching HIV/AIDS healthcare, adolescent development, and deforestation to schoolkids in Malawi. Now equipped with a B.S. in international economics, she dreams of going back to Africa to work fulltime. "What college has done for my future, I cannot put into words," Brienne remarks. "The passion I have for helping others would not have developed to what it is, had I not attended the school that lies so dear to my heart." (Guilford College is known for its social activism.) Brienne feels "I now have direction in my life" and that helping others get to college "encourages more hopeful and successful futures for all."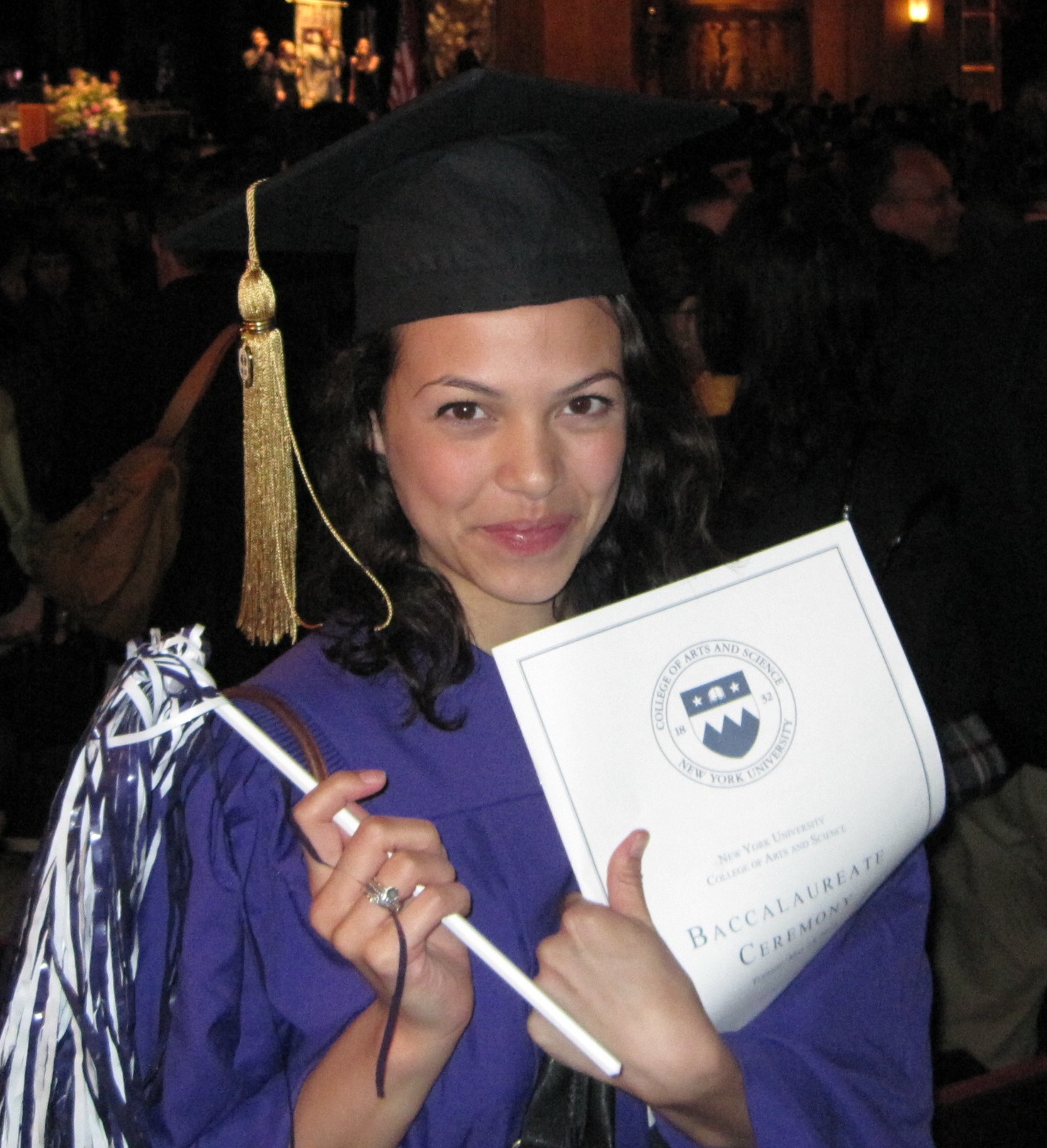 Elisabeth Deogracias, proud owner of a brand-new diploma from NYU, and ready for the world.
Elisabeth, also 21 (the two cousins were born one month apart), sees her bachelor's in urban planning and environmental preservation as "a crucial step" toward being "financially self-sufficient, intellectually empowered, and socially engaged." Her dream is to work in the environmental field, then return to graduate school. "I realize I am among a very small percentage of young people on the planet with the opportunity to pursue a college degree," she says. Like her parents and grandparents before her, she doesn't take it for granted.
Soon, Endah's nursing diploma will bump her income level from $10 to $17/day. She intends to continue on to graduate school in public health administration. Her dream is to increase healthcare access in her country. Maybe when she gets the job done for Indonesia, she can come help out here in the U.S. . . .
Vittana asks, what can the world look like if everyone who wishes to advance their education with vocational training or academic studies, had the chance to go for it? Join us this summer to get all the kids, moms, and dads with dreams, back to school this fall. You can choose a student in whom you wish to invest, or create a Vittana group with your book club, church group, or beer buddies. For more information on their new social-investment debt fund, contact [email protected] or [email protected]. First funding round ends May 31; however, Vittana plans a second round later this year.
SUBSCRIBE! Like what you see? Click here to subscribe to Seeds of Hope!