Freedom from Hunger Wants Freedom from Malaria–And You Can Help
Categorized as: Stories on April 26, 2011.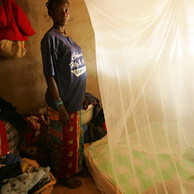 Learn how you can help protect more families in a 1:1 matching grant campaign, running right now.  Your dollars will double to help deliver training and bednets . . .
You can help Freedom from Hunger equip women around the world with the knowledge and power to protect themselves and their families from malaria. Please give today to support our efforts — every dollar you give up to $25,000 will be generously matched by our Board of Trustees in honor of World Malaria Day!   (Every dollar goes directly to Freedom from Hunger's malaria programs, not to SFF.)
Spread the news to your contacts, or give a few dollars yourself, and your donation will instantly be doubled (offer valid through May 21).
Photo by Karl Grobl.
SUBSCRIBE! Like what you see? Click here to subscribe to Seeds of Hope!