Banana Farmer Saves Her 5-Pound Baby's Life, with a Garden
Categorized as: Stories on December 14, 2013.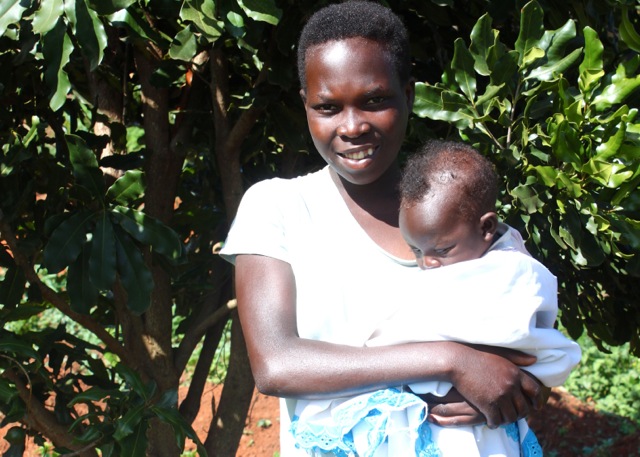 Editor's Note: Fearful for her malnourished three-month-old son's life, single mom Geraldine enrolled in Gardens for Health International's three-month training program to learn alongside other families how to plant nutritious crops and cultivate chickens. She's reaped double rewards, learning to nourish her own body to produce rich breast milk for baby Cederic, who's rapidly gaining weight, on his way to becoming a thriving toddler—with an empowered mom. Guest post by Julie Carney and Jessie Cronan.
By Julie Carney and Jessie Cronan, Gardens for Health International
Kigali, Rwanda: When 16-year-old Geraldine brought her infant son, Cederic, to Bumbogo Health Center near Rwanda's capital city of Kigali, the three-month old weighed less than five pounds. Cederic was suffering from acute severe malnutrition, and his mother was at a loss as to what to do.
Geraldine is a smallholder farmer. She makes her living growing bananas on less than 1,000 square feet of land, on a hillside in rural Rwanda. Like many of the women we work with at Gardens for Health International, she is a single mother. "I don't live with a husband, I got impregnated by my boyfriend and we have this one child," she explains. The boyfriend has long since exited the picture, leaving Geraldine to care for the dangerously sick baby on her own.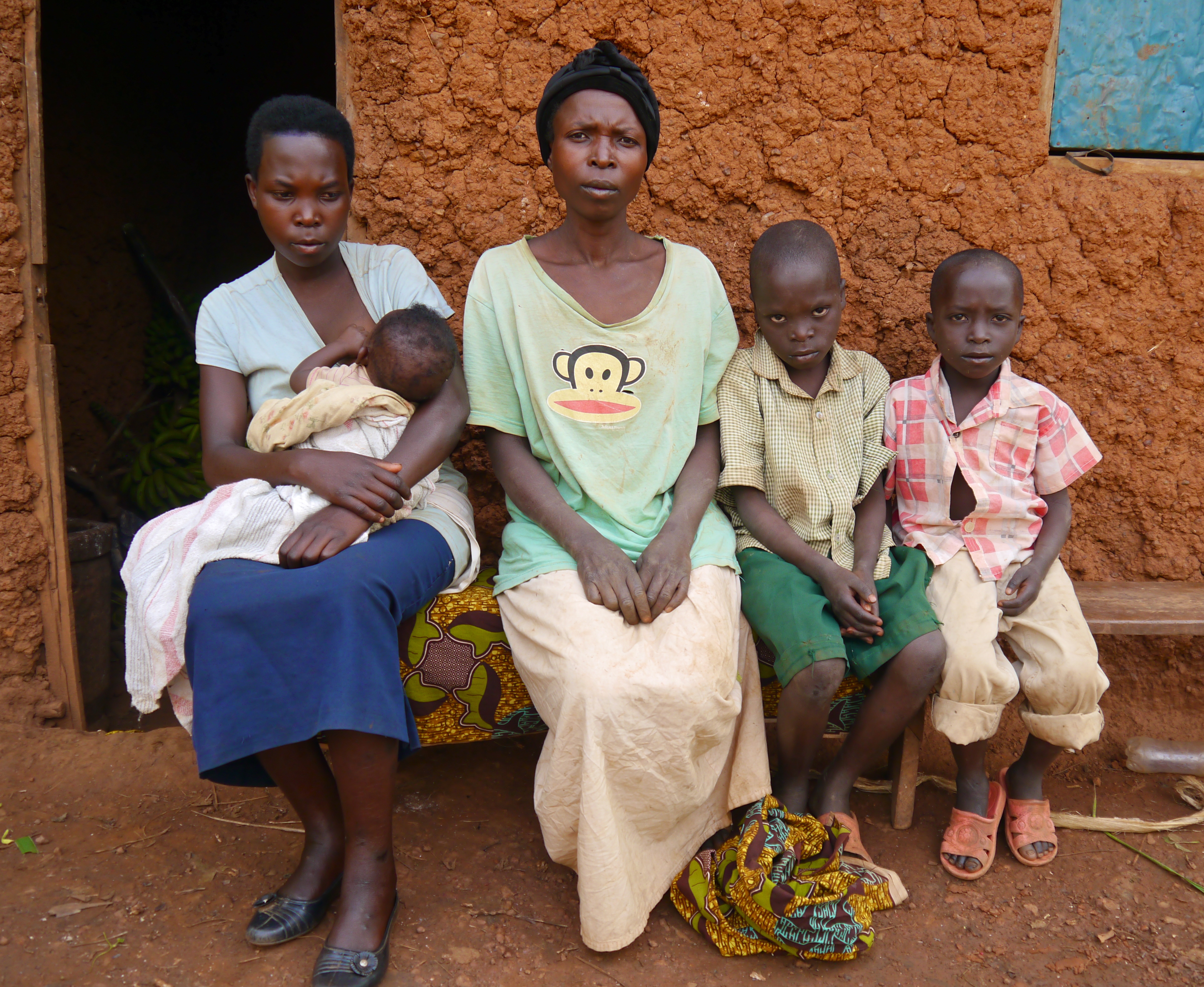 Geraldine with baby Cederic and their family: Cederic's grandma, uncle, and aunt, sitting outside their home. 
When Geraldine brought her baby to Bumbogo Health Center, the nurse she spoke with suggested that she enroll in Gardens for Health's program. At Gardens for Health, we partner with eight health centers in Rwanda to help mothers and families, like Geraldine and Cederic, to overcome malnutrition. We do this through a combination of peer-led health trainings and targeted agricultural assistance. In other words, we help families grow the food they need, and we teach them the skills to sustain good health long after our program ends.
Over the course of three months, our field educators, who come from Geraldine's own community, worked alongside the 32 women in Geraldine's class, teaching them the practical skills to improve the health and nutrition of their families. They helped Geraldine to plant crops like indigenous leafy green vegetables and orange flesh sweet potatoes, and provided her with chickens for egg production. They talked openly and honestly about family planning and mental health, topics that are often taboo but are intimately related to a mother's ability to feed her children. For breastfeeding mothers like Geraldine, the educators also focused on frequency of feeding sessions, nourishing recipes for breastfeeding mothers, and complementary feeding recipes for children.
For Geraldine, the sense of community that was built over the course of the trainings has become an important source of comfort and support. Now, she says, "Things are quite good because when you meet people with whom you share problems, you can get support from them and they can comfort you."
Geraldine's story is one we see often in our work at Gardens for Health: A mother suffering from malnutrition and lack of information can't provide her infant with the nutrients he needs to grow. Three months later, however, Cederic is growing–and growing fast. He has already gained six pounds; and while much of his journey is still ahead of him, Cederic is on track to become a thriving toddler. Geraldine credits the training she received from Gardens for Health with Cederic's successes. "The trainings that I got from Gardens for Health are the source of my child's health. I learned how to prepare a balanced meal and to feed myself; therefore I was able to have enough breast milk to feed my child, so now he's healthy."
At Gardens for Health International, our mission is to provide lasting agricultural solutions to chronic childhood malnutrition. Yet, as Geraldine's story illustrates so powerfully, we can't lift children out of malnutrition without thinking about the nutritional status of the whole family.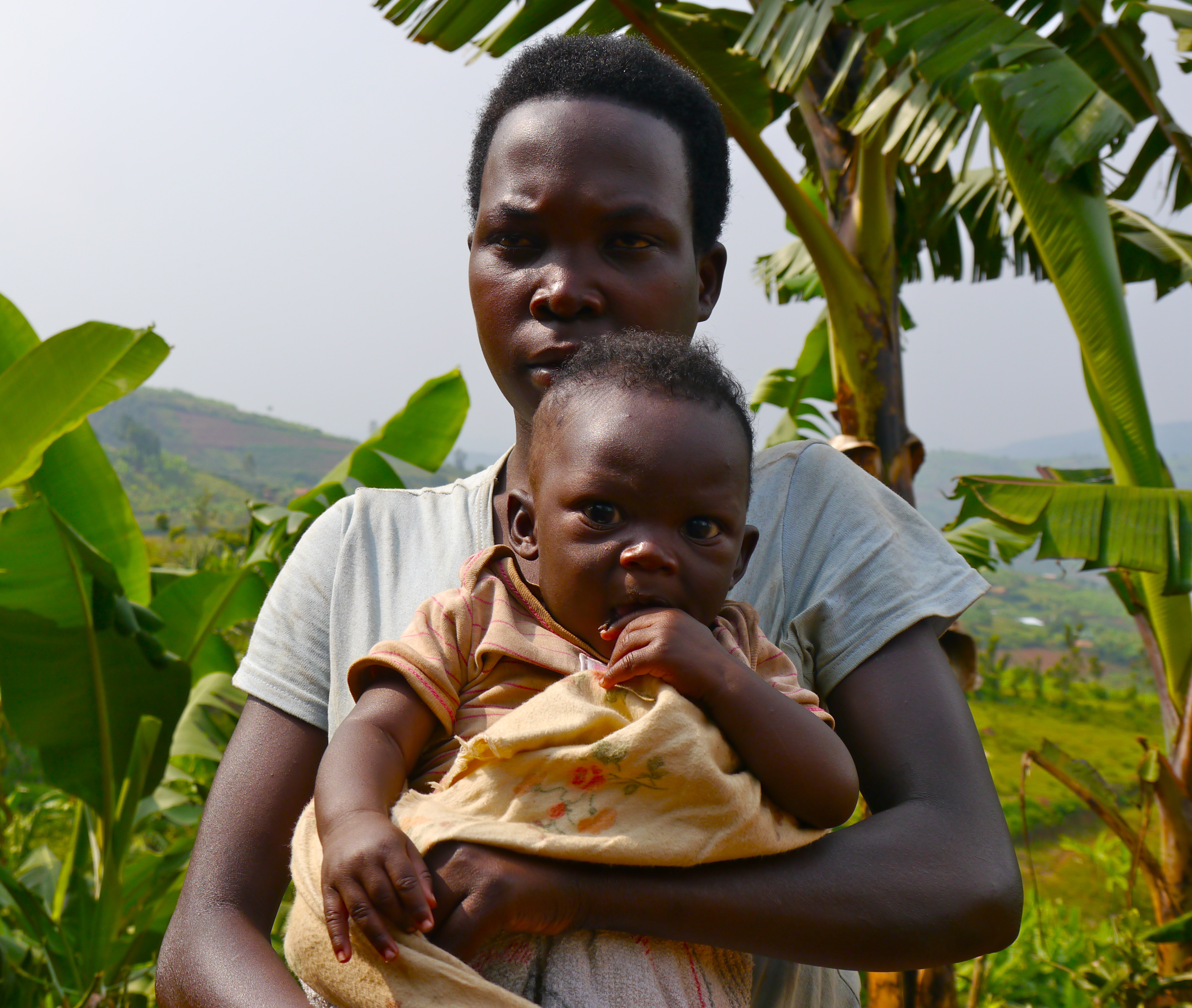 Cederic has more than doubled his weight, transforming into an alert, healthy baby boy.
Visit Rwanda right now: Join Gardens for Health International's health educator, Marie Claire Ingabire, on a home visit: "In Rwanda, 44% of children under five suffer malnutrition," she says. "Our work helps mothers to forgive themselves. It's not their fault–they love their children." Click here or watch the embedded video below:
Photos and videos courtesy of Gardens for Health International.
LEARN  more about Gardens for Health International's holistic healthcare approach to ending malnourishment through peer-led education and kitchen-garden inputs, here.
SHARE  this story with your networks; see menus at top of page and below this list.
DONATE  directly to provide more trainings and seedlings for hungry families in Rwanda, here.
SUBSCRIBE! Like what you see? Click here to subscribe to Seeds of Hope!