A Most Shining Star Disappeared: R.I.P. John Medo
Categorized as: About us, Africa, Education, Grantee, Our Partners, Stories, Storytelling, Youth & Tagged as: Dreams, Family, John Medo, Scholarship, The School Fund, Tragic death, Tribute on April 2, 2016. Related Grantees: Advancing Girls Education: AGE Africa, Akilah Institute for Women, Asante Africa Foundation, Kiretono Resource Centre through AID Tanzania.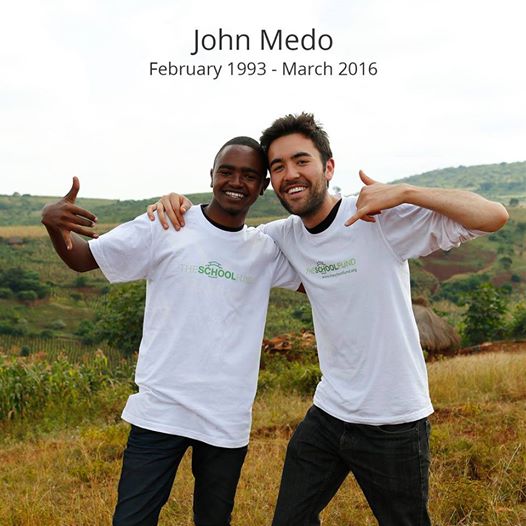 By Suzanne Skees
John's brother Eli says: "We don't want to say goodbye. He was a dream boy–one of our most shining stars disappearing–as simple as that."
This week, my dear young friend John Medo, the inspiration for and first scholarship recipient of our partner The School Fund (TSF), died in a bus accident in Tanzania. John was en route home to meet TSF founder Matt Severson and visit students in Iringa. He had just turned 23.
Our family's hearts ache across the miles between us and the Medo family, as they lay their dear boy to rest in the hills above Karatu where he planned to raise a family someday, right next-door to his best friend Matt, pictured above.
The photograph at the top of this page happened to be taken by me, when I traveled to Tanzania to write a series of stories on the vision and people of TSF. I was privileged to visit the Medos' family home, to meet John's whole family, and to call him my friend.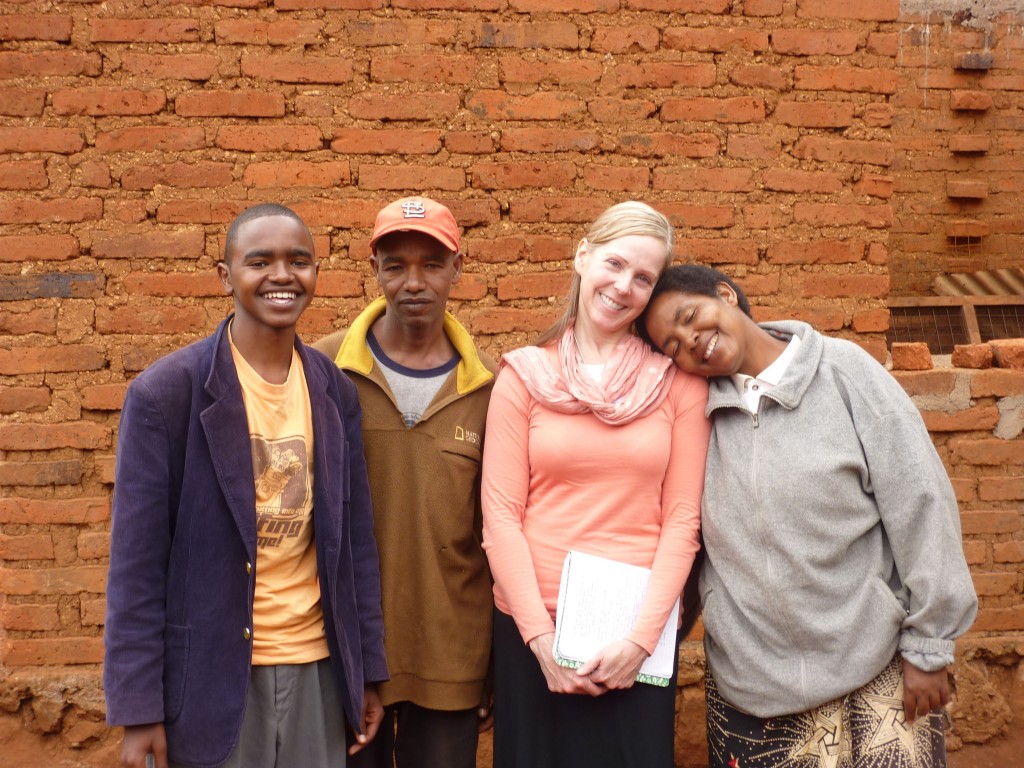 John (L) with his parents and me, at his home in Karatu, Tanzania.
John had the widest smile of anyone I knew, and his smile was lit up from deep inside. He constantly exuded unconditional love for people and utter joy for life.
His death reminds me of how deep and real are our connections with people half a world away, when we allow them into our hearts. We thank the tireless visionaries at TSF for working to create connections between bright young people like John and ordinary folks like us. I cannot yet make any rational sense of John's passing; all I can hope for is that his heroic example will light the way forward for as many students as John hoped to support, all around the world.
Here is John, telling you who he is and what he wishes for himself and all young people:
With respect and affection for John and The School Fund family, we share with you just a few tributes below. See John's Facebook page for more.
The School Fund founder and John's best friend, Matt Severson
My dear friend. My little brother.
I miss you. I miss your hugs. Your laugh. Your golden smile. I miss how caring and thoughtful you were. I miss how you always strived to become the very best version of yourself.
Your dream of becoming President of Tanzania, despite growing up so poor, was inspiring to me, and was the reason I started The School Fund. I only hope that we can honor your memory, your legacy, and your passion for education through continuing our work.
I am so very sad that the world will not benefit from your kindness, your light, your energy, and your determination. I know you would have accomplished wonderful things. You already did in your short time. I promise to do my very best to give the world at least a slice of the good that you would have given if you were still here with us.
I love you very much and I will be thinking of you, always.
Board member Fuad Jaffer
You could see how John united the world, and how this world has been touched with his death. What should we learn from John's death? His death might give us more than million lessons, and stories that never end.
John united Africa with America, Europe, and Asia. Look where The School Fund is! He made President Clinton to recognize TSF. John made millions of famous people to know the needs of Tanzania and other kids in this world. John has passed away, but he left things which we can never count, to be continued.
TSF directors Liz Texeira and Michael Childress
John was just two years from completing a university degree in business, in a country where fewer than one in three students completes high school. Fiercely loyal to his friends, passionate about the cause of education, smart, motivated, and articulate, John was the epitome of what our organization hopes to accomplish by supporting students via scholarships. His loss is a devastating one.
John's college friend Trinity Exhaudy
Where are you, our beloved John? Everyone is crying . . . Please come back and fulfill you dreams. Come back and put smiles again on our faces; come back and inspire us as you used to do.
John, in his own words
I am happy that am getting an education and I love it. I wish to become the President. I pray to God that my dreams come true. This is because I love to help individual people and the world at large.
My aim is to help all students access their right to education, and I will support TSF. Together, we have agreed to change the world and to have an educated generation.
Read John's story of his childhood and the future he planned, in his own words, here.
To read the story of how John and Matt first met and launched The School Fund, click here.
Photographs by Suzanne Skees and The School Fund; video courtesy of The School Fund.
LEARN more about The School Fund here.
SHARE this story with your networks; see menu at top and bottom of page.
DONATE to support students in the developing world, in honor of John, by clicking here.
SUBSCRIBE! Like what you see? Click here to subscribe to Seeds of Hope!