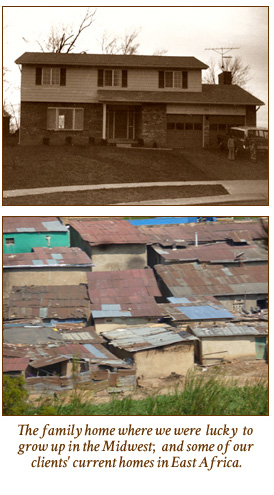 About Us
Mission
The Skees Family Foundation, a 501(c)3 private charitable foundation (EIN#83-0411607), works with nonprofits (NPOs) and nongovernmental organizations (NGOs) serving families in need around the world.
The Skees Family Foundation — family helping families — extends self-help to youth and families to end poverty worldwide.  We support organizations in the U.S., Africa, Asia, Central and South America, India, and the Pacific to advance education, enterprise, infrastructure, health, and peace. We value love in action to create equal opportunity for all. And as a diverse multigenerational group with limited time and funds, we believe that we — and you — can change the world for good.
Tools
We focus on pragmatic empowerment via the following priorities:
education
enterprise
infrastructure
health
peace
Motivation
We wish to reach out in love and respect, to share our time and resources and to learn from other families' resilience in the face of poverty and adversity. We hope, in whatever small and large ways we can, to advance the freedom, safety, health, and happiness of other families.
Goal
An equal-opportunity world.
If you need a grant
We do not accept any unsolicited requests for grants. However, we sincerely wish you well in your own work alongside the Skees Family Foundation as we strive to end poverty and advance equality. Many foundations who have grants available list with www.foundationcenter.org.
If you want to help
If you share our concern for families in poverty who deserve a chance to build a better life, please donate directly to these programs.
If you have a story
If you know a heroic person overcoming poverty or adversity whose story should be shared, someone you know who has worked hard to overcome their circumstances in ways no one else has ever done so, please contact us at info@skees.org.